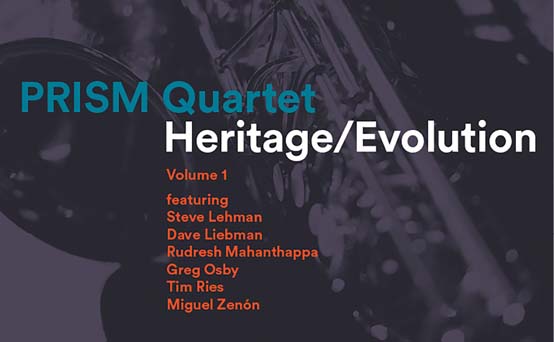 CD Cover
.......................................................................................................................................................................................
The PRISM Quartet is celebrating its 30th anniversary with a brilliant new release, "Heritage/Evolution Volume 1," dedicated to founding alto saxophonist Michael Whitcombe, whose memory and vision informs the quartet still, and Timothy McAllister, Taimur Sullivan, Matthew Levy and Zachary Shemon have much to say in new works in this two volume set. Beginning with the newly written, modal and exotic conversation "I Will Not Apologize for My Tone," which is assonant and dissonant within itself, "Heritage/Evolution" continues with works such as "The Missing Piece" that, while composed in 1999, was arranged in 2014 by Miguel Zenón, who is also featured on alto sax.
Listening to the album is a journey of discovery that's perfect for a lazy afternoon on one of these harsh winter days. "X Marks the Square" includes a bit of percussion reminding one that elsewhere it is summer and the work is as playful as the name suggests. "Name Day" rounds out Disc One with a sophisticated sound that plays with bending notes and quarter tones in spots and has a contemplative, night-time feel and, at times, a thrumming ostinato. It speaks of nighttime cocktails on a sultry night with roof access to a tar beach overlooking city lights.
Disc Two is equally delightful, beginning with "15 Places at the Same Time." This piece is in five parts, with the first, "Line/Texture," seemingly inspired by "Hymenoptera"–the proverbial bee line. Music encourages visuals for me and the later portion of "Line/Texture" gives me Rothko-esque images. "Gesture/Rhythm" has a different kind of energy–more like modern dance. "Solo" is a plaintive statement that segues into a conversation in "Radical Alignment," where agreement and disagreement seem to occur, with "Afterlife" appearing to reconcile disparate forces, even while forecasting change.
"Covenant of Voices" was composed in 2014 by Greg Osby and has a Sunday morning feel, just right for watching sunlight's interplay with shadows on snow as we dream of spring. "Trajectory" is the final selection on the album. Dave Liebman's composition begins with a feel of the Muslim Call to Prayer and some delicious exotic licks interspersed with percussion that lend a warm weather feel–desert lands and hot light–that is most welcome at this time of year. Imaginings of foreign lands, intrigue and, then, a developing duet of low-key brainstorming, with each line adding something to the next, weaving a story where mine is different from yours, but with humor and, I feel, a smattering of Alfred Hitchcock for good measure.
Thoroughly enjoyable for an active mind that sometimes prefers to flow with the thoughts of others, "Heritage/Evolution Volume 1" is the beginning of a great collection! Get it now wherever fine music is sold.