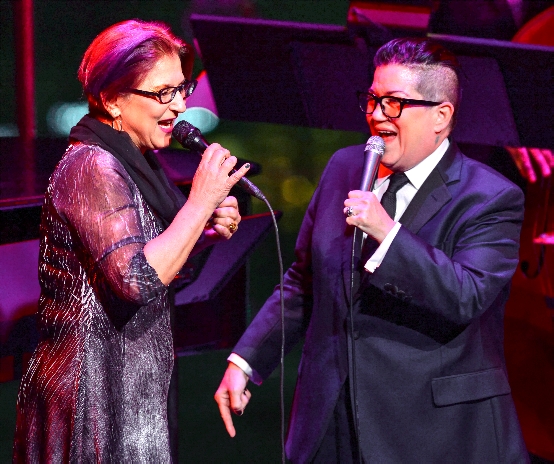 photo by Kevin Yatarola

Janis Siegel & LeaDeLaria

.......................................................................................................................................................................................
Taking Rose Hall's Appel Room by storm, in Lincoln Center's American Songbook series on February 5, jazz singer, Broadway actor, and longtime lesbian activist Lea DeLaria toasted the approach of Valentine's Day in a unique way, with a sensational show that she called "Lea DeLaria: Not Necessarily Love Songs."
DeLaria began by swinging, good naturedly, Harold Arlen and E.Y. "Yip" Harburg's unsentimental "Down with Love," with extended solos for Musical Director and Pianist Jeremy Siskind and a five-piece band. Singing with determination "I Live the Life I Love, I Love the Life I Live," the Muddy Waters song, by Willie Dixon, DeLaria yielded center stage to the band members by turns, with featured solos for saxophone player Lucas Pino, trumpeter Mat Jodrell, guitarist Sheryl Bailey, bassist Dylan Shamat, drummer Kenny Wollesen and, beginning subtly and ending expansively, Siskind at the Steinway. The singer dedicated a snappy, knowing "I've Got Your Number," by Cy Coleman and Carolyn Leigh, from "Little Me," to her girlfriend, now her fiancée, concluding the song by scatting and trading improvs with Pino. She boogalooed, as she put it, down Broadway to a hot take on "All That Jazz," by Kander and Ebb, from "Chicago," and went on to a hushed, truly romantic number, Eddie DeLange and James Van Heusen's "Darn That Dream," essentially a duet with Bailey.
DeLaria invited her special guest, Manhattan Transfer's Janis Siegel, to the stage to serenade us—and each other—with scat singing in Rodgers and Hart's "Everything I've Got Belongs to You," from "By Jupiter." With drive, DeLaria insisted, "I Can Cook Too," as she did on Broadway, in the late 1990s, when she played Hildy in Leonard Bernstein and Comden and Green's "On the Town"—and so, apparently, can trumpeter Jodrell! DeLaria contrasted the song with an, at first, relatively quiet "Call Me," by Debbie Harry and Giorgio Moroder, with variations for Siskind.
DeLaria's thoughtful, contemplative "Philadelphia," by Neil Young, with Siskind, Shamat and, now on vibes, Wollesen, followed. The singer gave us a preview of her forthcoming CD of David Bowie songs, "House of David," with Bowie's "Modern Love," with the DeLaria Inspirational Voices, led by Debra Barsha, all singing with gospel fervor. Siegel joined DeLaria for the first encore, Lester Young's "Jumpin' with Symphony Sid," which again gave the instrumentalists the chance to strut their stuff, and the second was DeLaria's unusually up-tempo "Ballad of Sweeney Todd," by Stephen Sondheim.