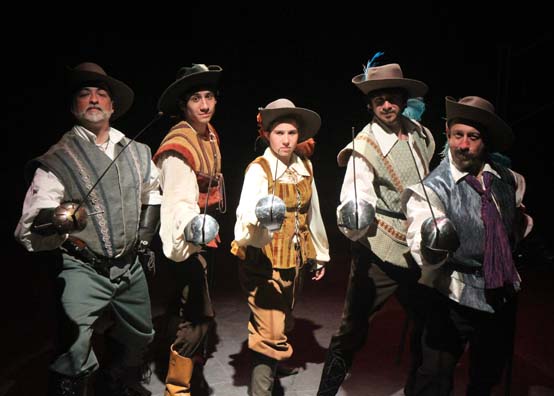 photo by Howard Fischer

(left to right) Scott Costine, Mitchell Vargas, Caroline Cromwell, Matthew Strool & Glen D. Post

.......................................................................................................................................................................................
Chatham Community Players' (CCP) production of Ken Ludwig's "Three Musketeers" is a phenomenal production. During these times when there's so much going on in the outside world, it's a good reminder that earlier times were also not simpler. Ludwig's adaptation of Alexandre Dumas père's novel is structured as a comedy. Ludwig saw this in one of the most familiar tales of action and honor and has honed the wit accordingly. Featuring a cast of CCP all stars like Glen Post (Porthos) and Chip Prestera (King of France, et al.), returning luminaries Frank Bläuer (Cardinal Richelieu), Scott E. Costine (Athos), Sean Day (Buckingham), Steve Ruskin (D'Artagnan Père et al), and Matt Strool (Aramis), and a bevy of debuts by Corinne Chandler (Queen Anne, et al), Nicholas Colacino (Rochefort), Caroline Cromwell (Sabine), Ed Faver (Treville), Kristina Hernandez (Milady), Rebecca Ryan (Constance, et al), and Mitchell Vargas (D'Artagnan), this play has it all–action, intrigue, sexy characters and, of course, sword fights aplenty!
Cardinal Richelieu has a very public war with the loopy King of France. He knows the King's Queen is Duke-ing it out with Buckingham of England. He employs the wiles and sensuality of Milady to accomplish what he cannot do alone and she is as utterly ruthless as she is beautiful. Post's Porthos is very metro-sexual–enjoying the finer things like "this silk is from IND-JA,!" even while calling deep-voiced for "WENCHES!," in the tavern scene. Costine's Athos has great gravitas and, ironically, it is he who should be in the priesthood rather than the more worldly-longing Aramis. Prestera's King of France is every bit as mad as you would expect and his nod to Eliza Doolittle simply must be seen. The villains really light up the scenes with their darkness: Bläuer's Cardinal is an éminence grise reminiscent of a shark whose ganoid scales are smooth to the touch one way, but rub them the wrong way and your hands are bloody. Hernandez's Milady is the ultimate shape-shifter. Her personification of evil has the nine lives of a cat, though at least three are consumed during the course of the action.
Want more CCP? Who doesn't?! Jersey Voices series of one-act plays are coming and the next season is accepting subscriptions now, so visit Chatham Community Players' website at
www.ChathamPlayers.org
.