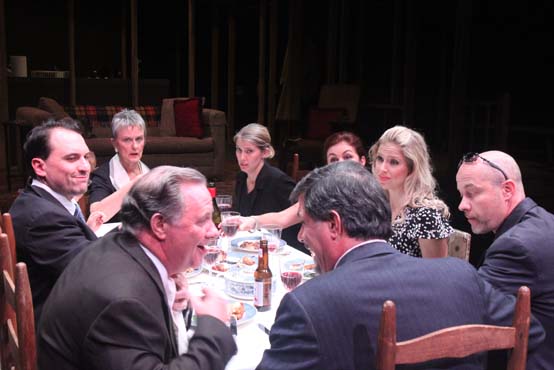 photo courtesy of the Chatham Community Players

scene from "August Osage County"

.......................................................................................................................................................................................
In Tracy Letts' "August Osage County," presented by the Chatham Community Players, in Chatahm, New Jersey, the Westons are a family of addicts. Beverly Weston (Bruce Gandy) is a highly respected poet who now drinks until he hears the high keening sound of his liver crying "uncle." Violet Weston (Judi Laganga) is his wife of 40 years, who's addicted to pills and, arguably, the pain that she's working to relieve. Their daughters Barbara (Liza Harris), Ivy (Sarah Pharaon), and Karen (Sky Spiegel Monroe) are also addicts–they're addicted to drama.
From the opening moments of the show, when Beverly is interviewing Johnna Monevata (Tracey Lynne Haskell), a young Cheyenne woman, to be a caretaker for Violet, he is both limning the limitations of the family and setting the tone and road map that are not fully understood until the wrenching end of the play. Letts will have post-modern hipsters believing in curses of Greek mythological proportions by the time this tale is through. And though he's not onstage very long, Gandy has you feeling Beverly's presence, as it permeates the room, as the drama continues to unfold.
Beverly's sudden disappearance initially brings daughter Barbara (Liza Harris) back to Oklahoma with her husband Bill (Bill Schineller). They are now separated, though that is known only to them and suspected by their 14 year old daughter Jean (Lilly Baldassare). Barbara is the sister who's always tried to do things as her parents did, but to what avail? Ivy has been the sister who's always looking in on the parents, and most often gets the gritty acerbic side of their mother's tongue. Violet has seen things she's never told her daughters, but no spoilers here–just know that as the crystal ball clears, there will be Hell to pay and knowledge that cannot be unlearned.
Vi's sister Mattie Fae (Susan Speidel) and her husband Charlie (Bob Mackasek) are on the scene as well. They live a couple of hours' ride away, but Mattie Fae is a rock for her sister. They spar like boxers, but their love and connection are clear. The sisters bicker, then end up laughing with one another, over the absurdity, but neither wants to articulate what she knows to be true–Beverly is not going to be found alive. When this is confirmed by local Sheriff Deon Bilbeau (Lewis Decker), one of Barbara's high school admirers, the family angst kicks into high gear.
August in Oklahoma is hot—filthy hot. Violet doesn't believe in air conditioning and the family is now in a roiling mélange of family sorrow, budding romance, physical discomfort, and a family dinner that no one will ever forget. Charming moments include Charles' and Little Charles' (Gus Ibranyi) conversation, as Charles tries to buck up his malingering son who, at 37, has yet to determine what he wants to be. The budding romance in which he is involved, however, is Plains Gothic. The only non-family member in attendance is Karen's fiancé Steve (Craig Zimmerman) who has his own slithy toves to gyre and gimbel in, as he joins this acetylene band of people, determined to put out a fire with gasoline.
Laganga's Violet is scotch-bonnet hot–sweet as sugar and caustic as battery acid. Harris' Barbara is her mother's daughter, though she doesn't immediately realize just how much, and when she does … you need to be there to see it. Pharaon's Ivy plays it close to the vest from the get-go and you don't need to be a parent to know she's hiding something. This entire ensemble cast feels like a family of long-standing, familiar with one another's frenzies and foibles, and so human together in their interactions that the literal sturm-und-drang of the dinner scene, in surreal juxtaposition to humor so black that it's drawing in all the light around it, is reason to put this brilliant show and mind-blowing cast on your must-see list. I'm still reeling from the power of these performances.
Hot for more? Visit Chatham Community Players' website at www.ChathamPlayers.org. Reserve NOW! This heat wave breaks on October 24!