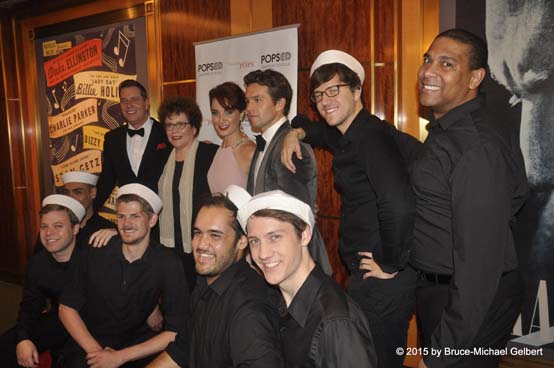 (standing, left to right) Steven Reineke, Judith Clurman, Sierra Boggess & Julian Ovenden, with Essential Voices USA men - photo by Bruce-Michael Gelbert

.......................................................................................................................................................................................
The New York Pops, under Steven Reineke's baton, opened its 33rd season, at Carnegie Hall on October 9, with "My Favorite Things: The Songs of Rodgers and Hammerstein." The enjoyable program considered music from all 11 of Richard Rodgers and Oscar Hammerstein II's collaborations on their classic American musicals of the 1940s and '50s—in chronological order; familiar as well as rare; and written for stage, film, and television—and acknowledged both stage and film versions of some of the greatest of them. Joining the Pops in realizing these 'favorite things' were Broadway's Sierra Boggess; theater and television's Julian Ovenden ("Downton Abbey," "Person of Interest"); and Judith Clurman's choral ensemble Essential Voices USA.
Music from "Oklahoma!," Rodgers and Hammerstein's first hit, opened the Pops' concert in style, with the potpourri overture, in Adolph Deutsch's arrangement and Alexander Courage's orchestration for the film, segueing into Ovenden's thoughtful and polished "Oh, What a Beautiful Mornin'." Ovenden noted that he had previously sung with Boggess, at Andrew Lloyd Webber's behest, at a birthday party for Queen Elizabeth II, taking him, with this performance, as he put it, "from the Queen of England to the queens of New York!" He and Boggess then blended their sweet voices in "People Will Say We're in Love," in Robert Russell Bennett's original orchestration.
A trio of "Carousel" selections, as orchestrated by Don Walker, began with a grand "Carousel Waltz ," its dissonant opening, evoking the wheezing of the carousel starting up, no doubt a surprise to Broadway audiences in 1945. With an actor's insight, Ovenden made a meal of the diverse moods and concerns of Billy Bigelow's dramatic "Soliloquy." Boggess, Ovenden, and Essential Voices USA concluded the section with a classically-sculpted "You'll Never Walk Alone," after which the chorus sang "It's a Grand Night for Singing," from "State Fair," in Bennett's orchestration, with breezy fluency. Boggess flippantly dismissed a boss, while disclosing mixed feelings for him, in "The Gentleman Is a Dope," from "Allegro," orchestrated by Bennett.
In songs from "South Pacific," Oveden looked, with irony, at prejudice, which is not innate, in "You've Got to Be Carefully Taught," as orchestrated by Walker. Boggess and the Essential Voices women gave us an enthusiastic "Wonderful Guy;" Ovenden delivered a dulcet "Some Enchanted Evening;" and the Essential Voices men, in sailor hats, portrayed rough and ready "horny sailors," as Reineke explained, in a zesty "There Is Nothin' Like a Dame," these last three songs in Bennett's orchestration.
Representing "The King and I" were an evocative potpourri overture, in Bennett's orchestration, as adapted by Ted Sperling; a poignant "I Have Dreamed," the song of lovers forced to hide in a hostile, inimical country, sung by Boggess and Ovenden; and a snappy "I Whistle a Happy Tune," sung by Essential Voices USA, the last two as orchestrated by Bennett. We heard Bennett's orchestration in Boggess and Ovenden's romantic "No Other Love," from "Me and Juliet;" Boggess' touching and lilting "Everybody's Got a Home But Me," from "Pipe Dream;" the Pops' sweeping "Waltz for a Ball," from "Cinderella," incorporating the "Ten Minutes Ago" melody; and Boggess' saucy "I Enjoy Being a Girl," from "Flower Drum Song."
The conclusion of the concert was devoted to "The Sound of Music," Rodgers and Hammerstein's final collaboration, beginning with the film version of the Prologue, orchestrated by Irwin Kostal, which segued into Boggess' lovely performance of the title song. The Pops continued with Ovenden's fervent "Edelweiss" and the full company's soaring, inspirational "Climb Ev'ry Mountain," both in Bennett's orchestration, and the encore was "Do Re Mi."
The New York Pops' season continues with "Sophisticated Ladies," on November 13 at 8 p.m., as guest artists Montego Glover, Capathia Jenkins, and Sy Smith help to celebrate the centennial of Billie Holiday's birth, as well as music of icons Ella Fitzgerald, Sarah Vaughn, and Dinah Washington; "It's Christmas Time in the City," on December 18 and 19 at 8 p.m., with Stephanie J. Block, Brian d'Arcy James, and Essential Voices USA; "42nd on 57th: Broadway Today," with Jeremy Jordan and Betsy Wolfe, on March 11, 2016 at 8 p.m.; and "Lights, Camera, Action: Spielberg and Williams," on April 16 at 8 p.m. Visit www.newyorkpops.org or www.carnegiehall.org; telephone CarnegieCharge at 212/247-7800; or go to the Carnegie Hall box office at 154 West 57th Street at Seventh Avenue, for further information and tickets.