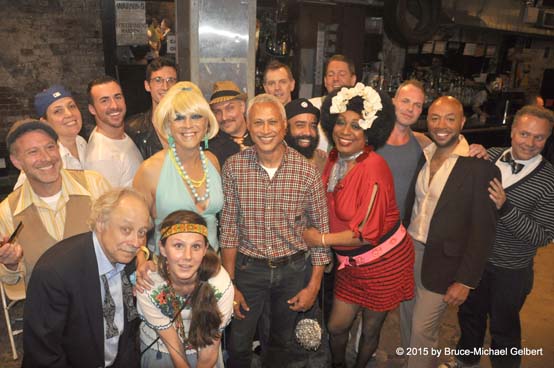 photo by Bruce-Michael Gelbert

(left to right) front row: Jeremy Lawrence & Eilis Cahill; second row: Desmond Dutcher, Chris Andersson, Christopher Borg Eagle co-owner Derek Danton, Johnathan Cedano, Michael Lynch, Joe MacDougall, Russell Jordan & director Mark Finley; back row: Rebecca Nyahay, Josh Kenney, Tim Abrams, Patrick Porter & Ben Strothmann

.......................................................................................................................................................................................
"Street Theater" (1982), late playwright, veteran gay activist, and leatherman Doric Wilson's classic gay-and-proud take on June 28, 1969, the night that the Stonewall Rebellion began, makes a welcome, two-week, eight-performance return to the Eagle Bar NYC, where it also played in 2002, thanks to TOSOS (The Other Side of Silence), the theater company founded by Wilson and led later by him with current directors Barry Childs and Mark Finley. Finley directed this revival, and it's as fresh, witty, and moving a realization as ever, of an inspiring work, which aware LGBT individuals should take to heart.
"Street Theater" is set on Christopher Street on that fateful hot summer day, when the incendiary combination of corrupt police, raiding the Stonewall Inn, popular and Mob-run, in the wake of icon Judy Garland's funeral, and drag queens, LGBT people of color, leathermen, lesbians, flower children, "'50s queens," and other nascent activists, pushed to the limit by officially-sanctioned abuse, taking matters into their own hands and fighting back, blew open the closet doors and gave birth to Gay Liberation and Gay Pride. Wilson's sure and stirring dialogue, evidence of his master wit, as a spiritual heir to Oscar Wilde's mantle, still rings true 33 years after the play's premieres in San Francisco and New York City, and Finley's cast, composed of veterans of earlier productions as well as newcomers, delivers the goods with razor-sharp acuity, making the scenes sparkle with spontaneity, even for those to whom the script is thrice-familiar. Period references to Garland; to "Dog Day Afternoon" bandit John Wojtowicz AKA Little John Basso; to Street Transvestite Action Revolutionary Marsha P. Johnson; and to New York's Francis Cardinal Spellman AKA Fanny faze few. And the show still packs a powerful punch, after the jokes die down, and the new-found pride, the first chants of "Who takes the payoffs, you take the pay offs" and "Join us," and the historic rejoinder to "You faggots are revolting!," "You bet your sweet ass we are!," take center stage and bring lumps to our throats for oh so many reasons.
Kudos go to, as the good guys, Chris Andersson and Michael Lynch, colorful street queens Ceil and Boom Boom, godmothers to the new activism; Josh Kenney and Rebecca Nyahay, as leatherman Jack, just one of Wilson's mouthpieces here, and no-nonsense lesbian C.B., cut from the same tough cloth as each other; Jeremy Lawrence and Tim Abrams as Sidney, the senior closet queen, boasting some of the best lines, and coming to see the light, and Timothy, the innocent new boy in town, hailing, like Wilson, from the Pacific Northwest, and having to learn fast; and Eilis Cahill as flower child Heather, blessed with uncanny insight and quickly outgrowing her Rego Park roots; to Johnathan Cedano and Desmond Dutcher as gay politicos Jordan and Gordon, already frustratingly bureaucratic; and Ben Strothmann and Patrick Porter as terminally-oppressed "Boys in the Band" fugitives Michael and Donald, amazingly similar duos; and to, as the bad guys, Joe MacDougall and Russell Jordan as dopy undercover vice cops Seymour and Donovan, one with more in common with the men he entraps than he'd want others to believe; and Christopher Borg as no-less-dopy, swaggering lout Murfino, who runs the Stonewall. Giving the cast the right period look are costume designer Chris Weikel and wig and makeup designer Zsamira Sol Ronquillo.
"Street Theater" plays at 7 p.m. on Wednesdays through Saturdays, until October 24. Tickets go for $18, in advance, on line at http://streettheater.brownpapertickets.com, or at the door of the Eagle, 554 West 28th Street, between 10th and 11th Avenues, just prior to performances, for cash purchase only. For more information about TOSOS, visit www.tososnyc.org.