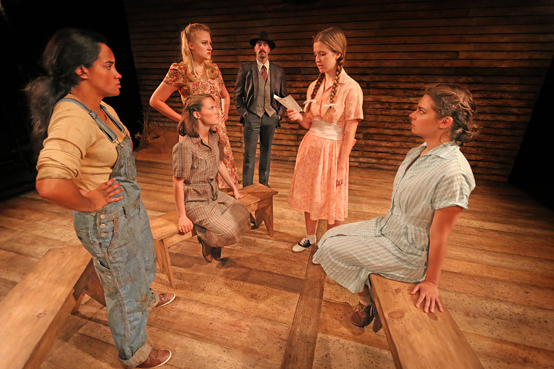 photo by Christopher Drukker

(left to right) Vanessa Cardenas, Brigie Coughlin (seated), Daisy Chase, Mike Mihm, Lucy Schmidt, Emily Verla.

.......................................................................................................................................................................................
Meg Miroshnik's "The Tall Girls" has its East Coast Premiere at Luna Stage, playing in West Orange, New Jersey, through November 1. It is a complex play that gets to the heart of the matter of young women in sports.
Set in the 1930s during the Dust Bowl, Jean (Emily Verla) arrives in town in her mother's best suit, clutching a suitcase in one hand and her purse in the other. Her ride is late, and a stranger strikes up a conversation. He, too, has a suitcase, and burlap bag with a mysterious round presence. Haunt Johnny (Mike Mihm) is clearly a man who understands what motivates people, and a bit of mystery has Jean initially repelling his attempts to speak, but ending up fascinated by his manner. Johnny's spell is broken for the moment by the arrival of Jean's tomboy cousin Almeda, come to take her home. And thus our story begins.
Almeda (Vanessa Cardenas) hungers for a new basketball. The only one in town doesn't dribble. It needs a new bladder–remember when basketballs had laces? She and her best friend Inez (Brigie Coughlin) are pooling their meager resources, but they're still a long way away. There are few men or boys in town, as they've all left to find work, so there's less competition for the remains of the ball, but Johnny's bag has got a brand new ball and, with that, he's got the undivided attention of five basketball loving teens.
Miroshnik has crafted a vintage snow globe reminiscent of the Dust Bowl photos of Dorothea Lange. We're taking a look through amber glasses, dusty and cracked, to get a real slice of 1930s life, in every sense of the word. Inez is caring for her five other siblings while her parents struggle to keep their farm. Almeda is obsessed with basketball, and with the motherliness of Inez, as she feels the absence of her own mother, who lost her struggle with life. Jean has come from a hard life Back East to a different kind of hard life in this "grave town." Only sisters Lurlene (Daisy Chase), the local femme fatale, and Puppy (Lucy Schmidt) seem to have some sort of familiar-looking life. Their father is the town lawyer, so as long as farms keep going under, his family will survive.
Jane Mandel directs these six beautiful young souls, each striving for some kind of mean, and weaves them into a tapestry of community. Haunt Johnny has a mystery in his past, but he becomes brother and father figure to these young women, who range from about 13–18 years old. Each of these women is struggling to find her place, and each walks a lonely path, where she has to face a stark reality of her place in that time. Lurlene hungers for glamour, while Puppy wants order. Jean is trying to escape her own secret Back East, while Almeda dreams of basketball court glory. Inez just dreams of a life with less work. They form a sisterhood of nascent womanhood and struggle that remain in your mind.
Christopher and Justin Swader's set is evocative and cleverly done. Minimal and sere, it suggests the wide open nothingness and everything of the Prairie. Jake Fine's lighting is spot-on and Deborah Caney's costumes put us in a time machine. Every dress is washed and worn, eking out its humble existence, as much as the women wearing them do. Margaret Pine's pre-curtain music and sound design have us fully immersed in the time as the lights go down, then come up on the world we thought was simpler, but was every bit as complicated as today–just differently so.
Be sure to visit the Content Room before the show and during intermission. You'll find everything from articles about women in sports and very recent controversies to historical information and photos of Daisy Chase's grandmother and great-grandmother, who were playing in the dark years before Title IX granted equality to women's sports. 40 years ago, Title IX put young women and young men on equal ground, but this play takes place 40 years prior to that.
How far have we come? You be the judge. Bring your sisters, daughters, mothers and friends to see this show. The fight is still on, come see where it began.
Visit www.lunastage.org for tickets, directions and more information. I'll see you there. Haunt Johnny haunts me still.