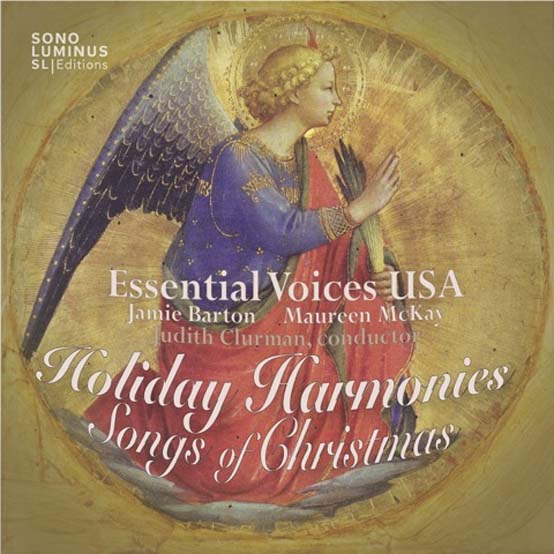 CD Cover

.......................................................................................................................................................................................
Just in time for holiday giving, Sono Luminus has issued the latest release by Judith Clurman's Essential Voices USA, "Holiday Harmonies: Songs of Christmas." There are familiar pieces with sparkling modern arrangements, as well as new pieces by living composers. Featured solo voices include those of mezzo-soprano Jamie Barton and soprano Maureen McKay, with Tedd Firth on piano and Stacey Shames; music of the spheres on harp.
This is a tidbit of an album, perfect for the cocktail hour of your pre-Holiday party. David Chase's fresh new arrangement of "Angels We Have Heard on High" is very different, with enough of the traditional to ground us, yet giving us new horizons to enjoy. Following it is Ryan Nowlin's arrangement of "O Holy Night," with harp continuo by Stacey Shames and a cascading section of great beauty, followed by a glorious suspension which, when resolved, permits the voices to soar.
Tedd Firth and Judith Clurman's arrangement of "Silent Night," featuring the Metropolitan Opera's Barton, starts out with a post-modern open feel that makes each note new as fresh snow covered in dark honey. Barton's rubato feels graceful and grateful at once. Jennifer Higdon's "Love Came Down" is clear and beautiful as well and features McKay's sweet, crystalline tone, floating above this contemplation of the true meaning of the season, in the many ways it's celebrated.
Barton and Firth "duet" on "The Virgin's Slumber Song," and its lilting melody, flirting with arpeggiated minor wistfulness, is calm made flesh. Nico Muhly's "Whispered and Revealed" follows and is a delicious study in contrast between tradition and modern harmonic progression. Muhly's choral piece has the richness of a painting, and the sense of motion is more urgent, dynamic, and forward than the peaceful sequence that preceded it. Both have a sense of wonder that leaves us with the same.
"Merry Christmas Wishing Well," by Gene Gilroy and arranged by Michael Gilbertson, is an aural Christmas Card that brings to mind Currier and Ives scenes, Santa in the city, and a host of other lovely associations. Next comes the all-too-brief rendition of the bow that ties it all together, Clurman's adaptation of "We Wish You a Merry Christmas," featuring Barton and McKay weaving ribbons of song around one another, while Essential Voices USA joins the fun, just as your Holiday parties will happen. This is a great stocking stuffer for everyone on your ChrismaHanuKwanzaa-Kah List.