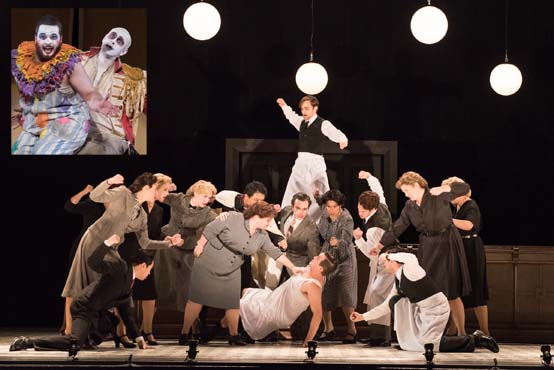 photo by Nan Melville

(main photo) scene from "Les mamelles de Tirésias"
(inset) Daniel Mirosław & Gerard Schneider in "Der Kaiser von Atlantis"aw & Gerard Schneider in "Der Kaiser von Atlantis"

.......................................................................................................................................................................................
For its fall opera production, Juilliard's Ellen and James S. Marcus Institute for Vocal Arts presented a pair of contrasting and subversive World War Two-era works, Francis Poulenc's gender-blurring absurdist romp "Les mamelles de Tirésias," set to Guillaume Apollinaire's World War One-era play about repopulating war-torn France, and Viktor Ullmann's grim "Der Kaiser von Atlantis," written in the 'model' concentration camp Terezin/Theresienstadt, to Peter Kien's libretto, in which dictatorship and death, to which both creators succumbed, are major themes. Keri-Lynn Wilson led the casts and Julliard Orchestra in the two demanding scores, the first Neo-Romantic, with light opera and liturgical echoes, and the second, close kin to Kurt Weill and Alban Berg's works. Intriguingly staged by Ted Huffman--with associate direction for "Mamelles," co-direction for "Kaiser," and choreography for both by Zack Winokur; original scene and costume design for "Mamelles" by Samal Blak; scene design for "Kaiser" and lighting design for both by Marcus Doshi; costume design for "Kaiser" by Paul Carey; and wigs and makeup by Dave Bova--"Mamelles" was set in a Parisian café, where Thérèse was a server and le Mari, the chef, rather than a literal Zanzibar, with balloons—the breasts that Thérèse sets free, when she changes sex—and baby dolls—the many children to which le Mari gives birth, exchanging oven and stove for incubator, when he changes sex —very much in evidence, and "Kaiser," with its bleak office and battlefield, had barbed wire, a despotic Emperor the image of Hitler, and striped prison uniforms incorporated into the costuming.
A soprano leggero, rather than lyric soprano Thérèse, Liv Redpath shone particularly in the high, quiet, florid pages, such as the Fortuneteller solo, while Samuel Levine's dark tenor suited the part of le Mari, often taken by a baritone. Theo Hoffman, as le Directeur, set the tone with his lyric baritone prologue. Fan Jia was the dippy Gendarme, so taken with le Mari. Xiaomeng Zhang and Matthew Swensen offered an amusing music hall number as the dueling Presto and Lacouf and Swensen returned for a fine cameo as le Mari's diapered baby, who would blackmail him. The ensemble's two act finales were quite wonderful and, when the crowd dispersed in response to the call "faites des enfants"—make babies—it was made up of comely male-female, and male and female same-sex couples alike.
Daniel Mirosław made an imposing Tod (Death), whose companion was Gerard Schneider as lively commedia dell'arte figure Harlekin, and who went on strike in response to Dimitri Katotakis' autocratic Kaiser's arrogant declaration of a war of total destruction and death, announced by distinctive-voiced Amanda Lynn Bottoms, towering over everyone as the Trommeler (Drummer). Alexander McKissick and Rebecca Farley played soldiers, ordered to fight to the death, and ending up in romantic duet.
Caitlin Redding, Nicolette Mavroleon, Natalia Kutateladze, and Cody Quattlebaum were the operas' remaining soloists.
Look for Cavalli's "La Calisto" and Mozart's "Die Zauberflöte" later in Juilliard's season.