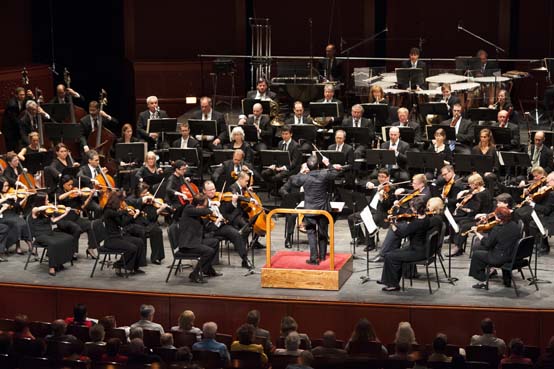 photo by Fred Stucker

Maestro Jacques Lacombe & NJSO

.......................................................................................................................................................................................
New Jersey Symphony Orchestra's (NJSO) Winter Festival finale this year brought back the stellar collaboration between our beloved NJSO and Shakespeare Theatre of New Jersey (STNJ) on William Shakespeare's "A Midsummer Night's Dream" and Felix Mendelssohn's Incidental Music for it. These days, we consider "incidental music," well, incidental. Back then it was pivotal to the play it augmented, as the scoring provided emotion and sweep to the gifts the actors provided onstage, and the performances of this collaboration hearkened back to that time. Remember, we've all grown up with film so often we don't even register the scoring that adds to our enjoyment of the action or the drama. Incidental music is the logical forebear of our modern scoring today.
More properly, this Winter Festival should have been called "An Afternoon with Friends." Bank of America is supporting each of Maestro Jacques Lacombe's "final" performances in each NJSO venue as part of his farewell tour. In addition to our favorite NJSO musical director and musicians, there were familiar faces from the STNJ family from Main Stage and the Summer Stage as well–Jesmille Darbouze, Jonathan Finnegan, Lindsey Kyler, Tim Liu, Felix Mayes, Quentin McCuiston, Jackson Moran, James Michael Reilly, Jon Sprik, Benjamin Sterling, and Patrick Toon. Sarah Swift made her STNJ debut with this company and I'll look forward to seeing her again as well. Mayes played Puck with an aplomb that was a cross between Evil Sprite and Ben Vereen's Leading Player in "Pippin." Sterling and Swift had a "Bones and Booth" type of delicious friction and it's hard to say who was more outrageous–the "Mechanicals," who were working on their panto, or the hipster sprites of Queen Titania. Bonnie Monte's direction was flawless! It was a feast for the ears and eyes when I saw the performance of Sunday, January 31, featuring the vocal talents of solo singers Karen Levandoski and Cornelia Lotito, as well as Montclair State University's Prima Voce under the direction of Heather J. Buchanan.
NJSO's 2016 Winter Festival is in the books but there's still plenty to love! In fact, get your tickets for Megan Hilty's Valentines' Weekend stand now at
www.njsymphony.org.