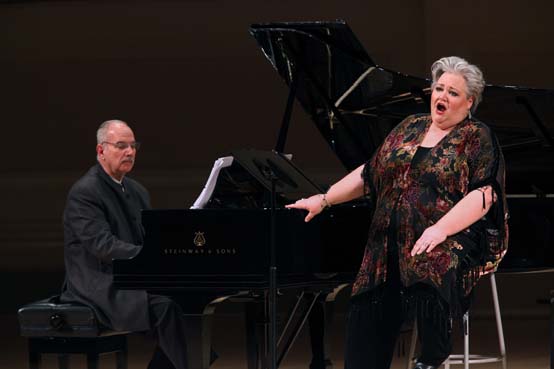 photo by Steve J. Sherman

Alan Louis Smith & Stephanie Blythe

.......................................................................................................................................................................................
What does the dedicated music lover do, during the first major blizzard of 2016, when scheduled to spend the day, January 23, at Carnegie Hall, indulging in Marilyn Horne's series "The Song Continues?" While the evening's "Marilyn Horne Celebration," with Horne and colleagues and protégés, was postponed, the afternoon diva sing-along, "Stephanie Blythe: Sing, America!," with pianist Alan Louis Smith, was not, though the afternoon's fare was reduced from 15 programmed songs to 11. And my friend Paul and I braved the blizzard and were there to sing-along with Stephanie, our beloved Orfeo, Fricka, and Amneris! Blythe told us about the history of the song, most written early in the 20th century; then sang the verse and one chorus; then we sang the chorus after her, with her, sometimes in counterpoint to her, and led by her. She could have a fine career as a conductor once her singing career winds down! Booklets of sheet music, with the parts we were to sing, were provided.
Blythe warmed us up by having us sing "Happy Birthday" to a celebrant, Adriana, in the front row. Then Blythe lent her rich mezzo-soprano and personable presence to Percy Wenrich and Edward Madden's romantic "Moonlight Bay;" Harry Von Tilzer and Andrew B. Sterling's lively "Wait 'Till the Sun Shines, Nellie," which she told us became the theme song of the Stock Exchange during the darkest days of the Depression; Von Tilzer and Arthur J. Lamb's torchy "A Bird in a Gilded Cage," concerning a wife, not a mistress; and Harry Carroll and Harold R. Atteridge's lively "By the Beautiful Sea," to the rhythm of the Quick Step. Telling us that the second verse of this last discloses that Joe and Jane, subjects of the song, are not married and that he's cheating on his wife to spend Sunday at the beach with Jane (!), Blythe declined to sing it and skipped to the repeat of the chorus. She then turned to sentimental ballad "My Gal Sal," by Paul Dresser, brother of Theodore Dreiser, a real tear jerker celebrating a past paramour.
Next came two numbers associated with Al Jolson. Maurice Abrahams, Grant Clarke, and Edgar Leslie's suggestive "He'd Have to Get Under—Get Out and Get Under (To Fix Up His Automobile)," Blythe pointed out, compares a faulty automobile with a lackluster sexual experience—i.e. erectile dysfunction set to jaunty music! Louis Silver and B.G. De Silva's "April Showers," which followed, was a song that, along with "California Here I Come" and "Toot, Toot, Tootsie," Jolson interpolated into Sigmund Romberg's musical "Bombo." Harry M. Woods and Mort Dixon's "I'm Looking Over a Four Leaf Clover," so popular with marching bands, was ued three times in Bugs Bunny cartoons, with, Blythe told us, Bugs singing it as "I'm looking over a three leaf clover that I overlooked be-three." We, however, sang the standard lyric here.
In sharp contrast to each other were Nat D. Ayer and Seymour Brown's ragtime number "Oh, You Beautiful Doll," with, as Blythe made clear, its orgasmic "Oh, Oh, Oh, Oh,/Oh, you beautiful doll," at the end of each chorus, and mention of "'grizzly bear' love," which she also relished, and Irving Berlin's sentimental "Always," which the songwriter gave, along with its royalties, to wife Ellin Mackay as a wedding present at the start of their 60-plus year union.
For the final programmed song, Blythe carefully rehearsed us in the four-part harmony, the soprano, alto, tenor, and bass sections, one at a time and then all together, of the "Tra la la la"s, meant to suggest Bavarian yodeling, of the chorus. The song was German-dialect number "Der Deitcher's Dog," which was written by Septimus Winner, married to a descendant of Nathaniel Hawthorne, and which, we realized when Blythe started singing the verse, was "Oh vhere, oh vhere has my little dog gone?" The encore, also a sing-along, was Berlin's "God Bless America"—no sheet music necessary.
What a wonderful way to spend a snowy afternoon!