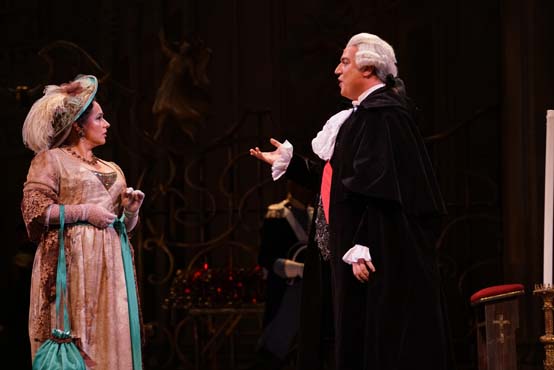 photo copyright Sarah Shatz

Kristin Sampson & Michael Chioldi

.......................................................................................................................................................................................
The original New York City Opera (NYCO) began its seven decades of performing opera at City Center, in February 1944, with "Tosca" with Dusolina Giannini, "Martha" with Ethel Barrymore Colt, and "Carmen" with Jennie Tourel; moved to Lincoln Center's New York State Theater in February 1966, opening with the North American premiere of Alberto Ginastera's "Don Rodrigo," starring the young Plácido Domingo; played later in various venues, including Brooklyn Academy of Music (BAM) and City Center, during 2012 and '13; and came, it would seem, to an untimely end with the United States premiere run of Mark-Anthony Turnage and Richard Thomas' "Anna Nicole," depicting the short, sordid life of Anna Nicole Smith, at BAM, in September 2013.
As NYCO Renaissance, with Michael Capasso, formerly General Director of the now defunct Dicapo Opera Theatre, as its General Director, the company has begun presenting opera anew with a run of six performances of Giacomo Puccini and librettists Giuseppe Giacosa and Luigi Illica's popular "Tosca"—the same opera, after Victorien Sardou's play, with which it announced itself nearly 72 years ago, a symbolic choice—from January 20 to 24, at Jazz at Lincoln Center's Frederick P. Rose Hall, featuring artists associated with NYCO, Dicapo, the Metropolitan Opera, Opera Orchestra of New York, and other companies.
One unusual aspect of this "Tosca," conducted by Pacien Mazzagatti and directed by Lev Pugliese, was that NYCO Renaissance recreated Adolf Hohenstein's handsome, traditional set and costume designs for the work's January 1900 world premiere in Rome, with John Farrell, associate set designer; Ildikó Debreczeni, associate costume designer; and Susan Roth, lighting designer, assisting. Here, Sant'Andrea della Valle was every bit the sumptuous church it should be; the police chief's apartment in the Palazzo Farnese was lavish; and the roof of the Castel Sant'Angelo looked grand and threatening, all of it a much superior setting for this rich melodrama than Richard Peduzzi's drab parking garage or factory and hotel lobby, for instance, with which it must currently contend at the Met.
The three principal roles were double cast and the opening "Tosca," with a lyric Floria Tosca and Mario Cavaradossi in Kristin Sampson and James Valenti and a dramatic Scarpia in Michael Chioldi, is considered here. Latonia Moore, Raffaele Abete, and Carlo Guelfi are slated to spell them at three other performances.
As Roman diva Tosca, Sampson gave us a lilting "Non la sospiri la nostra casetta" and touching, smooth legato "Vissi d'arte;" displayed a strong high C in Acts Two and Three; joined Valenti in winning romantic duets in the first and last acts and, fiery when it counts, engaged in a gripping, graphic struggle with Chioldi in the second, during which she stabbed him not only in the chest, but also in the back Valenti, a tall, handsome hero, does not have the easiest top range, but offered lyrical accounts of Cavaradossi's "Recondita armonia," though sometimes blocked by a pole in the scaffolding that housed the painter-cum-revolutionary's depiction of Mary Magdalene, and "E lucevan le stelle;" a respectable high B in the line "La vita mi costasse," during his second encounter with his political comrade Cesare Angelotti; and a triumphant cry of "Vittoria! Vittoria!," after which, despite having been tortured, he rose up and attacked Scarpia bodily. There was no firing squad for this Cavaradossi—Spoletta shot him, point blank, in the back of the head—however could Tosca have thought this execution was merely simulated? As their nemesis Baron Scarpia, Chioldi made an aptly and imposingly menacing, leering, and bullying chief of police, not above smacking his own deputies when they brought him bad news. Chioldi managed to convey Scarpia's corruption and unbridled lust even without having a trio of ladies of the evening to service him, as in the Luc Bondy production a bit further up Broadway.
The contributions of the supporting cast members—polish-voiced Christopher Job's Angelotti, Donald Hartmann's buffo Sacristan, Blagoj Nacoski and Darren K. Stokes' ruthless Spoletta and Sciarrone, Daria Hrabova Capasso's dulcet offstage shepherd, and Kevin Thompson's jailer—were exceptional, as were those of the New York City Opera Orchestra, under Mazzagatti's baton, and choral ensembles Musica Sacra and the Brooklyn Youth Chorus, guided by Kent Tritle and Dianne Berkun Menaker respectively. The brief Scarpia-Tosca exchange, "Risolvi!"/"Mi vuoi supplice a' tuoi piedi?," following "Vissi d'arte," which used to be a standard cut, was restored here.
Can't wait to see what NYCO Renaissance will bring us next.