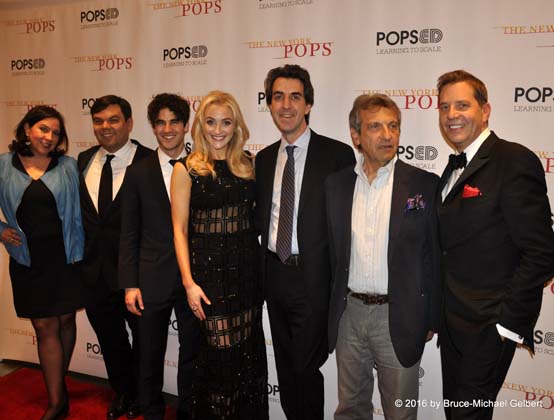 photo by Bruce-Michael Gelbert

(left to right) Kristen Anderson-Lopez, Robert Lopez, Darren Criss, Betsy Wolfe, Jason Robert Brown, Alain Boublil & Steven Reineke

.......................................................................................................................................................................................
On March 11, at Carnegie Hall, the New York Pops, guided by imaginative Music Director Steven Reineke, presented a program entitled "42nd on 57th: Broadway Today," a salute to music of the Great White Way, taking in not only recent and current Broadway shows, but also a smattering of Off-Broadway, upcoming Broadway, and songs from musicals on film. Broadway's Betsy Wolfe and Darren Criss were the featured guest artists, but a number of surprises, including composers' appearances, were also in store.
The concert's ringing overture consisted of variations on the title song, rich in pseudo-Puccini melodrama, from Andrew Lloyd Webber's "The Phantom of the Opera," still on Broadway 28 years after it opened. The arrangement was by Calvin Custer.
Criss serenaded his co-star with "I Love Betsy," a bustling romantic number, with gentle middle section and approach to the climax, from Jason Robert Brown's "Honeymoon in Vegas," as arranged by Matt Podd. Brown took a seat at the Steinway, and also played guitar, in "A Summer in Ohio," from "The Last Five Years," with Wolfe taking a no-holds-barred, wry look at spending a season in stock in a theater 40 miles east of Cincinnati, with Fred Barton's orchestration, and a pairing of "Before and After You" and "One Second and a Million Miles," for Criss and Wolfe, from "The Bridges of Madison County," marked by a particularly striking a cappella verse for Criss in "Before and After You."
Stephen Sondheim's "Getting Married Today," from "Company," orchestrated by Jonathan Tunick, prompted some questions. The trio includes two very different parts for women and there was just one woman singer. Would she sing both parts? Would an unannounced guest appear? Criss sang Paul's part, of course, changing "Today is for Amy" to "Today is for Betsy," but Wolfe, in a tour de force, did indeed sing both the high-lying choir soprano's assignment and Amy's tongue-twisting, lower-lying patter, but Reineke spelled her, singing the choir soprano's final verse and "Amen"s! And we'd hear from the maestro again before the evening was over.
Wolfe lent her silvery soprano sound to a heartfelt "(In a very) Unusual Way," from Maury Yeston's "Nine." Criss sweetly sang and played the piano for a hushed, contemplative "I'd Rather Be Sailing," from William Finn's "A New Brain," arranged by Greg Anthony, and ended the song in high head tone. Wolfe lavished brassier tone, so different from her legit voice, but no less polished, to an at once ebullient and heart-tugging "Meadow Lark," from Stephen Schwartz's "The Baker's Wife," arranged by Mark Buys and Kevin Purcell.
Lee Musiker, at the piano, kicked off a rollicking title song from Stephen Flaherty and Lynn Ahrens' "Ragtime," arranged and conducted by Reineke. Criss gave us a tough and tender evocation of "The Streets of Dublin," from Flaherty and Ahrens' "A Man of No Importance," as arranged by Neil Douglas Reilly.
A joyously raucous "Chicago" Suite, focusing on "All That Jazz" and "Mr. Cellophane" from John Kander and Fred Ebb's musical, in Michael Gibson's arrangement, introduced the evening's second half. From the film and forthcoming Broadway musical "Frozen," came Wolfe's propulsive power ballad "Let It Go," by Kristen Anderson-Lopez and Robert Lopez, orchestrated by Dave Metzger and adapted by Ted Ricketts, with Robert Lopez at the piano. Criss and Wolfe collaborated on an impassioned "Suddenly Seymour," from Alan Menken and Howard Ashman's "Little Shop of Horrors," in Sam Shoup's arrangement. Criss—singing and playing guitar—and Wolfe harmonized and mesmerized with "Falling Slowly," from "Once," by Glen Hansard and Markéta Irglová, in Jack Everly's edition.
At its 33rd Birthday Gala, on May 2 at 7 p.m. at Carnegie, the Pops will honor composer Claude Michel Schönberg and lyricist Alain Boublil ("Les Misérables," "Miss Saigon") and, at the concert considered here, Criss sang and played guitar in his own quiet quasi-rock take on "I Dreamed a Dream," from "Les Mis," changing all the "he"s to "she"s. The orchestra then offered a pairing of a driven "At the End of the Day" and proud anthem "Do You Hear the People Sing?" conducted and arranged by Reineke, who joined "Elder" Criss on vocals in "You and Me (But Mostly Me)," from Trey Parker, Robert Lopez, and Matt Stone's "The Book of Mormon," in Shoup's version.
Wolfe, in her best torch song mode, closed the program with Kander and Ebb's "Maybe This Time," from the film version of "Cabaret," orchestrated by Bob Krogstad and arranged by Everly. Wolfe and Criss' encore was Jonathan Larson's "Take Me or Leave Me," from "Rent."
Next on tap for the Pops, on April 8 at 8 p.m., is "Lights, Camera, Action: Spielberg and Williams," paying tribute to the collaborations of director Steven Spielberg and composer John Williams. The May 2 Gala features Stephanie Block, Jon Jon Briones, Jeremy Jordan, Jesse Tyler Ferguson, Motego Glover, Norm Lewis, Patti LuPone, Eva Noblezada, John Owen-Jones, Hugh Panaro, Lea Salonga, Kyle Scatliffe, Marie Zamora, Judith Clurman's Essential Voices USA, the Pops Kids on Stage, Ronald McDonald House Rockin' the House Band and Singers, and Camp Broadway Kids and is followed by a Dinner Dance at the Mandarin Oriental Hotel. Visit www.newyorkpops.org or www.carnegiehall.org for tickets and information.
The Pops' exciting 2016-17 season at Carnegie Hall will open on October 14 with "The Musical World of Lerner and Loewe," with Colin Donnell, Nathan Gunn, Laura Osnes, and Essential Voices USA, under Reineke and Clurman's batons. The Pops observes Veterans Day on November 11 with "Concert for Courage," with the Soldiers' Chorus of the US Army Field Band. Sibling duos Liz and Ann Hampton Callaway and Will and Anthony Nunziata join the Pops and Essential Voices USA for "Make the Season Bright," the holiday concerts, on December 16 and 17. The orchestra celebrates John Kander's 90th birthday with "Life is a Cabaret: the Songs of Kander and Ebb," with Joshua Henry and Caissie Levy, on March 10, 2017. The Pops pays tribute to music of Carole King, James Taylor, and others with "You've Got a Friend: A Celebration of Singers and Songwriters," with Jonathan Groff and Adrienne Warren, on April 21, 2017.