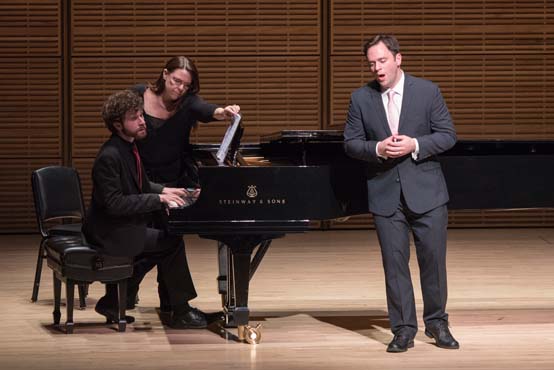 photo by Nan Melville

composer Matthew Aucoin & tenor Paul Appleby

.......................................................................................................................................................................................
Refined and expressive up-and-coming lyric tenor Paul Appleby gave a most diverse and satisfying song recital, assisted by pianist Ken Noda, at Carnegie Hall's Zankel Hall on March 16, consisting of a world premiere, traditional German Lieder and French chansons, and Brazilian rarities. "Comparisons are odious," William Shakespeare wrote in "Much Ado about Nothing," so let's not say that Paul Appleby is the new incarnation of any predecessor—let's propose, rather, that he, more than anyone else, fills the void left by the departure of Nicolai Gedda from the musical scene.
The premiere, co-commissioned by Carnegie and Wigmore Hall in London, was that of Matthew Aucoin's settings of six James Merrill poems in the intriguing "Merrill Songs" and, for these, the composer spelled Noda at the Steinway. The opening "A Downward Look," depicting the start of life, and closing "An Upward Look," about its end, bracketed the cycle's other four songs, concerning changing perceptions about mortality. Giving the proceedings a mystical air, Appleby began "Downward Look" ("Seen from above, the sky/Is deep") quietly, as Aucoin, as pianist, went full tilt. The words "glide./On high, the love," at about mid-song, found the singer at his most formidable, but by its end, all had ebbed to the original quiet, as "a wrinkled, baby hand/Happens on the plug," and the birth accomplished. The ecstatic "The Kimono" was suffused with love and with a turmoil, somewhat diminished, when we're on familiar ground once more. Merrill, Aucoin, and Appleby's "Grass" was brittle and, like life, elusive. "Last Words" examined vulnerability and other strong feelings and Appleby employed quiet head tone for its conclusion. In "Sonnet from 'Sandover,'" age and experience yielded greater self-knowledge, the song level-headed until its final primal scream. Unusual phrasing, with each line of poetry broken in half, marked "An Upward Look"—and where does one look up from, but the grave?—and Appleby realized its diverse dynamics—the high, quiet acceptance, the lower, louder rebellion, and the ultimate peaceful resolution.
German Lieder made up the first half of Appleby and Noda's evening. The tenor's sweetly sung, lyrically flowing "Das Fischermädchen," set by Franz Lachner—perhaps best known for fitting Cherubini's "Médée" with Italian-language recitatives—began a series of settings of Heinrich Heine's poems. Appleby began the song peacefully, then it gained in urgency, and his high notes, ringing in the fourth verse, quiet in the repeat of the first, were equally perfectly placed.
Robert Schumann's settings of Heine, in the song cycle "Liederkreis," followed. Appleby conveyed the eagerness of the propulsive "Morgens steh'ich auf und frage" and the agitation of "Es tribt mich hin," with its explosive consonants. In his contemplative "Ich wandelte unter dem Bäumen," he beautifully floated phrases that ended the first and second verses, "ins Herz hinein" and "einmal so weh," and offered a particularly breathtaking piano third verse. In "Lieb' Liebchen," haunting and haunted, he morbidly anticipated the noisy building of his coffin, and infused "Schöne Wiege meine Leiden" with regret and ire over unrequited love, finally longing for rest that the grave would provide. Appleby probed fury and madness in "Warte, warte, wilder Schiffmann," with its Biblical and Classical allusions, and lent it appropriately grand, operatic breadth. In "Berg' und Burgen schaun herunter," he effectively conjured up the magnificent vistas of mountains, castles, and the river Rhine that put the speaker/singer/poet in mind of his beloved. In "Anfangs wollt'ich fast verzagen," our hero examined quiet suffering, heroically borne. His lilting "Mit Myrten und Rosen" aptly belied the subjects considered—death, the coffin, and the grave—until the emotions poured out forcefully in the final two verses, the cycle's climax.
Appleby's own English translation of poetry by Joseph von Eichendorff, set by Hugo Wolf, graced the printed booklet distributed. The singer's group began with his dulcet "Das Ständchen." Stillness marked the first two verses of Appleby's "Heimweh," before the full outpouring in the final two. He solemnly considered the eerie strangeness of being in a strange, loveless land in "In der Fremde" ("Wolken, wälderwärts gegangen"). He gave a vehement rebuff to an ungrateful heart in "Seemann's Abschied," with its triumphant martial conclusion.
Appleby and Noda returned to the composer's original piano versions in a most refined account of the three of Hector Berlioz's six settings of Théophile Gautier poems that make up "Les nuits d'été." The singer buoyantly hailed the coming of spring, with all of Nature's joys, in the opening "Villanelle" before skipping to the final two songs, a somber "Au cimitière," death and music its concerns, with his striking high and even line near the end of its second verse, and ebullient "L'île inconnue," generally effusive until a teaching moment to a naïve young beauty, as frankness punctured idealism.
Three songs by Heitor Villa-Lobos brought the program proper to a close and English translations in the booklet were by Appleby and New York Festival of Song Artistic Director Steven Blier. Appleby approached "Canção do poeta do século XVIII," a song of classic beauty, to Alfredo Ferreira's text, with suitable delicacy. "Evocação," to Silvio Salema's text, proved a Latin love song, in which Appleby indulged in emotions intimate and full-blooded, from gentle to as forceful as is needed for an Italian opera aria. "Samba classico" was Villa-Lobos' loving paean to Brazilian life, his own words, written under the pseudonym E. Villalba Filho, limning its diversity and its ideals, as well as hinting at its disappointments, its fiery patriotic finale deliberately undercut with an airy invitation, 'Let's samba!'
Appleby's encores were a sincere "O Waly, Waly," in Benjamin Britten's arrangement, sad but suitable, in response to the singer's wife's request for "a love song," and Lenski's "Kooda, kooda," sung just before the poet's death in a duel, in Tchaikovsky's "Eugene Onegin," Noda's suggestion, in which the tenor treated us to the wealth of emotion welling up inside his character, and did full justice to the aria's diverse dynamic range.