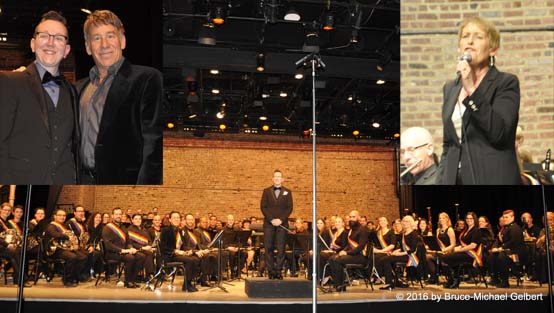 photos by Bruce-Michael Gelbert

LGBAC (insets: Kelly Watkins & Stephen Schwartz, & Liz Callaway)

.......................................................................................................................................................................................
The Lesbian & Gay Big Apple Corps (LGBAC) Symphonic Band, our community band, guided us through exotic "Musical Excursions," on April 9, at Symphony Space, in its varied and enjoyable spring concert, which, as guest MC actor, writer, and director Dean Pitchford put it, "celebrate[d] our journey through life through music." Artistic Director Kelly Watkins conducted, sharing baton duties with Assistant Conductors Francis Novak and Justin Stolarik.
LGBAC got us in the mood with a rousing and ringing "Olympic Fanfare and Theme" by John Williams, arranged by James Curnow, and written for the 1984 Summer Olympics in Los Angeles. A world premiere followed, local composer Rosalie Burrell's haunting, romantic "Laila," commissioned by the Corps and limning the ideal woman.
Cécile Chaminade's lively, light, and lyrical Concertino for Flute, Opus 107, in Clayton Wilson's arrangement, featured as soloist LGBAC's 2016 High School Concerto Competition Winner and Scholarship Recipient 17-year-old Beatrice Mirzoyev, distinctively playing the florid flute part, complete with a soaring cadenza, penned by Chaminade. Four of the six movements, "Lisbon," "Horkstow Grange," "The Brisk Young Sailor," and "The Lost Lady Found," of Percy Grainger's "Lincolnshire Posy," folksy, lilting, and ecstatic by turns, in Frederick Fennell's edition, followed. Novak led a stirring account of Vasilij Agapkin's plangent "Slavic Farewell," in John R. Bourgeois' arrangement.
In tribute to Broadway and opera composer and lyricist Stephen Schwartz ("Pippin," "Wicked," "Séance on a Wet Afternoon"), in whose "Godspell" Pitchford made his stage debut, Stolarik conducted a wistful "Simple Song," from "Mass," with music by Leonard Bernstein and words by Schwartz, in Michael Sweeney's non-vocal arrangement; under Watkins' baton, Callaway sang a most moving and mellifluous "Meadowlark," from "The Baker's Wife," arranged by Alex Rybeck and Craig Devereaux, and orchestrated by Larry Moore; and LGBAC presented Schwartz with its 2016 Profile in Leadership Award. Schwartz protested anti-LGBT bullying in "Testimony," which he wrote, and "Tyler's Suite," which he co-produced and contributed to, and helped organize not only the "Uprising of Love" concert, to raise funds for and awareness about LGBT individuals living in hostile societies, but also a number of Marriage Equality benefits. He withdrew the rights to performances of his works in North Carolina in response to the anti-transgender bathroom law passed there this week.
Watkins and LGBAC concluded the concert with a searing "Danzón Number Two," by Arturo Márquez, in Oliver Nickel's transcription, with jazzy overtones just before its torrid conclusion. Stolarik led the upbeat encore, Leroy Anderson's "Bugler's Holiday," for which Watkins joined the trumpet section, and LGBAC presented an award to Watkins for completing three highly distinguished years of presiding over the band.
LGBAC returns to Symphony Space, at 2537 Broadway at 95th Street, on December 8. Visit www.lgbac.org for further information.