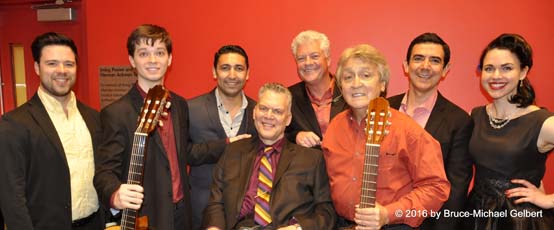 photo by Bruce-Michael Gelbert

left to right) Jeremy Smith, Brendan Cowan, Efraín Solís, Steven Blier, Michael Barrett, Pancho Navarro, Leonardo Granados & María Valdés

.......................................................................................................................................................................................
For the New York Festival of Song (NYFOS) season finale, on April 26 at Merkin Concert Hall, Artistic Director Steven Blier and Associate Artistic Director Michael Barrett revealed a wonderful world of song, unfamiliar to many listeners, in "Compositora: Songs by Latin American Women." Featured were the heads of the company at the Steinways, and more; two fine singers; a duo of striking guitarists; and a pair of accomplished percussionists, bringing to life a wealth of music, from diverse Latin American locales.
"A unos ojos," by Rocío Sanz, from Costa Rica, to a poem by Rubén Dario, replete with Nature imagery, began with Blier's delicate piano prelude and continued with a tender Lied-like love song, gently sung by soprano María Valdés. Beatriz Lockhart, born in Uruguay and later living in Venezuela, wrote her unpublished "Homenaje a García Lorca" after studying in Spain, where, according to Blier, she became "fascinated with Lorca and flamenco." Blier played the guitar-like piano line for the colorful "La guitarra," with Valdés shining in the widely-ranging vocal part, and they followed it with "Cancíon de jinete," which found the titular rider contemplating Córdoba, the forbidding city, with awe. In contrast, selections from "Canciones de Lorca," by Odaline de la Martínez, from Cuba, started with the stark "Remanso," which Valdés began a cappella, with Barrett, at the piano, and Jeremy Smith, on marimba, soon joining in, for the sparest of accompaniments, the trio of artists making this a wrenching, haunting, primal ritual chant of a song. Martínez's own setting of "Cancíon de jinete" proved a virtual mad scene for baritone Efraín Solís, with Smith on drums, conducted by Barrett, who then took the piano part. Valdés and Barrett offered "Es verdad," stark and spare as well, and Solís and Barrett concluded with "Despedida," a pained, no frills farewell, to which Smith contributed the triangle part.
A wide-eyed Solís narrated—singing, reciting, and finally trilling—the elemental creation story that is "El Nacimiento de Cifar," from "Songs of Cifar and the Sweet Sea," by California's Gabriela Lena Frank, of Peruvian-Chinese and Lithuanian Jewish descent, to poetry by Pablo Antonio Cuadra, with the drama reaching its height with the birth of sailor Cifar on the small boat rowed by his mother, her blood attracting "tiburones y sábados" (sharks and shad). Frank will be on hand to open next year's NYFOS Next series. In the presence of Brazilian composer Clarice Assad, young Brendan Cowan, making his professional debut and playing his guitar in mandolin or balalaika mode, as the music demanded, assisted Solís in "Enquanto a noite durar," Assad's mystical setting of Daniel Basilio's poetry, written after the composer's grandfather's death, and consisting of the slow "Sem demora aurora aflige o olhar," the hurried "Tá na ponta da faca o mal," and a repeat of the first. Assisted by Blier, Valdés limned "La casita," of Costa Rican and later Mexican composer Dolores Categnaro, with simplicity and affection, to a traditional-sounding dance rhythm, ending the Classical section of the program with a ringing high note.
The Popular Song half of the evening brought guitarist Pancho Navarro and drummer Leonardo Granados to the stage, first for Cuban composer Isolina Carrillo's lyrical and evocative "Dos gardenias." Music of Mexico's María Grever, perhaps best known for writing "What a Difference a Day Makes," came next, with Solís' no-holds-barred romantic "Júrame," with Blier, Navarro, and Granados. Chabuca Grande, from Peru, wrote "Fina estampa," depicting a dapper gentleman, in tribute to her father, and Valdé saluted her own father, who was in attendance, with the lilting number, punctuated by Navarro and Granados' instrumental interlude between verses. Solís, with Blier, Navarro, Granados, and joining the percussion section, Barrett, gave us Cuba's Ernestina Lecuona's "Sólo a ti te quiero," another impassioned romance. Lecuona, from a family of noted composers, was sister of Ernesto Lecuona and cousin of Margarita Lecuona.
Representing Susana Baca, a Peruvian writing in Cuban style, was Solís and company's "De los amores," a hushed look at love and life. From Argentinean lesbian feminist activist María Elena Walsh came the moving "Como la cigarra," moving song of a survivor, who compares herself to the cicada, living underground for years before emerging again, sung by Valdés, and assisted by Blier and Navarro, with Solís singing with the soprano in the repeated heartfelt refrain. With Valdés joining in on the final verses, Solís and company offered Chile's Violeta Parra's "Gracias a la vida"—a song that I remember Holly Near singing—a fervent farewell, and Parra's final song before her suicide. To close the program proper, Valdés and Solís sang and danced the lively, catchy "Cachito," by Mexico's Consuelo Velázquez, of "Bésame mucho" fame, with Navarro, Cowan, Granados, and Blier's assistance. The company's encore was another María Grever number, with Valdés providing a coloratura descant.