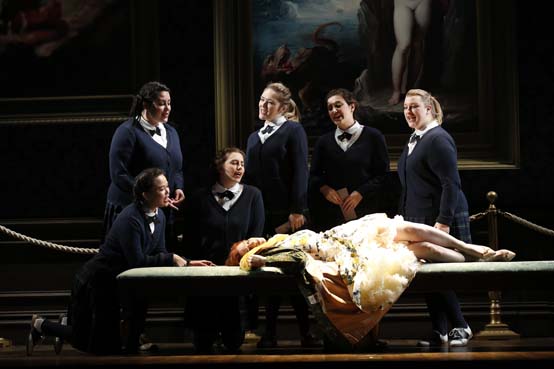 photo courtesy of Manhattan School of Music

Jana McIntyre (center), surrounded by Stephanie Johnson, Angel Azzarra, Kelsey Fredriksen, Alanna Fraize, Talin Nalbandian & Lauren James, in "Persée et Andromède"

.......................................................................................................................................................................................
For its spring presentation, Manhattan School of Music Opera Theater gave composer Jacques Ibert and librettist Nino/Michael Veber's "Persée et Andromède" (1924) its United States premiere and paired it with Maurice Ravel and Colette's familiar "L'Enfant et les Sortilèges" (1925). This charming double bill was conducted by Pierre Vallet, directed by James Robinson, designed by Allen Moyer (sets), James Schuette (costumes), and Paul Palazzo (lighting), and choreographed by Seán Curran. The first of three performances, on April 27, is considered here.
The concise "Persée" gives the myth of Perseus and Andromeda a unique twist—she doesn't want him to rescue her from the sea monster, called Cathos, as she's fallen in love with him—and, giving the tale a further spin, Robinson set it in an art museum, where Andromeda is modeling for an artist and Cathos is a museum guard. After Perseus slays the monster, and Andromeda poignantly mourns him, Cathos turns into a handsome prince.
The music was marked, at first, by the delicate gossamer of Debussy and other French Impressionists, but later, Strauss' "Ariadne auf Naxos" came to mind, making one wonder if Ibert had heard it. Persée had a big, splashy entrance—augmented here by glittering gold confetti—akin to that of Strauss' Bacchus, and Andromède and Cathos' final duet was as exultant as the "Ariadne" finale. The sextet of Néréides, who tenderly watch over her, as the trio of Najade, Dryade, and Echo guard Ariadne, became schoolgirls in uniform, visiting the museum,. Cavaliere d'Arpino/Giuseppe Cesari's classic painting "Perseus Rescuing Andromeda" (1594-95), which hangs in the Clark Museum in Williamstown, Massachusetts, dominated the stage and was surrounded by studies for its components.
Fine singers taking the leading roles were Jana MacIntyre, singing Andromède in a silvery high soprano; Joseph Sacchi, an imposing tenor Persée; and baritone Young Kwang Yoo and bass Hidenori Inoue, who wound up sharing the role of Cathos, seamlessly enough, when the former suffered a sudden indisposition. Mezzo-soprano Emma Mansell played Andromède's mother and Angel Azzarra, Alanna Fraize, Kelsey Fredriksen, Lauren James, Stephanie Johnson, and Talin Nalbandian were the Néréides. Lisa Barone, Yi Wang, Cherisse Williams, and EphiGenia Kastanas completed the cast.
In this imaginative "L'Enfant," mezzo-soprano Amy Yarham headed the cast as the eponymous obstreperous little boy and mezzo Noragh Devlin played his mother. In outstanding cameos, stepping out of the furnishings and books he damaged and portraying the animals, trees, insects, and so on that he wounded, were Fernando Cisneros—also the silent artist in 'Persée"—and Angela Joy Lamb, emerging from the oversized chairs—think of the trappings Lily Tomlin used when she played Edith Ann, her child character—to complain about the child; Mansell and Gregory Giovine, doing their foxtrot and circus tricks, as the broken Chinese cup and feisty English teapot; striking sopranos Yujia Chen, a tipsy siren in glitzy red, singing her helter-skelter coloratura as the Fire, and Yi Wang, a romantic figure as the fairytale Princess, who will never know how her story ends; Christopher Stockslager and Rachel Stewart, as the sensuous cats, he a horny leatherman, as the black one and she, his comely quarry in white, meowing their duet; Joshua Sanders as addled arithmetic, never learning how his problems should be completed, his followers wearing dunce caps and bearing blackboards with random numbers on them; Michael Gracco as the damaged Grandfather Clock, no longer able to tell time; Tobias Klassen as a wounded tree; Nalbandian and Yi Feng as the shepherd and shepherdess, torn from the wallpaper and singing their pastoral lament; Tim Lanigan, leader of a quartet of leprechaun-like leaping frogs; and Yin Pei Han as the squirrel who gets wounded in the mêlée, when the offended parties gang up on the boy, and gives him the opportunity to prove his compassion, as he binds her wounded paw. Among those also joining in the final chorale of praise, for the child's wisdom and goodness, were Hongni Wu, Nan Young Song, Catherine Swindle, and Amanda Nelson.