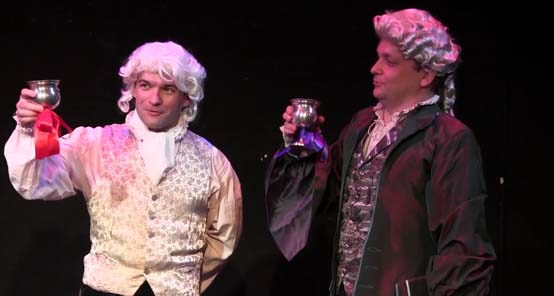 photo courtesy of Midtown International Theatre Festival

Roland Udvari as Mozart & Igor Jarovinsky as Salieri

.......................................................................................................................................................................................
Attempts to combine Opera and Theatre are too often a clumsy, uneasy, and ultimately rather comical mix. Such was definitely NOT the case during the last weekend in August at the Midtown International Theatre Festival, which had the discernment to present a thoroughly convincing new piece of collage theatre.
Merging segments of Nikolai Rimsky-Korsakov's one act opera "Mozart and Salieri" with dialogue scenes from Alexander Pushkin's play of the same name, Roland Udvari and Igor Jarovinsky offered audiences a thought-provoking and touching musical/theatrical event embedded in an evening of cultural literacy.
Pushkin's play is one of a group of four "Little Tragedies," each of which has been successfully set as an opera by a major Russian composer: "The Miserly Knight" by Sergei Rachmaninoff, "A Feast in the Time of Plague" by Cesar Cui, "Mozart and Salieri" by Rimsky-Korsakov, and "The Stone Guest," by Alexander Dargomyzhsky, Rimsky's teacher.
Pushkin's "Mozart and Salieri" is the seminal work which inspired Peter Shaffer's award-winning play "Amadeus," whose success with audiences and critics alike is a matter of record.
The "Amadeus" fever continues, and every season sees popular productions all over the world.
Pushkin's play, and Rimsky's opera, a verbatim setting of the play, are less showy and much shorter, at 45 minutes, than "Amadeus," as well as more intimate, brooding, and relying not at all on spectacle, but almost entirely on text and characterization: Art, rather than Entertainment.
The "Mozart and Salieri" opera is composed in a form often referred to as "dialogue opera," quasi-parlato sections of recitative which burst into short melodies, with a sound-track style musical underscoring—think of Claude Debussy's "Pelléas et Mélisande"—while the Pushkin play is itself principally an inner monologue of Antonio Salieri's torment.
It is an actor's dream to play either role, and the artistic lineage includes such notables as Fyodor Chaliapin, Peter Schreier, Paul Scofield, Ian McKellan, F.Murray Abraham, Michael York, Simon Callow, Tim Curry, Tim Hulce, and Neil Patrick Harris, and the list goes on
In the opening performance, on July 29, Jarovinsky delivered a sinister, emotionally arid and calculating Salieri, most effectively in the mezzo-piano semi-spoken passages, which demonstrated his inner nightmare. Udvari's light-hearted velvet tones were the perfect foil to this Salieri: he danced his way through the role the way one might imagine Mozart breezed his way through life–a charming visitor, barely human.
A most interesting theatrical reversal was assigning the singing to the grumbling, earthbound, Salieri, while the spoken dialogue was the property of the lyrical, poetic, Mozart. The onstage troika was completed at the keyboard by the masterful playing of Richard Pearson Thomas, whose theatrical sensitivity was matched by a truly elite level of technical virtuosity. Every dramatic beat was marked musically without being hammered, and the continual ebb and flow of changing tempi and textures made for a rare musical experience in the theatre.
The English-language performance once again brought to audiences the fluid translation of Pushkin's play/libretto created by this writer with Harlow Robinson in 1981 for the opera's New York premiere, and published by Belwin-Mills.
"I want truth!!" exclaimed Rimsky's teacher Dargomyzhsky, in a sloganeering letter having to do with the essence of theatrical performance. Udvari, Jarovinsky, and Thomas fulfilled his directive with integrity and passion.
This presentation of opera and play is, as I understand it, a work-in-progress. It is too enticing to have disappeared with these festival performances.