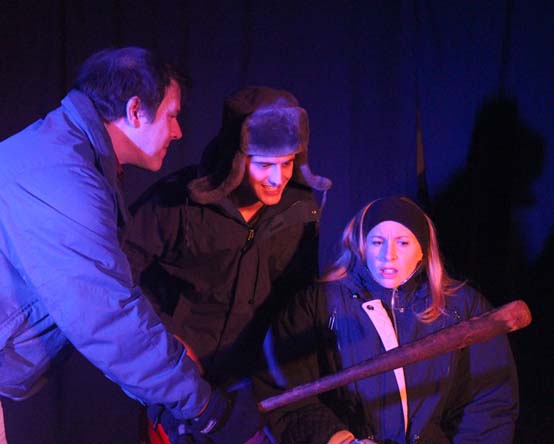 photo by Howard & Jill Fischer

(left to right) Gus (Danny Siegal), Tor (Donald Danforth) & Olive (Shawna Lagan)

.......................................................................................................................................................................................
Alliance Repertory Theatre Company finishes its 2016 season by returning to Minnesota, where their January production, "The Pavilion," took place, for a tale of seduction, murder, and a lot of laughs. Michael Driscoll takes the helm for C. Denby Swanson's post-Modern wit and razor sharp "The Norwegians."
Gus (Danny Siegal) and Tor (Donald Danforth) are two businessman with a very special niche–they eliminate heartache, permanently, for women who are jilted by their lovers. Two such women, Olive (Shawna Lagan) and Betty (Leslie Williams) happen to meet by chance in a bar and, while trading tales of woe, end up bonding over broken hearts.
The Goodfellas of their Minnesota town, Tor and Gus even have a business card! Betty just happened to have one in her purse and had used their services previously. Hard-boiled Kentucky country girl Betty is so matter of fact about offing her ex that you almost wonder whether she gets a frequent flyer card. There are several charming scenes where these seemingly simple men perform their slow-speed chase for Olive's business, ultimately winning her over. They are so nice–and they seem like they're true to their word. How true? You'll need to see the show to see how the ending spins out.
This ensemble cast is tight–Siegal's Gus is tortured by his love for someone who was once a client, while Danforth's Tor is always framing and footnoting for Olive, who is not a native Minnesotan but, rather, a transplant. Olive, in Lagan's hands, walks that razor-thin line between wanting to believe that people are really as nice as Gus and Tor, but if they are this nice, then how can they offer women's exes a final solution? And that high keening sound in the background? That could well be Betty's liver! Williams plays Betty as a true country girl–fire, ice, and slamming the Crown to give her a little Nordic courage to steel her resolve for what's to come–and it's bearing down like an oncoming train. Then like any great cocktail, there's always a twist.
The show runs July 15, 16, 22, 23, 28, 29, and 30 at 8 pm and July 24 at 7 pm. You'll welcome the chilling and chilly treat of love gone wonderfully right, then terribly wrong, after the sultry summer heat of downtown Summit. Will they? Won't they? Ultimately, "The Norwegians" would!