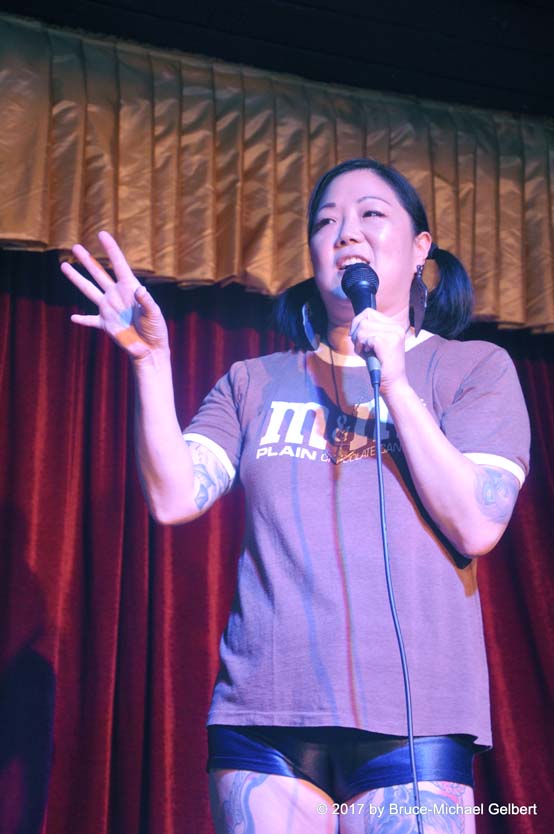 photo by Bruce-Michael Gelbert

Margaret Cho during her show at the Ice Palace
.......................................................................................................................................................................................
On August 19, at the Ice Palace, impresario Daniel Nardicio presented "Margaret Cho: Live on Fire Island" and we welcomed her frank and witty political and sexual observations once again.
Cho on Fire Island and Provincetown: "I love Fire Island. I've always been a Cherry Grove kind of bitch;" on the Meat Rack: "not a place for a fag hag at all;" on P-town: it "has gotten very straight—they take up a lot of room on the street—with their arms and their rights;" and on flying on a tiny plane to P-town on Bear Weekend: "You have to tell the pilot your weight and we're all lying about our weight."
On weed legalization and "the edibles": "I'll have another one … and another one … and then it's '911. What's your emergency?'" Weed, she said, was, "Legalized just in time for the Trump Presidency … I think we ought to legalize meth and heroin, because weed is not going to cut it."
On Anthony Scaramucci saying, "Steve Bannon is just going to suck his own dick:" "How does Scaramucci know about that?" Cho once had a boyfriend who could do just that and she wondered if she was supposed to ask, "Do you want me to spot you?"
On campaigning for Hillary Clinton for President: "My job was to get out the Korean vote," so they sent her to all the Chinatowns, "where people would say, 'Okay, okay, okay' … and then not vote at all." On Hillary Clinton's qualifications: "Hillary has been Secretary of State and has been President for eight years … I fully expected her to win."
On Donald Trump: "The pussy grab served to speak to a voter who had never been heard before [and said], 'That's my President!' … I blame NASCAR and Monster energy drinks." On Melania Trump: "She's the hardest working immigrant. She has to fuck him a lot, all the time, [and] pee in his mouth every day." Then more on golden showers: "Everybody always wants to pee on me … I look like I've been stung by a jellyfish," and on someone who did," "Some of it got in my mouth. I felt like I was President of the United States!" And on his followers: "Anyone who wants to get rid of Planned Parenthood, I want to psychically give them a yeast infection."
Cho on religion: "Jesus is so gay throughout the New Testament. He had 12 boyfriends, he's a bear …. [and] he entertains like he's a party promoter," with all those loaves and fishes and turning water into wine.
On being bi: "I am the B in LGBT … the B is often silent." On women: "I like women who are really butch … the kind of woman who rolls her own tampon." On the ideal boyfriend: "He's nice to me, but he beats up my pussy." And, "I like white dick—white dick makes me feel exotic." On three-ways: "I love a spit roast. 'Cause I'm Korean and we love barbecue." But mostly, "I love my vibrator. My vibrator is very strong. I look out the window and all the neighbors' TVs" have gone haywire "and all the streetlights are going off."
On "white washing:" "It's been going on in Hollywood forever—when they cast a white actor to play an Asian role." And on her fight with Tilda Swinton, who played an Asian in "Doctor Strange" and told her, "Tell all the Asian people not to be so angry with me." Cho confided in us, "I don't know all the Asian people."
And there was oh so much more!