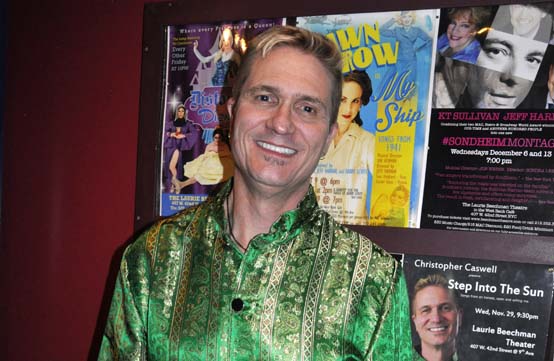 photo by Bruce-Michael Gelbert

Chris Caswell at the Laurie Beechman Theater

.......................................................................................................................................................................................
Singer Chris Caswell (Uptown Express), in fine voice, made his return to the New York City cabaret stage, at the Laurie Beechman Theater, on November 29, to delight us in a solo show, billed as "Step into the Sun," and covering contemporary and classic pop, Broadway, and standards, in which he was ably supported by Music Director James Followell at the piano, Dan Gross on percussion, and Sean Conley on bass. A portion of the proceeds was earmarked for Concerned Women of the Grove (CWOG), to be devoted to breast cancer research and awareness, and a fair representation of CWOG, the Arts Project of Cherry Grove, and the Cherry Grove Community Association, Inc was in attendance.
A propulsive and optimistic "Life Is Wonderful," by Jason Mraz, Stephanie Poole, and Alanna Ferri, was Caswell's upbeat opening selection. Professing his love for Broadway musicals, he moved us with his polished singing of Benj Pasek and Justin Paul's "Waving through a Window," the cry of an outsider hoping to break in, from "Dear Evan Hansen." He found, in the Beach Boys' "Cuddle Up," a tender, "warm and good," post-Thanksgiving love ballad, and limned a personal Paradise in a soaring "If We Get to Choose Our Heaven," by Thomas Christian Korbee, Jr.
Our singer dedicated a smooth "Testimony," by Ferron, with feeling, to the women in his life, especially his daughter Becky and including CWOG—the Next Generation. He began Rachel Platten, Jon Levine, and David Bassett's "Fight Song" with understatement, then continued with thrust and verve. He declared growing awareness about self-determination in Matt Zarley, Andy Zulla, and Chris Curtis' "Change Begins with Me," with a quiet head tone ending.
In a moody realization, Caswell discovered that "(Just a little bit of) Breath and Sound," in Tom Goss' song, was essential in beginning the search for a life partner. "I Choose You," he asserted with excitement, in the Sara Bareilles number, making a match and mastering the song's many melismas. He caressed the familiar phrases of Hoagy Carmichael standard "The Nearness of You." He introduced a fiery account of Melissa Etheridge and Kevin McCormick's "Testify" with a pertinent quote from Dr. Martin Luther King, Jr.—"Darkness cannot drive out darkness; only light can do that. Hate cannot drive out hate; only love can do that"—dubbing it an anthem for our troubled times. In John Legend's "If You're Out There," he found confidence essential, as he reached for a special someone and for other kindred spirits. For a finale, he sincerely saluted chosen family with Pink's "Fuckin' Perfect," with Followell slyly interpolating a quote from Wagner's Wedding March, alluding to Caswell's forthcoming marriage to Matt Baney. Caswell embraced this heady time in his life with Billy Joel's "I've Loved these Days," for his encore.