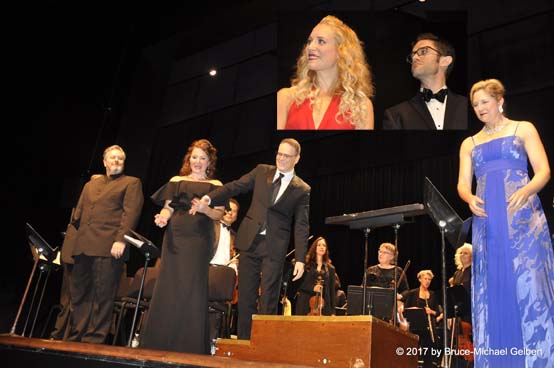 photo by Bruce-Michael Gelbert

Weston Hurt, Megan Monaghan, Israel Gursky & Teresa Buchholz (inset- Jessice Fishenfeld & Scott Joiner)

.......................................................................................................................................................................................
Teatro Grattacielo's rare verismo offering this season, on October 14 at the Gerald Lynch Theater at John Jay College, was the North American premiere of Riccardo Zandonai's early "Il Grillo del Focolare" ("The Cricket on the Hearth," 1908), after Charles Dickens' 1845 novella, with libretto by Cesare Hanau, and thanks to Founding Executive and Artistic Director Duane D. Printz, it proved a real find. Dickens' early Victorian long short story, replete with love, jealousy, betrayal, disguise, and mistaken identity, certainly lends itself to operatic treatment, and Zandonai cloaked it in a colorful and varied score, persuasively realized here by newly-designated Music Director Israel Gursky, leading an estimable septet of vocal soloists, the skilled Teatro Grattacielo Orchestra, and sonorous Cantori New York.
Megan Monaghan lent a silvery, incisive soprano to the role of Dot Peerybingle, the voice of reason here, who rhapsodized about the resident cricket, its chirping depicted by high strings and winds, as "l'anima della casa" ("the soul of the house"), and waxed cheerfully mystical when clearing up the many misunderstandings. Weston Hurt, singing John Peerybingle in a warm, hardy baritone, was the husband Monaghan's Dot joined in a pair of romantic duets in Act One. They more than once brought Giuseppe Verdi's Fords, fond allies who also feud, in "Falstaff," to mind. And following an orchestral interlude at the start of Act Three, responding to and resolving the chaos in which Act Two ended, its ensembles abounding in surprising revelations, Hurt gave impressive voice to tour-de-force "Una prova! … Una prova!" ("Proof! Proof!"), combining murderous jealousy, anger, and self-pity, in reaction to Dot's imagined infidelity, the calm restored only by the peaceful soaring sound of the cricket.
Tenor Scott Joiner was the impassioned Edward Plummer, rescuing his beloved May Fielding, soprano Jessica Fishenfeld, from unwanted marriage to the villainous Tackleton, bass Erik Kroncke, in the nick of time. Mezzo-soprano Teresa Buchholz was a lyrical Berta, Edward's blind sister, welcoming him home in a ringing recognition scene and more than grateful, rather than resentful, that their father, Caleb, baritone John Robert Green, had long limned an incredible, fantastical picture of their actually bleak world for her.
Choristers of Cantori New York, singing a Christmas hymn, joined the soloists for an exultant finale.