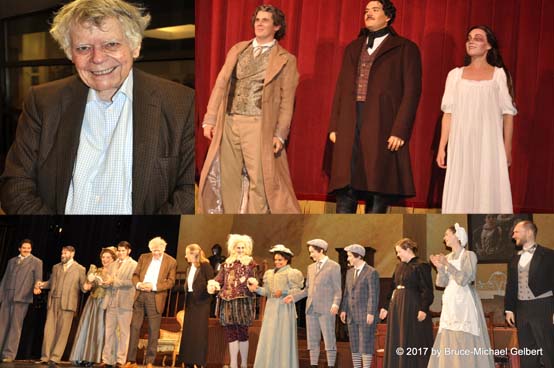 photo by Bruce-Michael Gelbert

composer Gordon Getty | Kevin Phares, Dominic Armstrong & Jamielyn Duggan "Usher House" curtain call | "Canterville Ghost" company curtain call
.......................................................................................................................................................................................
On October 19 and 21, at the Kaye Playhouse at Hunter College, the Center for Contemporary Opera (CCO), now in its 35th season, presented a staged double bill of recent one-act operas by American composer Gordon Getty, the New York premiere performances of "Usher House" (2014), after Edgar Allan Poe's "The Fall of the House of Usher," and the American premiere hearings of "The Canterville Ghost" (2015), after Oscar Wilde's story of the same name. The latter evening of this 'Scare Pair,' just in time for Halloween, is considered here.
Getty wrote the eerie gothic "Usher House" in a dark and dramatic neo-Romantic idiom, and the comic "Canterville Ghost," with a lighter touch, heart, and pointed quotations from "Yankee Doodle" and "Rule, Britannia." Sara Jobin guided the operas' forces, the singers and CCO Orchestra, with conviction and skill. Brian Staufenbiel staged the works persuasively. Designers Dave Dunning (sets), David Murakami (projections), and Nicole Pearce (lighting) effectively evoked the haunted locales, the doomed and gloomy house, moved piece by piece from the British Isles to Georgia, of the first and the English castle, with its new American inhabitants, of the second. Callie Floor contributed apt period costumes.
In the gripping "Usher," Keith Phares was the polished baritone Roderick Usher, who with his cataleptic twin sister Madeline, fiercely danced by Jamielyn Duggan, provided literary inspiration for their friend Edgar Allan Poe, called Eddie here, fine high lyric tenor Dominic Armstrong, Roderick, under another name, solving Poe's mysteries, and Madeline, as muse for his poetry. Sturdy bass Matthew Burns was Doctor Primus, Madeline's louche attending physician and possibly an ancient Usher ancestor, still surviving. Other Ushers, from different past eras, were the present Ushers' guests, played by ODC Dance Company dancers, seen in projections.
In Getty's airy "Ghost," Burns was Sir Simon, the hapless spirit, trying in vain to scare the new family in his castle, but subjected to the indignities of being handed oil for his chains by Hiram Otis (Phares), supplied with a remedy for upset stomach by Mrs. Otis (mezzo-soprano Jessica Best), and being attacked with pillows by the Otis boys (mezzo-sopranos Augusta Caso and Hilary Ginther). Young Virginia Otis, dusky-voiced soprano Summer Hassan, alone showed true empathy for the poor ghost and, after their scene together, helped him to find his way to rest and peace. Hassan also had a romantic duet with Armstrong, as her suitor Cecil Cheshire. Baritone Kevin Wetzel played the Canterville descendant who brought the largely clueless Americans to his family manse, as well as a grim attendant in the House of Usher. Phoebe Haines, Mary Claire Curran, and Aaron Theno assisted the Otis family in their English quarters.
Visit www.centerforcontemporaryopera.org for details about CCO's spring schedule.