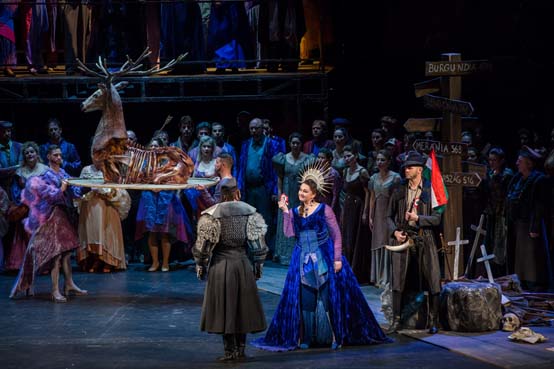 photo by Attila Nagy

Judit Németh as Gertrud at the banquet

.......................................................................................................................................................................................
The Hungarian State Opera and Hungarian National Ballet, based in Budapest, make their American debut with a two-week residency at Lincoln Center's former New York State Theater and, on opening night, on October 30, the opera company introduced us to the work considered the Hungarian national opera, Ferenc Erkel's "Bánk Bán" (Viceroy Bánk, 1861), a historic tale of intrigue at Court, in the Romantic tradition, spiced with Eastern European musical flavor.
At the core of "Bánk Bán" is a tale of a thoughtless ruler, who throws lavish feasts while the people starve, a situation familiar not only from immediately pre-Revolutionary France, but also well-known in the present day, considerably closer to home. The trappings of the feasts, given by Hungarian King Endre II's German Queen Gertrud for her compatriots, while the King is away at battle, in director Attila Vidyánsky's production, with sets by Oleksandr Bilozub, costumes by Viktória Nagy, and choreography by Árpád Könczei, included a large stag, borne in, intact, on a platter, showers of confetti and rose petals, and red balloons. Revolution smolders and erupts when the Queen's brother, Ottó, seduces Melinda, wife of Endre's Viceroy, Bánk, with Gertrud's apparent approval.
Under the baton of Musical Director Balázs Kocsár, grand ensembles, in the bel canto and Verdian style, stood out in Act One, as did Bánk's romanza about Melinda, sung by Levente Molnár, in this role written for tenor and reconceived for baritone, and the duet for Melinda, high soprano Zita Szemere, and Ottó, tenor István Horváth, but motivated by aggression, not love.
Apart from Bánk's opening patriotic cavatina, "Hazám, hazám" (My homeland, my homeland), soaring and heartfelt, as sung by Molnár, and Melinda's plea to Bánk, as the victim blamed, after her rape by Ottó, touchingly sung by Szemere, most compelling in Act Two were Bánk's three duets: his reunion with Tiborc, imposing bass István Rácz, the peasant who saved his life, when they fought together in battle, and to whom he later entrusts the care of his wife and child, as they return to their castle; his tender peacemaking with Melinda, once his irrational anger at her cools; and the climactic violent encounter with haughty Gertrud, veteran mezzo-soprano Judit Németh, ending with his killing the Queen, who had attacked him first. The Hungarians' striking patriotic chorus ended the act.
Highlights of Act Three were Melinda's florid mad scene, which made the listener imagine Szemere in the sort of bel canto repertory that Anna Netrebko used to sing, and Endre's vengeance cabaletta, entrusted to lyric bass Marcell Bakonyi.
Zsolt Haja, Antal Cseh, and Gergely Irlanda took other solo roles.
The other scheduled operas are Karl Goldmark rarity "Die Königin von Saba" (the Queen of Sheba), and Béla Bartók's popular "A Kékzakállú Herceg Vára" (Bluebeard's Castle), paired with János Vajda's "Mario és a varázsló" (Mario and the Magician).