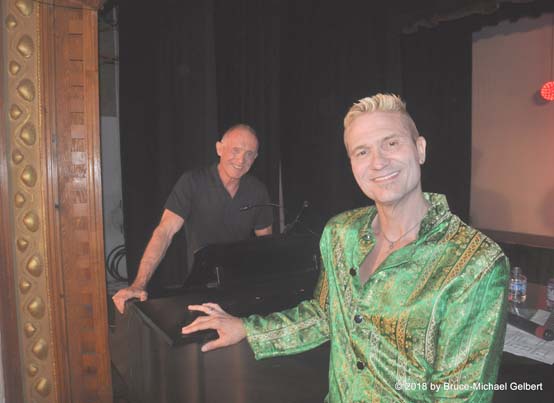 photo by Bruce-Michael Gelbert

Chris Caswell (right) & James Followell

.......................................................................................................................................................................................
Thanks to the Arts Project of Cherry Grove (APCG), singer Chris Caswell brought his cabaret show "Step into the Sun" to the Cherry Grove Community House on July 19, with pianist James Followell assisting and Matt Baney on lights and sound. Chris' show at the Laurie Beechman Theater was reviewed in these pages this past November. Love, thoughtfully limned, was the subject of many of Chris' songs, and the evening made for a bright spot in a summer that's had its ups and downs.
Jason Mraz, Stephanie Poole, and Alanna Ferri's "Life Is Wonderful" was Chris' cheerful opening number, in which he philosophized about life and love and oh so many things. With "Waving through a Window," by Benj Pasek and Justin Paul, from "Dear Evan Hansen," our divo saluted Broadway today, as he moved us with this song of an outsider with hope. With the Beach Boys' "Cuddle Up," he reminded us that he'll be committing matrimony with Matt Baney this coming November. In Thomas Christian Korbee, Jr.'s "If We Get to Choose Our Heaven," sung with heart, Chris sought "sunny days and endless beaches," "with fireworks all around me," both familiar Cherry Grove images.
The singer dedicated a tender "Testimony," by Ferron, to his daughter Becky, to Grove women, and to other women in his life, and particularly mentioned Concerned Women of the Grove (CWOG), raising funds to fight breast cancer and support breast cancer research, to introduce his earnest and affirmative "Fight Song," by Rachel Platten, Jon Levine, and David Bassett. In Matt Zarkey, Andy Zulla, and Chris Curtis' "Change Begins with Me," he sang of self-awareness and of assuming responsibility, and in Tom Goss' "Breath and Sound," considered the elements that make up love. In Sarah Bareilles' "I Choose You," he offered a bubbly account of the adventure of finding a life partner.
Chris continued with an intimate "Nearness of You," Hoagy Carmichael's classic romanza, about cherishing a loved one. He pointedly quoted Dr. Martin Luther King, Jr.—"Darkness cannot drive out darkness; only light can do that. Hate cannot drive out hate; only love can do that"—to introduce Melissa Etheridge and Kevin McCormick's "Testify," about how to cope with living in uncertain times. In John Legend's "If You're Out There," he looked for reassurance about not being alone in his concern about the state of the world.
With Pink's "Fuckin' Perfect," Chris paid tribute to partner and spouse-to-be Matt, as James slyly interpolated a quote from the Wedding March, from Richard Wagner's "Lohengrin," into the piano part. Chris took his leave of us with enthusiastic encore "I've Loved These Days," by Billy Joel.
APCG's Thursday night Summer Cabaret series continues on August 23 with a performance by popular soprano Shirley Ritenour.