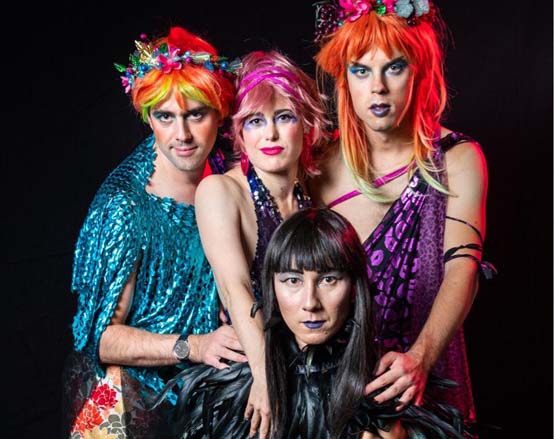 photo by Russ Rowland

Heartbeat Opera Co-Artistic Directors (standing, left to right) Jacob Ashworth, Louisa Proske & Daniel Schlosberg & (kneeling) Ethan Heard

.......................................................................................................................................................................................
During the weekend before Halloween, Heartbeat Opera, performing at Roulette in downtown Brooklyn, offered us "Dragus Maximus: a Homersexual Opera Odyssey," a queer extravaganza of glitter and coloratura, led by the likes of Homer, Aphrodite, and Sappho. Heartbeat Co-Director Ethan Heard was responsible for stage direction and, with Peregrine Teng Heard, script; conception was with Co-Artistic Director Louisa Proske, and Co-Directors Jacob Ashworth and Daniel Schlosberg were responsible for music, with new arrangements by Schlosberg. Ashworth and Mélanie Clapiè played first and second violin, Clare Monfredo and Dara Bloom played cello and bass, Gleb Kanasevich played clarinet, and Schlosberg was at the keyboard. Emma Crane Jaster devised choreography and Fabian Aguilar, Jon Carter, Miodrag Guberinic, and Andrew Jordan, the costumes, hair, and makeup. Projections were by Shawn Boyle, lighting by Krista Smith, props by Corinne Gologursky, and production managed and stage managed by Colin JB.
In this "Odyssey," Aphrodite (Peregrine Teng Heard) ordered travesti poet Homer (Drae Campbell), attended by three-headed dog Cerberus (Justin Mock), to create an epic love poem for 2018, providing him with gold winged Nikes to transport him through time. "There's no place like home," Homer chanted, clicking his heels à la Dorothy Gale, and was assisted and carried by hunky dancer Mock, sans canine heads, on his journey, accompanied by a fiery "Orage" (storm), from Jean-Philippe Rameau's "Platée."
In researching love, Homer first encountered bare-chested giant Cyclops Polyphemus, John Taylor Ward looming over us and offering his imposing contrabass lament "Fra l'ombre e gl'orrori," from George Frideric Handel's "Aci, Galatea e Polifemo." Next, mezzo-soprano Sara Couden reveled in the furious coloratura fireworks of Dejanira's "Where Shall I Fly?" from Handel's "Hercules," before hastening to a Metropolitan Opera "Mefistofele" rehearsal. High soprano Jamilyn Manning-White, as Medusa, in a glittering costume of wire snakes and with knives for hands—awarded an approving "Yasss!" by an audience member—gave us the world premiere of jagged and searing aria "Feed the Snakes," by Schlosberg and Royce Vavrek. Then Homer had a flirtation with Mock as a horny, bully Minotaur, who seized the pink cape that the poet tried to lure him with, turned it into a Folies Bergère skirt, and danced a joyful Can-Can from Jacques Offenbach's "Orphée aux Enfers."
Soprano Nicolette Mavroleon donned imperial Roman drag to portray Nero, singing "Come nube che fugge dal vento," from Handel's "Agrippina," and sawing away at a golden fiddle, as her fioriture nimbly cascaded. Manning-White, a Eurydice armed with fly swatter and sticky tape, enjoyed 'victory over the Patriarchy,' a leathery Ward-as-Jupiter-as-the-fly, in the Fly Duet from "Orphée," as a bondage-and-spanking scene. Aphrodite, now a frilly Wo Chan AKA Pearl Harbor, lip-synching to bel canto accounts of "V'adoro pupille," from Handel's "Giulio Cesare," and "Agitata da due venti," from Antonio Vivaldi's "Griselda," guided Homer, Cupid (Mock), and the cast, in an airy sea-and-sky scene, to Lesbos, where Sappho and her Muse (Anna Slate and Mavroleon) welcomed him with "Pur ti miro," from Claudio Monteverdi's "L'incoronazione di Poppea," as a dulcet lesbian love duet
After a fundraising pitch and a costume contest, during which a horse piñata was struck, causing Trojan condoms to issue forth, the company collaborated on familiar Beatles ode "All You Need Is Love" for the finale, followed by an encore of the Can-Can, capped with a ringing high soprano line from Manning-White.
Visit www.heartbeatopera.org for Heartbeat Opera's plans for the remainder of the season, including Ludwig van Beethoven's "Fidelio," emphasizing political prisoners' resistance against tyranny, and Alessandro Stradella's "La Susanna," Biblical Judges' molestation and framing of an innocent young woman.