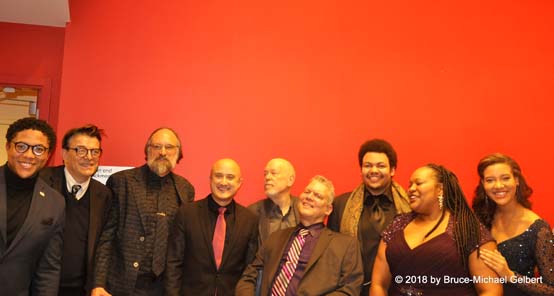 photo by Bruce-Michael Gelbert

(left to right) Justin Austin, Vince Giordano, Scott Robinson, Joseph Li, Elliott Hurwitt, Steven Blier, Joshua Blue, Lucia Bradford & Shereen Pimentel

.......................................................................................................................................................................................
On November 14, at Merkin Hall, the New York Festival of Song (NYFOS) opened its 31st season with a program entitled "W.C. Handy & the Birth of the Blues," exploring music by William Christopher Handy, considered "the Father of the Blues," as well as by his contemporaries, spiritual descendants, and rival. NYFOS Artistic Director Steven Blier, at the Steinway, presided over an exemplary company of four fine singers and three additional distinguished instrumentalists, and guided us through a musical history of the blues and the musicians and cities that played parts in it. The singers were lyric soprano Shereen Pimentel, mezzo-soprano Lucia Bradford, tenor Joshua Blue, and baritone Justin Austin and the instrumentalists, beside Blier, were pianist Joseph Li, Vince Giordano on string bass, tuba, and guitar, and Scott Robinson on winds and brass. Arrangements, including those of two possible world premieres, were by Blier, and musicologist and early blues scholar Elliott Hurwitt served as program consultant.
Handy and Dave Elman's lively "Atlanta (A-T-L-A-N-T-A) Blues" was the evening's overture, marked by both blue notes, from the full company, and solos for the instrumentalists aplenty. With the players jamming, Austin contributed a hot "Beale Street Blues," Handy's tribute to a favorite stomping ground, actually Beale Avenue, a thoroughfare characterized by 'businessmen, bars, and bordellos,' Blier said, in Memphis, Tennessee, Handy's adopted city.
Bradford gave us two earthy songs, sung in her earth mother alto, Eddie Green's "A Good Man Is Hard to Find," urging holding on to the rare treasure you've got, with parallel apt ornaments, a coloratura figure at the end of the first verse and scatting at the end of the second, and Lemuel Fowler and Perry Bradford's "He May Be Your Man (But He Comes to See Me Sometimes)," a merry paean to a two-timer, by a successfully seductive rival. Pimental sang Handy and Lieutenant J. Tim Brymn's march "Aunt Hagar's Children's Blues," citing Biblical slave Hagar, Sarah's 'gift' to Abraham, as ancestor and celebrating the homecoming of African-American troops who fought in World War One. The company paired Handy's "Memphis Blues," with lyrics by George A. Norton, with "Mister Crump," with Handy's words, the latter originally written as a campaign song for a sub-par candidate, Crump—with a C—who nevertheless won. Handy's plaint "Hesitating Blues" put both Austin and Pimentel in the not-unfamiliar position of being obliged to wait impatiently, on hold on the phone, to speak to their eager love. Blue ended a passionate account of romantic rarity "Negrita"—a tango, resulting from Handy's visit to Cuba, with music by D'Arteaga and lyrics by Handy—with a ringing high note. Pimentel offered a wistful Sheldon Brooks lament, "I Wonder Where My Easy Rider's [i.e. pimp] Gone," once province of Mae West, in "She Done Him Wrong," and of Sophie Tucker, and Blue, Handy's blithe answer to it, "Yellow Dog Blues," that finds the swaggering Easy Rider having hopped on a ship to escape from the pining Suzie.
In Lou Chiha "Frisco" and H. Qualli Clark's "Shake It and Break It," Pimentel and Bradford led the company in introducing us to a dance sensation from the start of the 1920s, and Pimentel went on to a dulcet "Chantez-Les Bas" (sing it softly), Handy's New Orleans serenade, once sung by Eartha Kitt. Jelly Roll Morton laid a rival claim to Handy's being the "Father of the Blues," and here we heard Bradford and Austin, assisted by Li and Giordano, in Morton's arrangement of "Buddy Bolden's Blues," depicting jass—as it was called before it morphed into jazz—cornetist Charles Joseph "Buddy" Bolden and the funky joint he played in. Blue sang Sammy Heyward and poet Langston Hughes' timely "(Checkin' on the) Freedom Train," possibly a world premiere, about an integrated railroad train, traveling through the segregated South, after World War Two, meeting resistance in Boss Crump's Memphis and rerouted to Nashville instead—the tenor appended a ringing top note here as well.
The terrific company concluded with Handy's arrangement of his mother's favorite spiritual "Shine like a Morning Star," a most mellifluous prayer; a thoughtful "St. Louis Blues," his most famous song; and rollicking encore "Long Gone (from Bowling Green)," which was recorded by Buck and Bubbles and by Louis Armstrong.
NYFOS' season continues, at Merkin, 129 West 67th Street, on February 20, 2019, with "Hyphenated-Americans," music by Bright Sheng, Daniel Reza Sabzghsbaei, Roberto Sierra, and Clarice Assad, with soprano Amy Owens, baritone Jesse Blumberg and, on piano, Blier, NYFOS Associate Artistic Director Michael Barrett, and Leann Osterkamp.