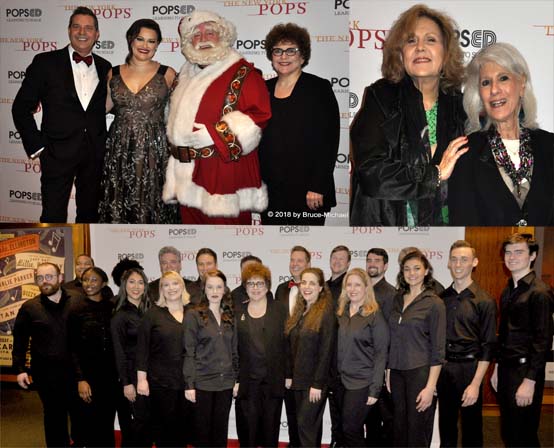 photos by Bruce-Michael Gelbert

Steven Reineke, Ashley Brown, Santa Claus & Judith Clurman - celebrity guests Brenda Vaccaro & Jamie de Roy - Essential Voices USA members, with Judith Clurman & Steven Reineke at center

.......................................................................................................................................................................................
"Under the Mistletoe" was the title of the New York Pops' engaging holiday concert, led by Music Director and Conductor Steven Reineke, at Carnegie Hall, on December 21. Their special guests were Ashley Brown, creator of the role of Mary Poppins on Broadway, and Essential Voices USA (EV USA), guided by Music Director and Conductor Judith Clurman.
The Pops and EV USA's overture was a grand, dramatic and sonorous "Deck the Halls," in Carmen Dragon's arrangement, and their heartening "It's the Most Wonderful Time of the Year," by Edward Pola and George Wyle, as arranged by Reineke, followed.
Sweet-voiced Brown introduced herself with James Lord Pierpont's "Jingle Bells," in David Lai's arrangement, almost as quirky as the one recorded by Barbra Streisand, as orchestrated by Ryan Shirar, with a legit penultimate high note for the soloist. Brown's dulcet, understated "Winter Wonderland," of Felix Bernard and Richard B. Smith, in Tim Berens' edition, and bittersweet "Where Are You Christmas?" a country song by James Horner and Will Jennings, in Reineke's version, completed her first set.
The Pops took center stage with contrasting selections Pyotr Ilyich Tchaikovsky's "Dance of the Sugar Plum Fairy," from "The Nutcracker," with Lee Musiker on celesta, and Joseph Carleton Beal and James Ross Boothe's "Jingle Bell Rock," Dixieland band-style, as conceived by Reineke. EV USA took a turn in the spotlight with "The First Noël," in shimmering vocal colors, with Musiker on piano, in David Chase's arrangement.
Brown returned with Reineke's takes on "I Wonder as I Wonder," singing the folk melody, transcribed by John Jacob Niles, with sweet simplicity, growing in intensity, and Walter Kent and Kim Gannon's sentimental "I'll Be Home for Christmas," ending with an ornamental figure.
Brown, EV USA, and the Pops took temporary leave of us with arranger Reineke and orchestrator Sam Shoup's lighthearted holiday medley, with Brown, in glitzy red gown, backed by the ensembles, giving us much heavy breathing and amazing range in Mariah Carey and Walter Afansieff's "All I Want for Christmas Is You" and her best Dolly Parton in "Hard Candy Christmas," by Carol Hall, from "The Best Little Whorehouse in Texas," with John Lennon and Yoko Ono's "War Is Over (So This Is Christmas)," a prayer for peace, and José Feliciano's "Feliz Navidad," as a festive sing-along, completing this finale.
The Pops recommenced with the tintinnabulation of Mykola Leonovych's "Carol of the Bells," in David Hamilton's edition. Clurman took up the baton to lead EV USA and the Pops in her and Larry Hochman's arrangements of traditional melodies in "Songs of Freedom: A Celebration of Chanukah," consisting of their joyous "Oh Chanukah! Oh Chanukah!," in Clurman's translation from the Yiddish; contemplative prayer "Haneirot Halalu" (These Lights We Kindle), following the lighting of the first of ultimately eight candles; and "Maoz Tzur" (Rock of My Salvation), with grandeur. The ensembles, led by Reineke, then turned to a touching "Christmastime Is Here," from "A Charlie Brown Christmas," by Vince Guaraldi and Lee Mendelsohn, arranged by Bruce Healy and transcribed by Chris Byars, with vocal arrangement by Clurman and Reineke.
Brown came back to urge us to carry the true spirit of Christmas throughout the year, in a quietly incandescent "The Secret of Christmas," an Ella Fitzgerald and Bing Crosby favorite, by Sammy Cahn and Jimmy Van Heusen, in Adrian Mann's version, and to join EV USA for a rousing "I Believe," by Westley Whatley and Bill Schermerhorn, first sung at the 2008 Macy's Thanksgiving Day Parade, and performed here in Hamilton's realization.
Santa Claus, assisted by special elf Pecan Pie, entered and conducted "It Came upon a Midnight Clear," and Reineke mounted the podium again for a spirited "Sleigh Ride," by Leroy Anderson.
Brown recalled her years in children's chorus at school in Gulf Breeze, suburb of Pensacola, Florida, and shared Allen Pote and Tom Long's "Be a Gift to a World in Need," an uplifting song of love and healing, written especially for her, as orchestrated by Reineke. She and EV USA and the Pops collaborated on Adolphe Adam's "O Holy Night," with English words by John Sullivan Dwight, in David T. Clydesdale's endearingly over-the-top arrangement, replete with modulations and high notes, and to round out the evening, had us join them for a breezy Johnny Marks/Walter Rollins and Steve Nelson/Oakley Halderman and Gene Autry/ Pierpont sing-along of "Rudolph the Red-Nosed Reindeer," "Frosty the Snowman," "Here Comes Santa Claus," and "Jingle Bells," in Reineke's arrangements, with Shoup's orchestrations. "We Wish You a Merry Christmas" was the company's encore.
On January 31 at 5:30 pm, Kelli O'Hara gives a cabaret performance at Feinstein's/54 Below, in honor of Steven Reineke's 10th anniversary as Music Director of the Pops, featuring highlights of their careers and work together over the past decade. Tickets begin at $300 and include open bar, hors d'oeuvres, a dessert reception, and a toast to Reineke. Telephone 212/765-7677 for details.