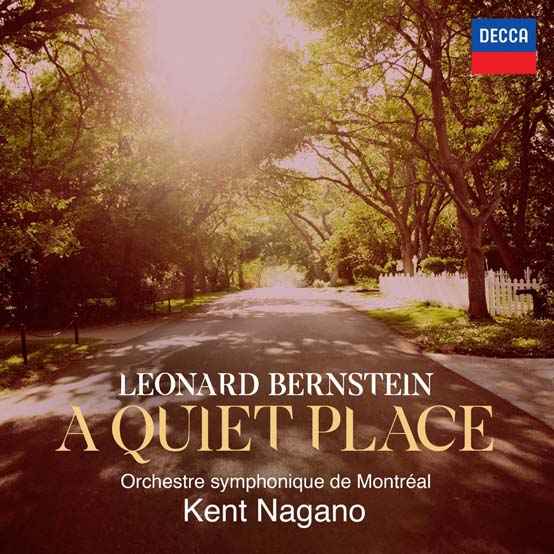 CD Cover

.......................................................................................................................................................................................
This year, we've been celebrating the centennial of Leonard Bernstein's birth, on August 25, 1918, and helping to mark that milestone, Decca has released a new recording of Bernstein and librettist Stephen Wadsworth's opera "A Quiet Place" (1983, revised 1986), in a new chamber adaptation (2013), commissioned, premiered, and conducted here by Kent Nagano, Music Director of the Orchestre Symphonique de Montréal (OSM). "A Quiet Place" is a sequel to Bernstein's short opera "Trouble in Tahiti" (1953)—or trouble in suburbia—which came to be incorporated into the longer work as a pair of flashbacks. The chamber version omits the earlier opera, reduces the 72-piece orchestra to 18, and restores music that was cut to make room for the inclusion of "Trouble in Tahiti." "A Quiet Place" is still haunted by "Trouble in Tahiti" and the events it recounts, but has become more accessible, if no less troubling, in the revision.
"Trouble in Tahiti" concerns suburban couple Sam and Dinah, their alienation, and their escapes from their troubled relationship. "A Quiet Place" continues the story of their dysfunctional family, after Dinah's death in a car accident. Nagano leads an expressive ensemble of soloists, who inhabit their roles, with the OSM and its chorus. Without the distraction of the earlier, engaging opera, the disturbing relationships among Dinah's survivors come clearer.
At Dinah's funeral, there's arch and awkward conversation aplenty, about her dysfunctional family, before her adult children arrive. Dede (Claudia Boyle), Sam (Lucas Meachem) and Dinah's daughter, arrives first. Her aria ("Fantastic, great!") concerns her, her husband François (Joseph Kaiser), and her brother Junior's (Gordon Bintner) travel to the funeral from Québec, where they live. Dede chatters, brightly, to avoid facing her feelings about her mother's death and reunion with her father. Lyrical memorial readings, by friends and family, interspersed with remembrances, contrast with the earlier awkward chatter of those attending the funeral. Junior, Sam and Dinah's troubled son, enters, even later than Dede, and the awkwardness returns. The readings resume, as if to make some sense of the chaos. There's a solemn chorale, as the guests' thoughts turn to Dinah, turning away from her family's dysfunction, and then they disperse.
Sam, Dede, Junior, and François—once Junior's lover and now Dede's husband—are left alone to confront each other. In an angry aria ("You're Late"), painful to listen to, Sam lashes out at his children, frustrated by the apparent lack of communication, relationship, understanding, and love among the family members, almost choking on it, his realization of his own contribution to the dysfunction lurking beneath what he's able to express. Junior, Dede, and François' reflective trio ("Dear Daddy … Daddy dear") follows, considering what was, what could have been, and what never was in their lives, as they allude to the past, when Junior and Dede were children.
Junior sings a bitter, jazzy aria ("Hey, Big Daddy, you driving me batty"), with echoes of "Trouble in Tahiti." In his rebellion, Junior turns shockingly seductive, as well as menacing, toward his father—daddy issues, anyone?—doing something of a striptease in the funeral home.
Peace, in a postlude, uneasily returns, as the first act ends.
At home that night, after the funeral, Sam ("I Wish I Could Sleep") reads Dinah's diary, considers what went wrong between them, who is to blame, rhapsodizes sadly about her and, jarringly, finds her suicide note. Dede, conciliatory ("What are you doing?"), tries to reestablish some rapport between her and her father, as they go through Dinah's keepsakes. Simultaneously, in another room, Junior and François try to sort out what has happened between them ("What are you doing now?") and within the family. Past incest between brother and sister, real or imaged, may have been among the family troubles. Jazzy strains, as in Act One and in "Trouble in Tahiti," again inform Junior's contribution ("I loved my little sister, I did"). Sam and Dede peacefully reconcile, drawing on the melody of one of Dinah's "Trouble in Tahiti" solos, in contrast with Junior and François' staccato exchange next door. A sort of calm returns, as Junior tries to express, to himself and to François, love for his father. After François gives Junior his sedative, he and Dede have their own conciliatory scene ("I've Been Afraid"). Sam makes an abortive stab at reconciling with Junior and his complicated feelings about him. Another postlude reflects the uneasy peace.
The setting for Act Three is the garden that Dinah once cultivated, now choked with weeds, which Dede is trying to clear. The act prelude sounds as desolate as the mournful start of Act Three of Wagner's "Tristan und Isolde." Dede lyrically and inevitably ponders the family troubles and communes with her dead mother in her once-so-beloved garden ("Morning").
Junior and Dede enjoy a peaceful moment in the garden over breakfast ("The one and only cereal"), remembering conversations and games of childhood, to a sprightly quotation from the third movement of Mendelssohn's Violin Concerto, but wind up echoing their bickering parents, to strains from "Trouble in Tahiti." Then Dede tentatively holds out some hope for future reconciliation among the family members and she and Junior resume their remembered childhood games. François joins them, with a breezy allusion to "Candide"—"What a day, what a day, for an auto-da-fé" becomes "What a day, what a day, for a café au lait!"
Sam enters and tries to join the young people's conversation and games, but awkwardness ensues, until Sam makes his peace with François and entrusts Dinah's suicide note to him. In his aria ("Oh, François, Please"), Sam looks, with affection, to François for the troubled family's salvation: he, in a way an outsider, could bind them together as a family. François reads Dinah's suicide note aloud ("Dear Loved Ones"), with understated fanfare, punctuated by an "Olé" out of one of her "Trouble in Tahiti" arias. Holiday cookies accompanied the note in its envelope, which inspires the family to laughter, breaking the tension. They're momentarily embarrassed by their laughter, but it allows them to start making plans for time together to realize their reconciliation ("I like it here!") A jazzy chorus, harkening back to "Trouble in Tahiti," underscores the family's quartet.
The peace abruptly shatters. Hostility erupts. Junior threatens to kill himself. François, with authority, stops the chaos—that's his job—his aria ("Stop. You Will Not Take another Step") both forceful and agitated. He shreds Dinah's suicide note—Dinah cannot make the family whole—they must do it themselves.
Junior, obviously vulnerable, makes his peace with Sam, no less vulnerable, if less obviously so ("You See, Daddy, that Death Does Bring Some Relief"). The family members at last accept each other's pain—and love—and reach out to one another ("I don't know what this is"). Their triumph over their troubles begins.