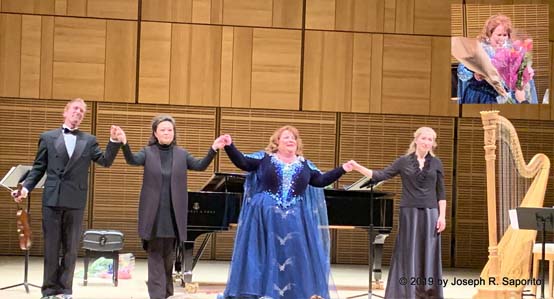 photos by Joseph R. Saporito

Christopher Collins Lee, In Seon Lee, Aprile Millo & Merynda Adams inset- Aprile Millo

.......................................................................................................................................................................................
On January 30, at Zankel Hall at Carnegie Hall, the New York City Opera (NYCO) presented the return of Aprile Millo to the New York stage, after some years' absence, in a recital that found the soprano, in fine voice, making this a grand night of old school singing, in all the best senses of the term. After her long and sometimes uneven association with the Metropolitan Opera, this was her debut with NYCO. Her sensitive assisting musicians were pianist In Seon Lee, harpist Merynda Adams, and violinist Christopher Collins Lee. The singer sported a couple of fabulous diva gowns by Broadway's Eric Winterling.
Her soprano lush and lyrical, Millo began with Stefano Donaudy's neo-Classical "O del mio amato ben" and Paolo Tosti's dulcet reverie "Sogno." She continued with a cheerful account of Gaetano Donizetti's "Me voglio fa 'na casa" (I want to build a house), which could be a sentiment of the composer's Nemorino, in "L'Elisir d'Amore." Her pair of contrasting Tosti songs, which followed, were a cleanly-sculpted "Ideale," a paean to an ideal love, and "Non t'amo più!" in which she realized the bitterness of the lovers' quarrel. With "Love Went a-Riding," Benjamin Britten's composition teacher Frank Bridge's setting of Mary E. Coleridge's poem, Millo brought this group, limning a relationship and its progress, to a triumphant climax.
Millo, we learned, is partly of Irish descent, and she drew on that aspect of her heritage for a group of traditional Irish melodies, three of them with harpist Adams and one with In Seon Lee. These were the soprano's romantic "Rose of Tralee;" spirited "Kerry Dance," with Lee making the Steinway sound like a bagpipe's droning; and a sentimental pairing of "Bendeemer Stream" and "Danny Boy," for the last of which Millo summoned most delicate tone.
As she brought the first half of the evening to a close, the singer sounded most like the Millo of her prime in a dramatic death scene, complete with ethereal vision and declaimed recitation, of Saint Cecilia, from Don Licinio Refice's opera "Cecilia," written by the composer and priest for Claudia Muzio.
After intermission, Millo paid touching tribute to her late colleague, baritone Dmitri Hvorostovsky, with a trio of impassioned Sergei Rachmaninoff songs, the Georgian "Ne poj, krasavitsa, prim ne" (Sing not to me, my beauty), replete with exotic eastern melismas and assisted by violinist Lee; "V malchan' ji nochi tajnaj" (In the mysterious silence of the night); and an effusive "Vesna idyot"(Spring waters), with a bravura piano postlude for Inseon Lee.
With the three instrumentalists, Millo offered a haunting "O ma lyre immortelle," our poetic ancestor Sappho's farewell to her art and indeed to life itself, from Charles Gounod's "Sapho," written for Pauline Viardot-García. With guest bass-baritone Kevin Short, Millo returned to her operatic roots for a searing "Ciel! mio Padre!" the fraught father-daughter confrontation from Act Three of Giuseppe Verdi's "Aida."
For an encore, Millo and the instrumentalists paired a wrenching "Core 'ngrato," by Salvatore Cardillo and Riccardo Cordiferro, and a heart-warming "O Sole mio," by Eduardo di Capua and Giovanni Capurro, with Millo inviting the worshipful audience to sing along with the refrain.