Beyond Words: Pablo Conejero López & Vinny Michaud
by Tad von Moltke |
follow us...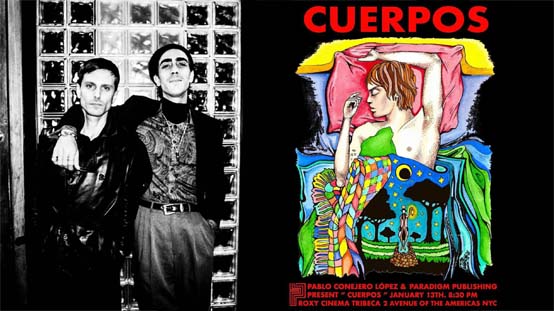 Pablo Conejero López (left) & Vinny Michaud (right) Photo by Theo Constantinou, + "Cuerpos" Roxy Cinema Tribeca graphic


.......................................................................................................................................................................................
On the night of January 13, the Roxy Cinema Tribeca played host to the launch of "Cuerpos," a book of poems by Pablo Conejero López, published in a bilingual edition of English and Spanish by Paradigm Press.
Too often, book launches can be pedestrian, tedious, ponderous affairs that test and torture one's endurance, characterized by undistinguished readings of undistinguished work. There was, however, absolutely nothing conventional about this event, which was the most coherent and engaging theatre evening I have had the pleasure of spending in recent years.
The energy both onstage and off crackled with an excitement that brought to mind artistic turning points of times gone by: The Velvet Underground and Nico, Martha Clarke's "Vienna Lusthaus," the Philip Glass "Songs from Liquid Days," and Shirley Verrett's tour-de-force performance in the premiere of Hector Berlioz's "Les Troyens" at the Met. There was an air of artistic liberation reminiscent of the "Happenings" of decades past, but the haphazard random selection characteristic of those improvised performances was replaced by the rigorous preparation one would expect at the Venice Biennale.
This book launch was a dazzling multi-media extravaganza, a living work of cross-disciplinary performance art which owned the intimate space of the theatre. It could easily tour the international festival circuit.
A great designer once proposed that an essential element of beauty is surprise. That night at the Roxy Tribeca, the timeliness and relevance of the many surprises bestowed by the collaborating artists demonstrated beyond the shadow of a doubt—to my great surprise and satisfaction—that the New York avant-garde is neither exhausted nor dead.
The smart discipline, precise focus and. above all, the cultural literacy and artistic dignity of this presentation assured an experience of a profound and progressive aesthetic: a fusion of the bohemian with the classical, set apart categorically from what I have observed to be the frustratingly diffuse, wasteful, predictable, pretentious, ultimately boring, and often infuriating, efforts of so many who pat themselves on the back and call themselves innovators.
The riveting cadences of Pablo Conejero López's poems and the hypnotic music of his band were connected by the timbre of his firm, amber-hued speaking and singing voice, merging seamlessly with the ingenious creative direction and cosmic visuals of Vinny Michaud to create a chiaroscuro glow of jewel-toned audio-visual tapestry.
Michaud's designs undulated and swirled, a vibrant atmospheric backdrop, always enhancing and underscoring the meaning of the texts. Successfully pinpointing the location of the words in space, his congruent visual gestures affirmed every phrase, their movement a perfect counterpoint to the quiet power and stillness of López's texts. Mirrored silhouette, moving images, semi-tone overlay fades, kaleidoscopic patterns, and much more, refreshed and renewed memories of the masterworks of psychedelic and pop art of the 1960s and '70s. Michaud's superabundant imagery at times recalled the tarot designs, album covers, and concert posters of Martin Sharp, Jann Haworth, and Peter Blake, with Stanley Kubrick's "2001: A Space Odyssey" possibly identified as a subtle influence.
Et voilà! The past became the present, and a new 21st century visual language was born, speaking with clarity, intensity, and simplicity.
The evening was indeed a performance occasion: a fully sculpted demonstration of the Horatian theory "ut pictura poesis": "as in the painting, so in the poem." At the center, of course, was the provocative, energizing, inspiring poetry, addressing the universal through the particular, at the level of soul with unfiltered lucidity, in a tone unflaggingly alluring, seductive, masculine, and challenging,
"Cuerpos" is an exquisitely crafted garland of achingly beautiful meditations, a masterpiece in miniature, revealing the erotic metaphysics of life in poems that are as eloquent as they are rigorously disciplined, as distinguished by acute observation as they are by masterful control of language. López erects intensely sensuous architectural structures of lyrical beauty and delicate strength that precisely define the meaning and nobility of each moment.
A poet, to be sure, López is also a trained classical actor and an accomplished musician, hailing from a literary and theatrical family in his home country of Spain. He recites his poems with the poise, presence, and impact of someone who has both the ability and the skill to inhabit a role and hold the stage, imbuing his reading with unexpected gravitas and unforced interpretation. His work is a joy to read in both English and Spanish, to ponder, to reread, and back again, while the tiny book itself is a thing of beauty to handle with love, a limited edition designed by Christopher van Auken.
Vibrant blue and silver covers enfold gleaming white pages lightly touched by delicate typography, periodically distinguished by Vinny Michaud's provocative color plates.
The fluidity and integration of the creative forces at work here must be due in large part to the fact that Lopez and Michaud are in a long-term relationship, clearly serving as Muses to one another; role models leading by example.
"Cuerpos" has found its way into the heart of my poetry library, and more than holds its own in the company of Rumi, Cavafy, Rilke, Tasso, Lorca, and Homer.
2019 has barely begun, but I urge with great conviction that if you buy only one book of poetry this year, it must be "Cuerpos." Pablo Conejero López will break your heart, but in doing so he will heal it.
"Cuerpos" is a love gift. Valentine's Day is around the corner.
"Cuerpos" by Pablo Conejero López 116 pages/4.75" x 6.25"
First edition of 100
ISBN: 978-0-9986061-2-5 Printed in USA


Advertisements
New York Q News
Fire Island Realtors
The Best Of Fire Island
Gay E-zine with everything hip and happening in New York City. News and events all around the city.
www.newyorkqnews.com
..........................................................
The best summer rentals properties and homes for sale in all of Fire Island, The Pines and the Grove.
www.fireislandrealtors.com
..........................................................
Fire Island Pines, Cherry Grove, Ocean Beach, Water Island & all of Fire Island Residentials Sales and Summer Rentals.
www.thebestoffireisland.com
..........................................................
Shopping Online?
Real Estate Blog
CJ Mingolelli
Gives Us a Try. Online Mega Mall. Your community online shopping mall/Apparel, Books, Movies, Cars, Homes and much, much more ...
www.qnewsmegamall.com
..........................................................
www.26west17.com
Real Estate News, tips and comments about New York City and Fire Island Real Estate.
Visit Our BLOG >>
..........................................................
Fire Island Pines & Cherry Grove Homes For Sale & Summer Rentals: Season, Month & Weekly.
www.cjmingolelli.com
..........................................................
FEATURED HOME FOR SALE
MORE FIRE ISLAND HOMES FOR SALE & RENT AT:
The Best of Fire Island.com >>
- - - - - - - - - - - - - - - - - - - - - - - - - - - - - - - - - - - - - - - - - - - - - - - - - - - - - - - - - - - -