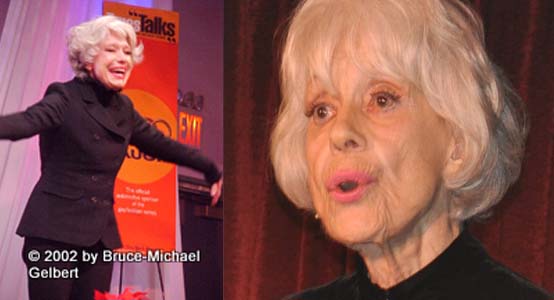 photos by Bruce-Michael Gelbert

Carol Channing at the Ice Palace | Carol Channing at the LGBT Community Center

.......................................................................................................................................................................................
Carol Channing, Broadway's unique and legendary Dolly Gallagher Levi and Lorelei Lee, who was born in Seattle on January 31, 1921, passed away on January 15, 2019 at her home in Rancho Mirage, California. Channing was best known for her many performances, on Broadway and on tour, as the matchmaker Dolly in Jerry Herman's "Hello, Dolly!," after Thornton Wilder, and as Lorelei in Jule Styne and Leo Robin's "Gentlemen Prefer Blondes," after Anita Loos, famously singing "Diamonds Are a Girl's Best Friend" and "I'm Just a Little Girl from Little Rock," as well as for her movie role of Muzzy Van Hossmere in "Thoroughly Modern Millie," in which her songs were "Jazz Baby" and "Do It Again!"
Channing recorded the role of Mehitabel the cat in George Kleinsinger and Joe Darion's "back alley opera," after Don Marquis, "Archy and Mehitabel;" succeeded Rosalind Russell as Ruth Sherwood in the original Broadway run of Bernstein, Comden, and Green's "Wonderful Town," after Ruth McKenney; toured with Mary Martin in James Kirkwood's play "Legends;" participated in revues from "Lend an Ear" to "Jerry's Girls;" and appeared at Democratic Party benefits, including one that I attended at Madison Square Garden in 1974.
On December 16, 2002, Channing promoted her Simon & Schuster book "Just Lucky I Guess: A Memoir of Sorts" at New York City's LGBT Community Center, where she was interviewed by the New York Times' Stephen Holden, and Carol Channing tribute artist Richard Skipper was among those there to greet her.
On August 24, 2013, impresario Daniel Nardicio brought her to the Ice Palace in Cherry Grove, Fire Island, where, received rapturously, she was interviewed by Justin Vivian Bond, sang a Russian song from a play that she had seen as a child, recited Dolly's "Efrem, let me go" speech at the request of Tommy Tune and, assisted by pianist Lance Horne, sang a fair amount of "Before the Parade Passes By," to which the audience responded by singing, "Hello, Carol, it's so nice to have you back where you belong!" Earlier, Channing waved to her adoring fans on the walks from the back of the Cherry Grove Fire Department vehicle that transported her.