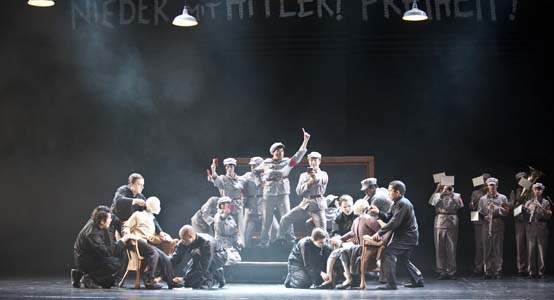 photo by Nan Melville

Scene from Kommilitonen!

.......................................................................................................................................................................................
Peter Maxwell Davies and David Poutney's new opera "Kommilitonen!" ("Fellow Students!"—2011)—shorn of the subtitle "Young Blood!" which it had at its premiere at the Royal Academy of Music, in London, in March—had its United States premiere on November 16, at the Juilliard School, thanks to Juilliard Opera and the Juilliard Orchestra.
In "Kommilitonen!," composer Davies and librettist Poutney have woven together three true stories of student activism: James Meredith's (strong-voiced baritone Will Livermore) historic stand against racism and segregation by being the first black student to integrate the University of Mississippi, "Ole Miss;" siblings Sophie (sweet-toned soprano Deanna Breiwick) and Hans Scholl (Alexander Hajek) and their equally brave friends Christoph Probst (Noah Baetge, a tenor to listen for), Willi Graf (Leo Radosavljevic), and Alexander Schmorell (Aubrey Allcock), of Die Weisse Rose (the White Rose), protesting against the Nazis, armed with a duplicating machine and leaflets with slogans like, "Is not every … German today ashamed of the government of … Germany?;" and the Chinese Cultural Revolution, with its "Revolutionary Children's March," a movement gone horribly awry and obliging children, like Wu (expressive mezzo-soprano Wallis Giunta) and Li (Heather Engbretson), to denounce their "bourgeois" teacher parents, Wu Tianshi (JeonCheol Cha) and La Jingji (Lacey Jo Benter)—the latter two represented by life-size puppets, worked by Blind Summit Theatre's Mark Down and Nick Barnes—in the name of Chairman Mao. These three strands, probed in consecutive, overlapping, and simultaneous scenes, are powerfully realized and galvanized into a coherent whole by director Poutney, conductor Anne Manson, and the student forces they guide.
Robert Innes Hopkins designed sets and costumes, in association with James J. Fenton and Andrea Hood; James Farncombe was responsible for lighting, along with Jake Wiltshire; and Carolyn Choa devised the choreography.
Images and events tumbled over one another. In quick succession, Meredith explains his determination to liberate the all-white university in tribute to his father and the sacrifices he made for his children; bureaucrats (Laetitia de Beck Spitzer and Takaoki Onishi) in a post office, decorated with swastikas, grill their customers, who are the White Rose activists, about their need for so many stamps, in a scene that ends with a strident "Heil, Hitler!" salute; and the Revolutionary Children's March paints slogans on banners, as its marching band crosses the stage. The green baize table coverings at a billiard hall, where Meredith recounts an allegorical fable of the rabbits who banded together to evade the hunters, become the rice paddy where Wu works, when he hears that his parents have been seized and tortured, and then the sheet spread on the ground for Die Weisse Rose's clandestine picnic meeting, in the Polish woods, just after they've witnessed the digging of mass graves for prisoners in Warsaw. White supremacists piously chant a hymn—okay, "Michael, Row the Boat Ashore," not sung to the expected melody—outside the university on Meredith's first day; Sophie, Hans and Willi hear from an Evangelist and Grand Inquisitor, played by the singers who portray Christoph and Alexander, as Latin prayers are chanted outside; and Wu prays to his ancestors for guidance, in a ceremony that Li warns he'd be condemned for, if he were caught. After we hear from the Nazis, in a White Rose scene, Meredith tells of the American Nazis, who slapped Dr. Martin Luther King, and later, after Sophie and her friends distribute and shower the audience with leaflets, just before the Nazis capture them, draws white lines around the bodies of the martyred German resistors and Wu's parents.
Tobias Greenhalgh, John Brancy, Nathalie Mittelbach, Karen Vuong, Meredith Lustig, Laura Mixter, and Rachael Wilson complete the cast.
After the performance, real-life drama continued, as audience members, leaving Juilliard, were confronted with a peaceful protest demonstration by our contemporary "Kommilitonen" from Occupy Wall Street.
Further performances of "Kommilitonen!" take place on November 18 at 8 p.m. and 20 at 2 p.m., at the Peter Sharp Theater at the Juilliard School, at 155 West 65th Street. Tickets, priced at $30, are available through CenterCharge at 212/721-6500; half-price student and senior citizen tickets can be purchased at the Juilliard Box Office, with valid ID; and TDF vouchers are accepted. For further information, visit www.juilliard.edu or call 212/769-7406.
Juilliard Opera's season continues on February 3, 5 matinee, 7 and 9, 2012, with a double bill of Gioachino Rossini's "La cambiale di matrimonio" and "La scala di seta;" Christoph Willibald Gluck's "Armide," a co-production with the Metropolitan Opera, on February 8 and 11; and Wolfgang Amadeus Mozart's "Don Giovanni," on April 25, 27, and 29 matinee.