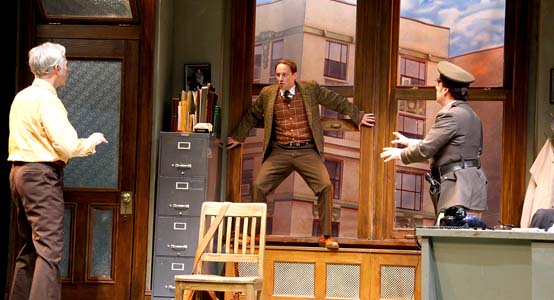 photo by ©Gerry Goodstein

(center) Kevin Isola as the Maniac creates havoc as he is interrogated by Inspector Bertozzo, played by Philip Goodwin (left) and the Constable, played by Jeffrey M. Bender (right)

.......................................................................................................................................................................................
There are some who say there are no such things as accidents, and Dario Fo might agree. As a Nobel Laureate in Literature, his plays have been thought provoking since the beginning of his career. Originally staged more than 40 years ago in Varese, Italy, Fo's "Accidental Death of an Anarchist," currently being given by the Shakespeare Theatre of New Jersey (STNJ), continues to ruffle the feathers of authority even to the present day and has toured his home country in performances by Colletivo Teatrale La Comune. The audiences there alone, among those performances, number more than one million strong.
The idea of questioning authority has been a favorite of adolescents, college students and anarchists. Even toddlers, when they first learn to say "no," resolve as children and young adults to continue to question, until they are parents themselves. But what about those who are incarcerated for the most dangerous reasons? I'm not speaking of murder, kidnapping, felony offenses–I'm speaking of people thrown in jail for their ideas. If you don't think ideas are dangerous, ask JFK, RFK or MLK–ask Jesus–and you'll begin to understand.
The questioning of authority is exactly why Giuseppe "Pino" Pinelli found himself in an Italian jail in 1969, having been picked up for questioning in the Piazza Fontana bombing in Milan. Pinelli was later seen to fall to his death from a fourth story window of the Milan police station, after having been held far longer than was allowed without the accused having seen a judge. Though the officers who had performed the interrogation were investigated two years later, the death was adjudicated as "accidental". But did Pinelli jump? Or was he pushed?
Ripped from the headlines is not strictly a modern day conceit. Dario Fo and his wife Franca Rame have suffered more for their art than most artists do. Accomplished actors, producers, radio personalities and more, they have been attacked, beaten and imprisoned and censured by both the government and religious authorities for the strength of their ideas, so people who question authority have a special place for them. In 1951, Fo was broadcast delivering a number of satirical monologues that earned him his first cancellations due to the reaction of the authorities to his work. He came by this talent naturally as his father, Felice, had been n non-professional actor himself, as well as a socialist. Neither father nor son could tolerate the fascists, and storytelling is on both sides of Fo's family tree. It was not until the 1960s that Dario and Franca began see the fruits of their labors and, in 1970, on the heels of the scandalous treatment of Pinelli, Fo published "Accidental Death of an Anarchist."
Fo paints the characters in broad strokes–the police are a bit like Keystone cops and the Maniac, the brilliant Kevin Isola, is like a live-action Bugs Bunny–he's always several steps ahead of the jailers. Isola's physical comedy is reminiscent of the Italian icon, Roberto Benigni, and the silliness of the antics of the characters, who all take themselves so seriously, makes them all easy targets for our mad man.
The hapless Inspector Bertozzo (Philip Goodwin) is the first denizen of the Milan Police Department to have mincemeat made of his sensibilities. Goodwin is a great sport–it takes a big man to play straight man to the comedian and Goodwin's craft is honed to a fine, glistering edge. He and the Constables, both played by the versatile Jeffrey M. Bender, who is clean shaven as Bertozzo's bailiff, are unwitting dupes for this masterful con man. No less of a victim is the Superintendant, played by Edmond Genest, whom most of us saw last in a dramatic role at STNJ's "No Man's Land." This complete turnabout is brilliantly played, as the Superintendant is rumored to have had a past assisting the Nazis, and he's caught in the Maniac's web of deceit, time after time after time. We see Isola in no fewer than six roles and each time, blinded by their expectations, the other players fail to see the man behind the persona.
One of the best interactions of the evening, though, is the interplay between Andrew Weems, as the Inspector in the Sports Jacket, who is, from the beginning, duped by Bugs, um, the Maniac. He is fooled by a phone call into punching his colleague Bertozzo, which is a lovely clever arc that comes full circle in Act Two. There is so much going on and so much truth that, if you've not been fully following the plot, enter Maria Feletti. Kristie Dale Sanders breathes life into this tenacious investigative reporter, who draws the dotted and solid lines in understanding that exposes the level of corruption of the police to tie together the threads of the investigation. The Maniac has sketched the picture, and Feletti adds the watercolors.
This show is a must-see for people who might believe that the debt-ceiling, Trenton corruption, and conspiracy and injustice are recent wrinkles. If you're like me, all the way home you'll marvel at the brilliance of Dario Fo's work, and how the actors' craft illuminates the depths and beauty of that work, to give you so much to think about as our history continues to unfold. I get the lesson–continue to question authority.
"Accidental Death of an Anarchist" is playing through August 28. For tickets or more information, call the box office at 973/408-5600 or visit www.ShakespeareNJ.org. The F.M. Kirby Shakespeare Theatre is located at 36 Madison Avenue on the campus of Drew University in Madison, New Jersey. Easy to get to via train or car, this show is worth the trip–whether written 40 years ago or 400, Shakespeare Theatre of New Jersey's work is always fresh, in every sense of the word.