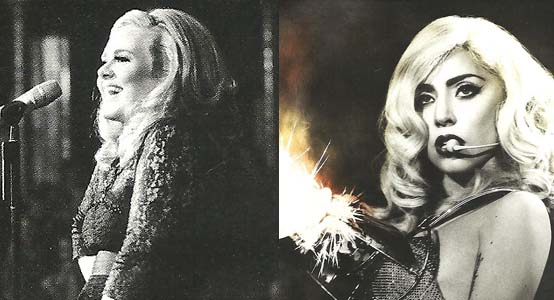 Adele Live at the Royal Albert Hall" & "Lady Gaga Presents the Monster Ball Tour at Madison Square Garden" DVD covers

.......................................................................................................................................................................................
Two different popular divas, Adele and Lady Gaga, take us to as different venues as the Royal Albert Hall, the concert hall in London, and Madison Square Garden, the arena in New York City, in their new concert DVDs, "Adele: Live at the Royal Albert Hall," from XL/Columbia Records, and "Lady Gaga Presents the Monster Ball Tour at Madison Square Garden," from Streamline Records/Konlive/Interscope.
Our first view of Adele is up close and personal, with her curlers in her hair and her spot of tea in hand, as she gets ready to put on a show. We also see fans anxiously and eagerly waiting to see her, as well as praising her for her incredible voice. The concert that is preserved here took place on September 22, 2011. Adele starts off her royal concert by singing "Hometown Glory," as the audience of her fans starts to go crazy. She waves at her adoring fans and they wave back to her. This is her tribute to London that finds her singing with such great emotion that makes it the viewer understand why she loves her hometown. She is personable, loveable, and grateful to be singing at the venue she always wanted to achieve. Adele talks to the audience and even left a letter for the person who bought the ticket for the seat she had sat in for her pre-concert interview. She has a way of making you become part of her triumph, picking up the tempo in "I'll Be Waiting," dancing, and singing in a strong and forceful voice, and decreasing the tempo, but not the mood, as she pours penetrating voice and heart and soul into this song. In "Turning Tables," with gripping vocals, the compelling lyrics tell of her breakup with her ex-boyfriend and how she is able to stand on her own two feet again. She sets the audience ablaze with "Set Fire to the Rain," with an almost unbelievable array of vocal colors. She doesn't do many cover songs here, but she does do the Steel Drivers song, "If It Hadn't Been for Love," saying that the song is about killing a wife and that she would have liked to do that to her ex. Because it's a country song, she gives it a little bit of Dolly Parton twist.
Adele demonstrates such vocal diversity, in a variety of song genres. Adele sings "My Same," which she wrote when she was only 16, for her best friend Laura, who is in the audience. Her next song, the sad "Take It All," is sung as she puts it, with Gospel flavor. She sings this with love and impressive vocalism, and gives it her all and we, the audience take it happily and wholeheartedly. She then lifts our spirits with a catchy dance song, "Rumour Has It," and another fun filled song, the inspiring "Right as Rain." In "One and Only," her extraordinary vocalism makes you feel her pain from love and what she has gone through because of love itself. She does the Cure's Robert Smith's "Lovesong" for her mother, who used to take her to the Cure's concerts when she was about five or six. As a fan of the Cure, I find that she does a marvelous and tremendous rendition that Smith himself would and should be proud of. She understands the meaning of this song, showing true empathy for it. I am in love with her magnificent voice and understand why she is playing at such a "posh" place, as she puts it, as Royal Albert Hall.
Adele tells us that "Chasing Pavements" was her first pop single and she still sings this song with such ease. She does a cover of Bonnie Raitt's song, "I Can't Make You Love Me," and dedicates the next song to Amy Winehouse—"I was so inspired by her," she says—and has been singing her song "Make You Feel My Love" in concerts ever since she passed, and sings it with great respect and admiration for her late colleague. This inspires the audience to give her a standing ovation. She sings her bittersweet hit, "Someone Like You," with vocal ease and makes us happy that there is someone like her on the scene. Her last song is "Rolling in the Deep," another hit, which she infuses with great feeling, as she tells us how she unearthed a treasure from her sorrow, and also gets the audience singing along with her. This is a wonderful DVD to add to your collection and is packaged with an audio CD of the concert as well.
Lady Gaga takes on Manhattan's Madison Square Garden, an arena where she always wanted to see her name in lights, which happened in February 2011. She gives not only her music, but also her story about how she got to the Monster Ball. As she enters, wearing a pair of dark purple glasses, and singing "Dance in the Dark," she is already driving her fans in a frenzy of hysteria. As the car breaks down in Brooklyn, she sings "Glitter and Grease," while trying to fix the car. A piano/organ appears under the hood and she launches into "Just Dance!" This where she takes control of her fans, who go wild, and as instructed, just jump and dance. Holding them spellbound, she sings "Beautiful, Dirty, Rich" and "The Fame." She lets us know that the Monster Ball will set us free, that we can be whoever or whatever we want to be, as we follow her onto 'Glitter Way.'
Dressed in white, for "Love Game," she enters the subway station marked 42nd Street, Glitter Way, and Monster Ball. She commands the audience again as soon as she pulls out her 'Disco Stick,' and tells an audience member that he has the most fabulous gay unicorn she has ever seen. She wants every to celebrate their Gay Pride by breaking into "Boys, Boys, Boys." As she comes out in her leather, saying that nobody can tell her to take her leather off, she starts to sing "Money Honey." Beyoncé supposedly interrupts the show, giving her a call on her "Telephone," and Gaga has a great time as the audience sings Beyoncé's part. Adding to leather underwear and boots, she dons a policeman's motorcycle cap, while she plays the piano and leaves you "Speechless." She lets you know her idols Liza Minnelli and Marisa Tomei are in attendance and praises what they have done. She lets us know she never lip syncs, especially when Liza is watching.
Playing the piano and singing terrifically, and teamed up with the guitarist for "Yoü and I," Lady Gaga definitely gives us her all and a little bit more. A Black Angel with a harp appears, and our diva tells her 'monsters' that they make her "So Happy I Could Die!" Looking angelic tells everyone to enjoy the moment and bounce. In the deepest part of Central Park, she encounters a "Monster," who ate her heart, and the next thing you know she is all bloodied, because someone has shown their "Teeth"—maybe it was "Alejandro." With "Poker Face," she has the audience screaming and dancing the way it should, having FUN at a concert with great dance music! On her way to the Garden, she encounters the "Paparazzi." As the famed Monster is taking off Gaga's clothes, she finds she's in a "Bad Romance," which is very theatrical and full of fun, as she makes the stage look like a runway. Her finale is the gay anthem "Born This Way," but she says she will only sing it if the audience screams. And as you guessed, they do that and more. She shows us that she really is a queen and by no means a drag. She not only projects a positive image of herself, but also inspires one in others, because we were all meant to survive.
Streamline/Konlive/Interscope also released a new Gaga CD, "Born This Way: the Remix."
Both Adele and Lady Gaga, and their music, are captured very vividly in their concert DVDs. The experience of watching them makes me love these two very important ladies even more and you'll find that their distinctive genres appeal to you as well. So check them out and I am sure you'll be delighted that you did.