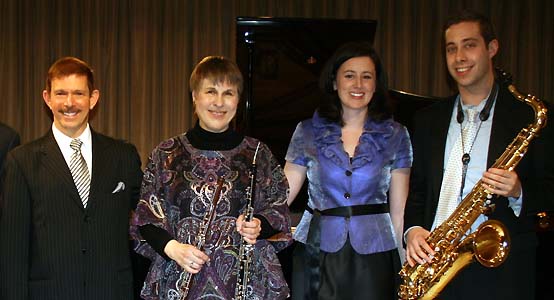 photo by Bruce-Michael Gelbert

(left to right) James Adler, Virginia Brewer, Kate Maroney & Jordan P. Smith

.......................................................................................................................................................................................
On April 12, at Yamaha Artist Services, Inc. (YASI) Piano Salon, composer, virtuoso pianist, and teacher James Adler and his colleagues offered an engaging, sometimes deeply moving concert featuring Adler's own music, as well as music meaningful to him, written by others. Two of the pieces that we heard that night can now be experienced by a wider audience, thanks to new recordings of them that have been released.
Adler wrote his "Reverie, Interrupted," a tone poem for tenor saxophone and piano, for saxophonist Jordan P. Smith to play at his February 2010 master's recital at Manhattan School of Music. Recorded by Adler and Smith on June 3 of that year, this seven-and-a-half-minute "Reverie" is now part of "Sculpting the Air: Modern Works for Wind Instruments," on Parma Recordings' Navona Records label, which begins with Samuel Barber's 12 minute, 13 part "Summer Music" and, after Adler's "Reverie, Interrupted," continues with Russ Lombardi's "The Answer Is No," Jan Van der Roost's "Chemical Suite," Barry Seroff's "A Forum for Abandon Euro Leaders," Brian Gilette's "Perihelion," Richard Crosby's Sonata for Trombone and Piano, Opus One, and a work by Juan Sebastián Lach Lau.
"Reverie" begins as dreamily as its title suggests, its initial legato pages marked "lyrical, flowing gracefully." Getting to the section marked "Interrupted!" we find the saxophone instructed to "growl" gutturally and foggily; join the piano in smeary glissandi and quasi glissandi; and wail in a quasi cadenza, making this, as Adler has put it, "the most rhythmic, jazzy, perhaps angular, work I've written."
Adler wrote the two songs of his eight minute "Reflections upon a September morn" early in 2002, in response to the 9/11 tragedy, employing words from Walt Whitman's "Song of Myself," from "Leaves of Grass," that, though written a century-and-a-half earlier, sound hauntingly prescient in their pertinence to the present-day disaster, the destruction of the World Trade Center, in which Adler's partner, flautist Scott Oaks, worked, his presence there at the time precluded by his voting in the primary election that day.
As set by Adler, Whitman's lines—"I am the mash'd fireman with breast-bone broken,/Tumbling walls buried me in their debris,/Heat and smoke I inspired, I heard the yelling shouts of my comrades,/I heard the distant click of their picks and shovels,/They have clear'd the beams away, they tenderly lift me forth"—resonate chillingly anew in the recording, made on October 19, 2010, by Adler with mezzo-soprano Kate Maroney and woodwind player Virginia Brewer, on English horn in this first song, "Agonies are one of my changes of garments," which has been released, along with the second, "Sounds of the city," by Albany Records and is available as a digital download only from Amazon, iTunes, and Albany.
The affirmative "Sounds of the city," which begins a cappella and in which Brewer later plays oboe, shows the city in recovery from devastation, as such strident street sounds as "The ring of alarm-bells, the cry of fire, the whirr of swift-streaking engines and hose-carts," and "The steam-whistle, the sollid roll of the train of approaching cars" give way to musical ones, "the violoncello," "the key'd cornet," "the chorus" and "grand opera," in Adler and Whitman's paean to New York and its determination in the face of adversity.