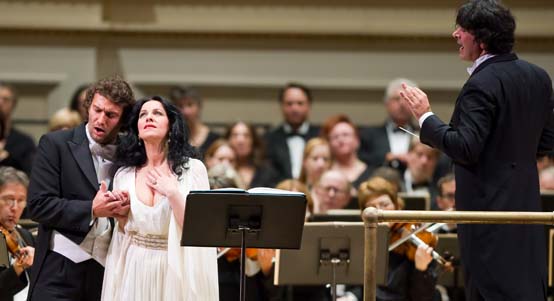 photo by Stephanie Berger

Jonas Kaufmann, Angela Gheorghiu, Alberto Veronesi & the Opera Orchestra of New York

.......................................................................................................................................................................................
The Opera Orchestra of New York (OONY) opened its 41st season, on November 8 at Carnegie Hall, with Francesco Cilea's "Adriana Lecouvreur," hardly a rarity in these parts. It was Alberto Veronesi's first performance as OONY Music Director, succeeding founder Eve Queler, and he led the supporting cast, all new to OONY, and the Opera Orchestra in a fine account of this less than stellar score, including, God help us, the ballet. "Adriana" hovers on the fringes of the repertory principally as a vehicle for sopranos past their prime.
Adriana and her rival, the Principessa (Princess) di Bouillon, spar, in a second act 'I love him more than you do' duet, in language reminiscent of that in "L'amo come il fulgor del creato," from "La Gioconda," but to music that fails to rise to a similarly feverish pitch. The Principessa tricks Adriana into revealing her feelings for Maurizio by suggesting that he has died and watching her reaction, as Amneris does with Aida about Radamès, but "Adriana" is no "Aida." Having finally come to his senses, Maurizio returns to his true love too late, just before she dies, but the final scene can't compare with that of "La Traviata." "Adriana" is about a great actress, loosely based on the life of actual early 18th century Comédie Française star Adrienne Lecouvreur, and not about a great singer, so, oddly for an opera, its third act ends with the heroine insulting her rival with a dramatically declaimed spoken, not sung, monologue about adultery, and its fourth act, with a most understated 'mad scene' and death scene.
Jonas Kaufmann as Maurizio, the disguised Conte di Sassonia (Count of Saxony), had us in the palm of his hand as soon as he sang his entrance aria, "La dolcissima effige," telling his love, Adriana, that she looks just like his mother—shades of Don José and Micaela—and singing in dark tenor timbre, with delicate pianissimi truly in place. His duet with mezzo-soprano Anita Rachvelishvili, as the Principessa, aptly got the blood boiling, and followed her entrance scena, "Acerba voluttà … O vagabonda stella d'Oriente," with which, impassioned and rich-voiced, she made a strong impression. With "L'anima ho stanca," a short aria indeed, Kaufmann brought down the house, though he and Veronesi eschewed the resoundingly requested bis, and he relished telling the tale of his triumph, on the battlefield, over his Russian foe, in the martial "Il russo Mèncikoff." His contributions to the second act duet, after Adriana learns his true rank, and to the 11th hour love duet were quite glorious.
Ambrogio Maestri, as the Comédie stage manager, Michonnet, displayed a strong baritone as he watched, from the wings, his beloved Adriana, on stage, and did so in his subsequent music as well. Danielle Walker, Jennifer Feinstein, Alexander Lewis, and Zachary Nelson, as Adriana's colleagues Jouvenot, Dangeville, Poisson, and Quinault, joined Craig Hart as the Principe di Bouillon and Nicola Pamio as the Abate di Chazeuil for a frisky sextet that was a highlight of Act One. The four actors' song, meant to entertain Adriana as she pines away, made for another bright moment. The New York Choral Ensemble made neat work of its brief assignment.
Angela Gheorghiu, making her only local appearance of the season, sang Adriana and her soprano sounded fairly diffuse in its lower reaches in entrance aria "Io son l'umile ancella," with such higher notes, as there were, having greater effect. She summoned more low range volume, as she crossed swords with the Princess, but the sound was gruff and guttural. Gheorghiu emoted, in last act aria "Poveri fiori," enough to drive her fans into frenzies.
OONY's season continues on December 12, at Weill Recital Hall, with a Vidda Award recital by soprano Chiara Taigi, star of OONY's "L'Africaine" in March, with Queler at the piano, and in 2012, at Avery Fisher Hall, Wagner's "Rienzi," on January 29, with Ian Storey, Elisabete Matos, Geraldine Chauvet, and Queler, and a concert, on March 7, with Plácido Domingo and Veronesi.