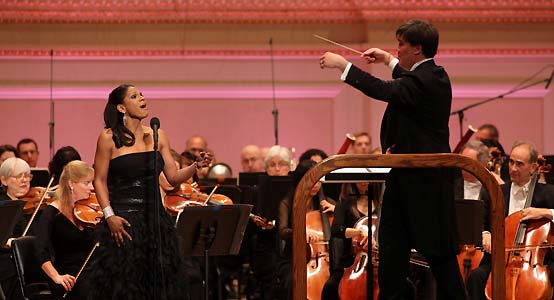 photo courtesy of CarnegieHall.org

Audra McDonald at Carnegie Hall, shown here with NY Philharmonic Music Director Alan Gilbert

.......................................................................................................................................................................................
Beloved Broadway singer and four-time Tony winner Audra McDonald ("Carousel," "Master Class," "Ragtime," "A Raisin in the Sun") kept an audience at Carnegie Hall enthralled, on October 22, with some two dozen songs, old and new, and familiar and rare, most with orchestra, led by Ted Sperling, and some with a trio, consisting of Mark Vanderpoel on bass, Gene Lewin on drums, and Matt Beck on guitar, guided by pianist Andy Einhorn. McDonald delivered an evening, which was not only marked by consummate musicality, but also included heartfelt calls for tolerance and a couple of audience sing-alongs.
With affection, McDonald greeted us with Cole Porter's "I Happen to Like New York," from "The New Yorkers," sung emphatically and enthusiastically. In "Stars and the Moon," a restless, 'road not taken' number, and favorite of cabaret singers, from Jason Robert Brown's "Songs for a New World," she contrasted mundane, worldly desires, which successfully tempted, with wondrous and imaginative, cosmic ones, representing missed opportunities. She paired a restrained and searching "It Might as Well Be Spring," from Richard Rodgers and Oscar Hammerstein II's "State Fair," with a cheery "Hurry! It's Lovely up Here," from Burton Lane and Alan Jay Lerner's "On a Clear Day You Can See Forever," and then quizzed us about the songs' sources. Seated at the piano, McDonald accompanied herself in a reflective "Migratory V," from "Saturn Returns," by Adam Guettel, Rodgers' grandson.
Our artist took us back to 1920s for the oldest songs in her repertory, a moving "My Buddy," by Gus Kahn and Walter Donaldson, which she was inspired to include thanks to an encounter with a street singer in Cambridge, Massachusetts—where she was singing Bess in George and Ira Gershwin and DuBose and Dorothy Heyward's "Porgy and Bess," in a production soon to reach Broadway—and Terry Shand and Jim Eaton's "I Double Dare You (to fall in love with me)," a rollicking Jazz Age selection, which Woody Allen used in the film "Radio Days."
McDonald brought us back to the Great White Way for most of the remainder of the concert, beginning with "He Plays the Violin," ardently exploring attraction to a fiddler, from Sherman Edwards' "1776," and "Moonshine Lullaby," from Irving Berlin's "Annie Get Your Gun," in anything but an Ethel Merman belt, with her combo harmonizing with her dulcet singing, as vocal backups, on the repeat of the refrain. That Stephen Sondheim had written critically about some aspects of the forthcoming "Porgy" did not keep McDonald from probing his "Moments in the Woods," the Baker's Wife's song, from "Into the Woods." She sang the Gershwin's "He Loves and She Loves (so why can't you love and I love, too?)," from "Funny Face," in support of Marriage Equality, and, as an encore, Steve Marzulo's setting of James Baldwin's "Some days," as a fervent call, not only for full Marriage Equality, but also for an end to bullying, declaring, "We need to practice tolerance."
McDonald offered a pair of John Kander and Fred Ebb songs—an optimistic "(You can fly, but) First You Dream," from "Steel Pier," and a wistfully querying "(When I'm gonna) Go Back Home?" from the widely misunderstood "The Scottsboro Boys," about nine black teenagers accused of raping two white girls in Alabama in 1931, presented, with pointed irony, as a minstrel show. McDonald remembered 9/11 with Fred Ebb Award winner Adam Gwon's "I'll Be Here," from "Ordinary Days," with just Einhorn and the high strings—about a serendipitous meeting, which turned into a relationship, tragically ended on 9/11, and then moving on with the late mate's approval—from which she neatly segued into a sincere "Make Someone Happy," from Jule Styne, Betty Comden, and Adolph Green's "Do Re Mi."
Saluting the great Barbara Cook, McDonald conveyed both the sweetness and the unease in off-kilter waltz "Dear Friend," from Jerry Bock and Sheldon Harnick's "She Loves Me," reflecting that, despite the perfect setting, the singer has been stood up by her pen pal. She infused "I Could Have Danced All Night," from Lerner and Frederick Loewe's "My Fair Lady," with the needed excitement, and invited the audience to sing along, which she also did with her last programmed number, Harold Arlen and E.Y. "Yip" Harburg's "Ain't It," from "Jamaica," written for the legendary Lena Horne, to whom, along with Ethel Waters and Diahann Carroll, she paid tribute, saying, "I'd be nothing without these ladies!"
McDonald sang, "Warm All Over," from Frank Loesser's "The Most Happy Fella," as she sang everything, with great feeling and in rich tone. To her daughter, Zoe Madeline, she dedicated touching lullabies "Whose Little Angry Man Are You? (I guess you're mine)," from Judd Woldin and Robert Brittan's "Raisin," based on Lorraine Hansberry's "Raisin in the Sun," and "Baby Mine," by Frank Churchill and Oliver Wallace, from the Walt Disney film "Dumbo."
Classically trained at the Juilliard School, but preferring to pursue Broadway music, McDonald did grant us a foray into the art song here, but it was certainly an offbeat one—selections from Gabriel Kahane's "Craigslistlieder," "you looked sexy even though—m4w," about searching for someone who looked great, although she was having a seizure; "neurotic and lonely," in manic mode; and "Two years ago, my sister and I went from NY to Catskills," about an elusive "super spicy" relish—alas, "Some dipshit threw out my bottle of it." Expect the unexpected from Audra McDonald!