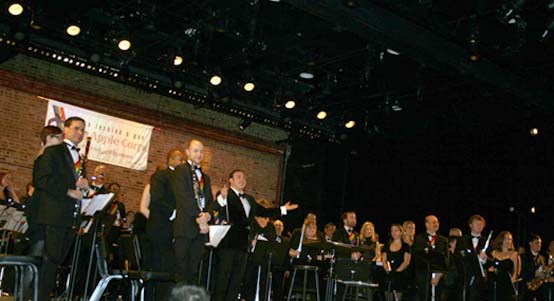 photo by Bruce-Michael Gelbert
Curtain call

.......................................................................................................................................................................................
For the Lesbian & Gay Big Apple Corps' (LGBAC) fall concert, at Symphony Space on December 2, under the baton of Artistic Director Brian P. Worsdale, our community's band gave its regards to Broadway, and acknowledged the holiday season as well, in a rousing concert called "The Great American Songbook." It was the opening of the Corps' 32nd season, and Broadway and Birdland's Jim Caruso was its guest MC and brought along a quartet of other distinguished singers, all donating their talents.
William Schuman's "Chester" overture for band, elegant, then lively, served as the program's brisk and bracing prelude. "Do Nothin' Till You Hear from Me," Caruso advised, in Duke Ellington and Bob Russell's lilting tune, warning not to pay heed to any gossips' talk. LGBAC recalled showman George M. Cohan with a stirring "Star Spangled Salute," which included "Give My Regards to Broadway," "Harrigan," "Over Here," "I'm a Yankee Doodle Dandy," and "You're a Grand Old Flag." In Jule Styne and Bob Merrill's "Cornet Man," from "Funny Girl," Klea Blackhurst belted out a brassy paean to the musician who stole her heart.
In Billy Bigelow's "Soliloquy," from Richard Rodgers and Oscar Hammerstein II's "Carousel," Christopher Johnstone, who bills himself as tenor and baritone, eagerly and mellifluously anticipated the birth of a child, whom he expects will be a son, but who just may surprise him by turning out to be a daughter instead. LGBAC's sweeping and sonorous "Carousel Waltz," the work's overture, followed.
The Corps' ebullient survey of timeless "Irving Berlin Showstoppers" took us through the likes of "Puttin' on the Ritz," Dancing Cheek to Cheek," "Chasing the Blues Away," "Stepping Out with My Baby" and, of course, anthem "There's No Business Like Show Business," from "Annie Get Your Gun." Maggie Worsdale, the Maestro's cousin-in-law, contributed a ringing and romantic rendition of George and Ira Gershwin's "They Can't Take that Away from Me," from "Shall We Dance." The band remembered gay ancestor Cole Porter with a spirited medley of "Anything Goes," "You Do Something to Me," "Let's Fall in Love," "You're the Top," "Just One of Those Things," "Night and Day," and "Blow, Gabriel, Blow." Then, young Trevor McQueen sang a swinging and heartfelt "Blue Moon," by Rodgers and Lorenz Hart.
The musicians offered a jazzy and classy symphonic suite from the Gershwins and Heywards' opera "Porgy and Bess," encompassing impassioned performances of "I Got Plenty o' Nuthin'," "It Ain't Necessarily So," "Summertime," and "Bess, You Is My Woman Now." A festive sing-along, with vocalists Caruso, Blackhurst, Johnstone, Worsdale, and McQueen, and the Corps, of Berlin favorite "White Christmas" closed the program, and the band's encore was a bouncy "Sleigh Ride (together with you)."
During the evening, LGBAC founding members Joe Avena, trumpeter, and Marsha Stone, euphonium player, were presented with the band's Golden Apple Awards, in recognition of their decades of commitment and service.
At its spring concert, on April 28, 2012, at Symphony Space, on Broadway at 95th Street, the Big Apple Corps will offer "New York: a Celebration!" Visit www.lgbac.org for details.