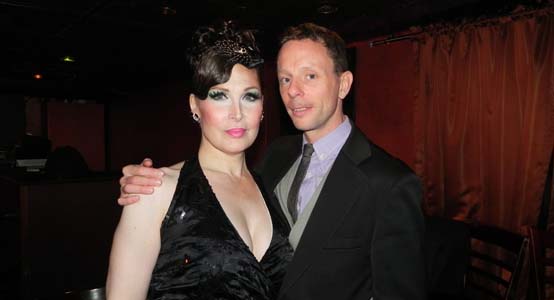 photo by Denise Harbin

Bianca Leigh & Tim Cusack

.......................................................................................................................................................................................
Bianca Leigh is well known as a trannie chanteuse in the gay circles of New York. About a year ago, on August 24, 2010, Bianca performed "A Night at the Tombs," in Cherry Grove, on Fire Island, and had previously played this drama in New York City, as a workshop. Now, a little over a year later, the name has been changed to "Busted: the Musical," presented by Theatre Askew, for three Monday nights at the Laurie Beechman Theatre, and Bianca has added many songs, which she wrote with friends, has deepened the dialogue, and—can it be?—makes the audience feel her experience even more.
The play tells of one night in Bianca's life, in March 1987—over 24 years ago—when she was busted for prostitution in New York City and sent to the dreaded Tombs. She opens the evening with her "What's a Nice Girl Like Me," with music composed by musical director William TN Hall, telling the story of the horror of this innocent's incarceration. In a black velvet dress, worn against her porcelain skin, with pulled up dark hair and a fascinator--the hint of a veiled hat--she describes herself as "Lady Macbeth in Kabuki."
Bianca calls herself "a notorious domintatrix trannie, with a cute alien interlude," as she tells of her youth in suburban New Jersey. At 11 years old, she is Carol Lombard, playing out her fantasy of Hollywood. Her mom slaps her and, as she says, "Shame has a way of shutting you up."
As a young transsexual, Bianca realizes that "her penis stands in the way, but would have been good in Shakespearean times." Of course, she has lived with this "problem" since early childhood, enduring a life filled with "stealth and subterfuge," as so many now out gay people, of any gender, will understand.
Bianca sings "Broadway Shooting Star," with lyrics written with Jeff Whitty, director Tim Cusack, and music by Super Buddha, as she tells of her aspirations. She then takes us into her life of fantasy, a narrative I found more intimate than her usual sung performances. She talked of her move to New York and her discoveries of the world of transgender. She gives a medical history of hormones and transforming surgeries, but sex changes are expensive and, as a young child, she realized, "Who wants a Medicaid pussy anyway?"
Bianca soon learned that "beauty paid the rent and opened the doors" and, in addition to her day job in the bath department at Macy's, she could supplement her income at Show World, where sex could be just simulated, but a mop was often called for. In a short time she learned that there was "gender apartheid in porn town, with a huge pay disparity," the women making far less money than the men, and the trannies at the bottom of the pay scale.
Then, at the Hellfire Club, she met Fleur de Lys, an older dominatrix who took her in, and took her on. Bianca is proud to say that, in the '80s, she was "pioneering safe sex" with her clients. Describing working with Fleur de Lys, she delivers, with great animation, the line, "Imagine inserting Richard III's Mad Margaret into verbal abuse in present-day New York."
"Stop with the cheerful," commands Fleur, when Bianca reports for work. "This is a dungeon, not Cinderella's castle." Bianca points out that dungeons are within castles, and says that she "feels like an innocent bauble in some ungodly charm bracelet."
She tells of sad, poignant instances "when fake love was returned, if only for a moment"—and many in the audience knew that pain. Bianca did scenes for money, and explained her insistence on "no fucking" as the result of "a horrible car accident … where I flew one way and my pussy flew the other." And then a dingo ate her pussy! She weaves all this into song in "My Lost Vagina," with Hall's music.
It all came to a crashing halt with "entrapment by an insanely handsome undercover cop," who had requested and paid for a blow job—apparently never delivered. Ironic, isn't it, that if he had asked her to dinner, spent perhaps far more than he actually paid, and then got a "good night kiss," it would have been dating? So who hasn't been a prostitute, I wonder? She leads us through this with "Temptation Tango," to Hall's music, and goes on to "Inside Black Maria," by Isam Rum and Matty Pritchard, followed by "Work Him," written with Rum and Pritchard, where Bianca explains, in song, how she protects some of the others in her cell from the rough guard, who calls her "Sugar Tits" and demands to see her breasts. And finally, defiant in the face of the shame he is trying to inflict, Bianca slowly bares a delicate alabaster breast, with a fine blue vein showing in the spotlight. It's not a prurient moment, but one in which the audience rallies in support of her stance against the abuse.
In a night, Bianca is hardened into someone who has learned to work the system! When she was hauled off to the Tombs, she was spared some of the harshness by being placed in a special cell for gays and trannies. She says, "Chivalry is not dead—it's in jail!" as some of the others help her as best they can. She marvels at the dinner fare in jail—"bologna sandwiches and tea! What fuck thought of that!" She even notes that there is a straight man there, pretending to be gay for the "easier" treatment. She does the voices and gestures of all those she meets on the way with what you know is spot-on accuracy. You feel the tension, smell the stench. And yet, here is this wonderfully bright-eyed, sparkling woman in a beautiful black dress, on a black set with little but a piano, played by Hall—who adds the voices of some characters—and another black piano bench.
And in the middle of all this, just when the audience could become depressed and angry at the injustice, Bianca announces, "Dream Sequence!" and, without any special effects or set change, takes us back to the innocent fantasy of the young and unscarred with Taylor Mac's song "Chase Me," its timing the work of a true theatre professional, working with, in Cusack, an excellent director.
Bianca ends the story with her song "The Lady's Goin' Home," written with Ellen Maddow and Pritchard. As she sums it up, "Nothing much happened—just enough to change everything!" She realized she was still a "homo"—like us all!—with as many, or as few, rights as anyone. She tells us that truth is more interesting, and that straight is a protection. In the end, she is just a "big old queer," and points out that many in attendance are also identified as "homo, homo, homo." The audience was moved and thoughtful, and there were far more laughs, in this expanded show, than there were in the earlier version I had seen. It is, like so many stores, funnier in retrospect, as the wounded work through their post-traumatic stress.
After the show, there was quite a receiving line around Bianca, as she stood near the exit stairs. She was joined by director Cusack and others who helped get this show to the stage. I thought, I am glad to know her. She bares her soul about a painful night, decades ago, that she shares with us to cleanse herself of the darkness, to make us realize how far we have come and how much we need to stick together. She is strong and brave, talented and beautiful. Thank you, Bianca, for trusting us.
Bianca did not create this show all by herself, though she performs it and wrote the lyrics for most of the original songs, and she certainly wants to credit all of those who helped, so the program notes are very inclusive. Arthur Oliver created the costume and Joy Whalen, the video. Cody Haefner served as stage manager, and playwright and actor Chris Weikel, as dramaturgical consultant. Bianca mentions, in a program note, that "she now has a thriving mother/daughter relationship with her mom, whom she loves very much." Ah, how far we can come!
This reviewer made a 24-hour, overnight trip, from Cherry Grove to Manhattan and back, to see Bianca and was surrounded by some Fire Island glitterati, including New York's best drag bartender, Frankie Cocktail, of Lips and Top of the Bay; Sherry Vine, who sings at the Ice Palace, among other locales; drag chanteuse Robin Kradles, a former Imperial Court of New York Monarch; Wendy Lewis, Operations Manager of the Grove Hotel and member of the board of the Imperial Court; and fashion designer Michael Plosky. It was worth every second on boats, trains and taxis. So get yourself to the Laurie Beechman, at 407 West 42nd Street, between Ninth and 10th Avenues. And see Bianca Leigh in "Busted: the Musical." One performance remains, on October 10 at 7:30 p.m. Visit www.TheatreAskew.com for further information.