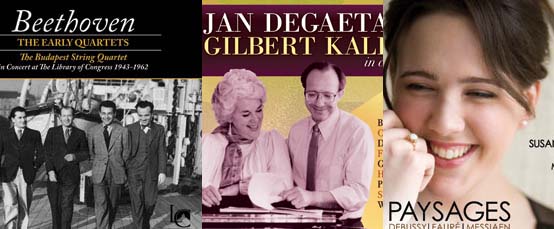 CD covers - Beethoven, DeGaetani & Kalish, Paysages


.......................................................................................................................................................................................
Bridge Records has released a wealth of great classical music, just in time for seasonal gift giving. It's better to give someone something consumable at the holidays, and these albums should be listened to as one reads poetry – devouring them wholly and letting the juice dribble down one's chin. Here are some great ideas for the classical music lovers on your list:

"Beethoven–The Early String Quartets." This is volume 25 of re-issued classic and classical recordings from the Library of Congress. There were concerts delivered there by The Budapest String Quartet between 1943 and 1962 that many consider to be dynamic in interpretation. This volume completes the Library of Congress Beethoven Cycle that Bridge began in order to bring brilliant Beethoven works to light in a new, digital generation. There is something sepia-sounding about recordings done with the technology of that time. It is a trip backward, a bit closer to Beethoven and to a more glamorous era. Highlighting the time when the Budapest String Quartet was resident in the Library of Congress, the recordings that Bridge features were selected from over 100 of the recordings that remain from that 42-year period.
The Budapest String Quartet put Beethoven's Great Fugue and the full series of 16 string quartets on the map for present day string quartets who want to show their mettle. However, not many can match the Budapest at their peak. Though there are two different second violinists featured, Edgar Ortenberg on Disc A and Sasha Schneider on Disc B, the musicians are so in synchronicity with one another that the pauses in the music have a soundless music to them, an energy that is nearly physical. Certainly Beethoven was smiling then, and is smiling now at this fruition of some of his finest work.

"Jan DeGaetani & Gilbert Kalish—In Concert." The vocal student on your list, of any voice, will have a deep appreciation for the art of the late Jan DeGaetani. A mezzo-soprano of great sensitivity and renown, her gift for languages as well as interpretation made her a favorite among modern composers of art songs. Early music of the Medieval and Renaissance was also among her specialties. When people speak or sing with excellent clarity and diction, just the assonance inherent in the language becomes restful. Whether you are listening to DeGaetani for the beauty of her instrument or to marvel at her technique, you are in for a treat.
This double CD features the deeply respectful and musicologically rich collaboration DeGaetani enjoyed with dear friend Gilbert Kalish. They originally met as new musicians, each plotting a path for a career in music. They met during work with the Gramercy Chamber Ensemble, and that began their fruitful association with one another. Though that organization was not to continue, one might speculate that its sole purpose was cosmically accomplished. "Bashert", as my Jewish friends say, "meant to be." DeGaetani and Kalish were sister and brother of different mothers. The gift of listening, sharing and caring about one another, as well as about the beauty they created, that was greater than their solo efforts, is one they give to us over and over. Whether it's the bold Beethoven songs set to Goethe poems, the lightning French of Poulenc's "Les gar qui vont á la Fête" or the stark landscape of Kenneth Frazelle's "Worldly Hopes" grouping, that requires a musicianship that many do not possess, DeGaetani and Kalish are as one. George Crumb wrote pieces just for her, and Aaron Copland and Charles Ives were favorites. Why remain with a particular genre when you can truly move as a chameleon to illuminate for others what few can presently see? Her interpretation of Crumb's "Let it Be Forgotten" is especially poignant considering this was sung during the battle with leukemia that would ultimately take her life. And "Wind Elegy" is perfect for the sere winter bleakness on its way.
The second disc is equally delightful with selections including Richard Strauss' lush "Morgen," Gershwin's "Our Love is Here to Stay," Stanley Walden's "Three Ladies" backed with Haydn's "Arianna a Naxos." The Haydn is another especially lovely winter selection, for the day when you're in a toasty sweater, hands wrapped around some stove-made hot chocolate watching the snowflakes gather from your warm, happy home. The whole concert is a tasty tour of the skill of two musicians that can tutor generations on what it means to be part of something larger than yourself.

"Paysages"–Susanna Phillips Soprano, Myra Huang Piano. This Bridge recording of songs by major French composers Debussy, Fauré and Messiaen is the perfect antidote to the crush and press of humanity at this time of year … the people who would shred you to get to that last cashmere sweater. Flowing like dark honey, Susanna Phillips' soprano voice caresses Debussy's "Ariettes Oubliées," his Forgotten Songs. From languorous ecstasy through the heart's weeping, Debussy was inspired by Paul Verlaine's poetry to vocal heights we have yet to plumb. Uniquely evocative, one could be striding through a misty afternoon coming upon "Chevaux de Bois," the wooden carousel horses that bring a smile to your lips with their colorful reckless abandon, enjoyed by innocence and experience at once. Moving forward to Messiaen, his "Thanksgiving" presents its own set of challenges. Influenced as he was by Hindu rhythm, plainchant and ancient rhythms and ultimately the song of birds, his songs from this cycle, written for his first wife, expresses these influences in a way that would take early 20th century in directions we now understand. But what a brave new world back then. Phillips herself has made the English translation from the French, as Myra Huang weaves the tapestry of sound where Phillips places the embellishments of her words. Completing the recital is a selection of Fauré songs beginning with the romantic and moving "Les Roses d'Ispahan," op. 39 no. 4. The Fauré songs are the smooth finish after a repast of beauty, perhaps to be enjoyed with a glass of dry sherry on a Sunday afternoon … lush, then brilliantly active, then touching deeply in the heart, Phillips and Huang will be a lovely addition to anyone's library.

Hungry for more? Visit www.BridgeRecords.com for these recordings and more! Music makes an excellent gift for a host or hostess, so leave that babka at home!