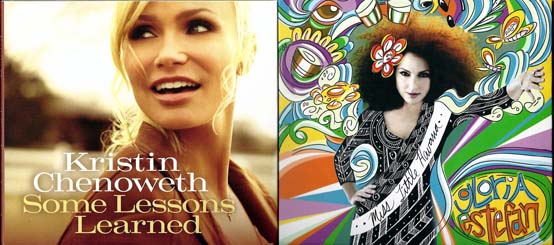 Some Lessons Learned Little Miss Havana CDcovers

.......................................................................................................................................................................................
Expect the unexpected from Kristin Chenoweth. We hear this classically-trained soprano in classic operettas and musicals, with symphony orchestras, and in music written with her high range and coloratura skill in mind. Who knew that her heart was also in the country?
Chenoweth's new SONY Masterworks CD, "Some Lessons Learned," is as much about its Executive Producer, songwriter Diane Warren, as it is about the singer—the two women are very much in sync, Warren's words and music sounding so right coming out of Chenoweth's mouth. No less than five of the songs Chenoweth sings are hers, including the one that gives the album its name.
"Some Lessons Learned" opens, however, with Victoria Shaw, Gary Burr, and Hillary Scott's "I Was Here." A classy anthem in which Chenoweth drops names like Mark Twain and Vincent Van Gogh, and concepts like "cur[ing] the common cold," "compos[ing] symphonies," and "fight[ing] for world peace," it combines yearning with hope. We first experience the Chenoweth-Warren collaboration in "I Want Somebody (Bitch About)," the full line being "I want somebody I can bitch about." We think it will be a funny song, but it's dead serious, about taking the good with the bad in a love who will also take the good with the bad in you.
In Jodi Marr and T. Douglas' "Fathers and Daughters," Chenoweth warmly contemplates parent and child and their expectations of each other—expectations fulfilled. In "What Would Dolly Do?" which Chenoweth herself wrote with Desmond Childs, Shane McAnally, and Producer Bob Ezrin—and in which she's backed by the Jordanaires, the gospel quartet who also backed up Elvis Presley—the singer sounds something like Dolly Parton, a fitting role model—I hope Parton takes this as a tribute, because it certainly is. Chenoweth also covers one of Parton's own songs, "Change," a song of bravery: about knowing when love is over and being brave enough to leave.
We think Shaw and Burr's "God and Me" might be a hymn, prayerful, yet questioning, but the question turns out to be about why a valued love was lost. Burr, C. Cutbirth, and M. Mirando's "What More Do You Want?" is something different. How many country songs mention "Gucci bags," "designer clothes," "a platinum card," and "a private jet" as things the singer already has? But what she really "want[s is] the one who makes my love complete." What she really wants is "love, love, love."
"Wreck You" is another Warren song in which Chenoweth conveys an unusual way of expressing total devotion, the lover expecting to be the one who's the ultimate high and the one who makes your head spin. The lady will settle for nothing less than total surrender! Chenoweth sounds something like her hero, Parton, again in S. Krenn,W. Rambeaux, and S. Williams' "I Didn't," a spunky, witty, Parton-like number, with a great refrain: "What finally tore our love apart/Was a matter of religion/He thought he was God/But I didn't!"
Chenoweth sang Warren's "Borrowed Angels" at Ground Zero on a 9/11 anniversary, but the touching anthem could also be applicable to other losses, as well—to AIDS, say.
"Only connect," we're told. Childs, Eric Bazilian, and Chenoweth's "Mine to Love" is a song about love that could have worked, but didn't—because of the disconnect. The connection does happen in Warren's "What If We Never?" It could have been a near miss, but it wasn't: we found each other! Finally, there's the title track, the optimistic "Lessons Learned," in which Chenoweth sings earnestly about the strength that hard knocks give you.
Two other tracks, "Higher Love," a Target exclusive, and "Boy," an iTunes exclusive, were not available for consideration.
Gloria Estefan's new Crescent Moon Records release, "Little Miss Havana," seems like less of a departure for its diva. A basically bilingual disc, with some French and Creole thrown in, derived from the sounds of Cuba and Miami, it has music by Gloria and Emilio Estefan and Pharrell Williams. Full of infectious rhythms, the album contains songs that make you want to get up and dance. I'd heard one of the cuts, "Wepa," on television, on "The View," twice before this CD came my way, and the song won't leave my mind—probably won't leave yours either. And a remix of it is also included, with some rap by Pitbull, as is Estefan's own recording of her "Let's Get Loud," which was covered by Jennifer Lopez, who famously had a hit with it.
"Time Is Ticking Away" is nostalgic; "Make My Heart Go" is romantic. Estefan drops a few names herself—Susan Lucci, Kristin Yamaguchi, and Bernardo Bertolucci, anyone?—in the jazzy "Hotel Nacional." But it's "Wepa" that I know I'll keep coming back to.