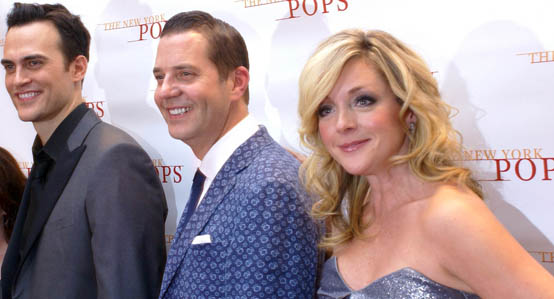 photo by Bruce-Michael Gelbert

Cheyenne Jackson, Steven Reineke & Jane Krakowski

.......................................................................................................................................................................................
The New York Pops, under the baton of Music Director Steven Reineke and in residence at Carnegie Hall, presented as its special guest, for the second concert of its season, on November 18, Cheyenne Jackson, the openly gay, exceptionally handsome singer, with the exceptional legit tenor voice. The program was billed as "Cheyenne Jackson's Cocktail Hour: Music of the 'Mad Men' Era," that is, of the 1950s and '60s, the time in which the Emmy and Golden Globe Award-winning television show is set. This was considered Jackson's solo Carnegie Hall debut and his acolytes, dubbed 'Cheyennetologists,' were in attendance.
The Maestro and his players began by coolly swinging Juan García Esquivel's "groovy," as Reineke told the audience, "Mini Skirt," for an overture. Later, an upbeat Burt Bacharach medley, including the likes of "Dream a Little Dream," "Do You Know the Way to San Jose?," "What's New, Pussycat?," "I'll Never Fall in Love Again," and "What the World Needs Now Is Love, Sweet Love," served as prelude for the second half of the evening.
Divo of the hour Jackson opened with Salerno, Setzer, Himelstein, and Carusone's "Americano," depicting a slick would-be cowboy and invoking such icons as baseball and Marilyn Monroe, and followed it with a romantic rendition of Consuelo Velásquez's sultry "Bésame Mucho." With vocal backups by Paul Castree, Michael Winther, and even pianist Ben Toth, Jackson lent sweet head tone to yearning for a beloved, in Matt Dennis and Earl Brent's "Angel Eyes," and to a lilting "Walking My Baby Back Home," by Fred E. Ahlert and Roy Turk. Jackson seduced us once again with "Old Devil Moon," as a hot cha-cha, as he had when he had starred in Burton Lane and E.Y. "Yip" Harburg's "Finian's Rainbow," and displayed smooth legato in a wistful "What'll I Do," by Irving Berlin, sung with guitarist Steve Bargonetti.
After an instrumental interlude, with David Carbonara, composer for the TV show, leading his own "Mad Men" Suite, Jackson offered a pairing of Hoagy Carmichael's "I Get Along Without You Very Well" and Duke Ellington and Bob Russell's "Don't Get Around Much Any More," putting on, in both songs, a brave face after a breakup. Acknowledging "I'll be the first to admit that I am equal parts Tom Jones and Shirley Bassey," he plumbed the 'beat me, insult me, I love and forgive you' anguish of Donida, Rapetti, and Lieber and Stoller's torch song "I (Who Have Nothing)," which Jones and Bassey, separately, made famous.
For the Pops' invited Kids in the Balcony, elementary school students from Queens and the Bronx, Jackson broke from the musical period of the program to walk down the house left, Parquet aisle, singing the late Amy Winehouse's Billy Holiday-style "(I told you I was trouble) You Know I'm No Good," and wondered how many in the Pops audience knew the song. (A large number of us did.) He morphed into a gambler, betting in "the oldest established permanent floating crap game in New York," for a swinging "Luck Be a Lady," from Frank Loesser's "Guys and Dolls."
Surprise guest Jane Krakowski joined Jackson for a dulcet duet of C. Carson Parks' "(saying) Somethin' Stupid (like 'I love you')," and after a moody orchestral "Charade," by Henry Mancini, Jackson seated himself at the edge of the stage, à la Judy Garland, he observed, to sing an intimate "A Case of You," by Joni Mitchell, a favorite artist of his parents, who had flown in from Idaho for the concert. As Jackson dedicated that penultimate song to his mother and father, so did he dedicate his closing number, an exhilarating "Feeling Good," by Anthony Newley and Leslie Bricusse, from "The Roar of the Greasepaint, the Smell of the Crowd," to Monte, his partner of 11 years, whom he married on September 3rd.
On December 16 and 17, at Carnegie, Reineke paces the Pops in "John Pizzarelli and Jessica Molaskey Wish You a Swingin' Christmas," joined by Judith Clurman's Essential Voices USA, featuring the artists in music evoking the era of Frank Sinatra, Bing Crosby, Nat King Cole, and Rosemary Clooney. For single tickets, priced from $37 to 108, visit www.carnegiehall.org, telephone CenterCharge at 212/247-7800, or visit the Carnegie Hall Box office on 57th Street at Seventh Avenue.