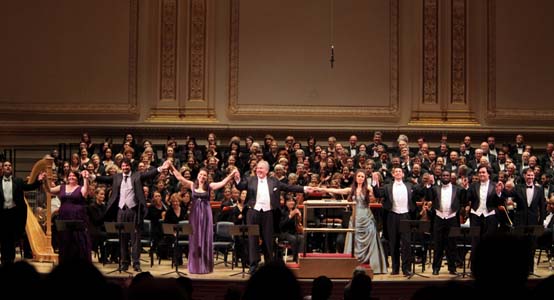 photo by Erin Baiano
Curtain Call

.......................................................................................................................................................................................
The Collegiate Chorale, under Music Director James Bagwell's baton, opened its 70th season, at Carnegie Hall on November 30, with a veritable Gioachino Rossini operatic rarity, "Moïse et Pharaon" (Moses and Pharaoh), the composer's revision, for the Paris Opéra, of his earlier "Mosè in Egitto" (Moses in Egypt), which was first given at the Teatro San Carlo, in Naples. This listener's only previous live encounter with any version of "Mosè"/"Moïse," in decades of going to performances, was a Sacred Music Society "Mosè in Egitto," with Dimitri Kavrakos, Justino Díaz, and Gabriela Cegolea, at Avery Fisher Hall, on April 3, 1978. For the French version, Rossini borrowed from his own "Armida," so when Pharaon and son confronted each other in duet, it was possible to observe, "I've heard Renée Fleming sing this music."
Anchoring Collegiate Chorale's cast were, in the two title roles, veteran Metropolitan Opera bass-baritone James Morris, commanding as he radiated gravitas in Moïse's prayers and pronouncements, his working of miracles, with God's assistance, and bass-baritone Kyle Ketersen, holding his own in the briefer role of Pharaon.
Capturing much of the audience attention, though, were sopranos Marina Rebeka, who impressed with her bright-toned Donna Anna, in the Met's new "Don Giovanni," as Anaï, Moïse's niece, beloved of Pharaon's son, and Angela Meade, as Sinaide, Pharaon's wife. Both singers embellished their music extensively and inventively, adding in coloratura figures and high notes, both ringing and quiet, to listeners' delight. Meade managed to make Sinaide's second act duet with her son into her own star turn, but Rebeka ultimately claimed high honors with Anaï's 11th hour bravura scena, just before the Red Sea scene, as she decided that her loyalty was, finally, with her people, not with her love.
Tenor Eric Cutler, as Aménophis, conflicted between his duty, and privilege, as Pharaon and Sinaide's son, and his love for Anaï, did not display, in his high, florid assignment, the finesse one expected from him, based on his appearances in the Met's "I Puritani" and in a "Così Fan Tutte" at BAM. His part, granted, was challenging, but Cutler's approach proved, jarringly, brash.
Bagwell's Chorale, as Hebrews and Egyptians, by turns, was striking in its many reverent prayers, lamentations, and joyous songs of praise, but its members especially shone in the stirring act and scene finales, in which they joined the soloists. The American Symphony Orchestra had the last word, in a powerful, then peaceful orchestral postlude, when Pharaon's army drowned in the Red Sea and the Hebrews began their exodus, into the desert and toward the Promised Land. Bagwell made small cuts, here and there in the score, including omitting the ballet music, added for the Paris performances.
Making worthy contributions to the evening, in the remaining solo roles, were tenor Michele Angelini as Éliézer (Aaron), mezzo-soprano Ginger Costa-Jackson as Marie (Miriam), tenor John Matthew Myers as the Hebrew Priest Ophide, bass-baritone Joe Damon Chappel as the Egyptian High Priest Osiride, and bass-baritone Christopher Roselli as a mysterious voice, bringing a message from God, after a rainbow appears.
Collegiate Chorale's season at Carnegie continues with Michael Tippett's "A Child of Our Time" and Anton Bruckner's "Te Deum," on February 3, 2012, with Nicole Cabell, Marietta Simpson, Russell Thomas, and John Relyea, led by Bagwell, and Gilbert and Sullivan's "The Mikado," on April 10, with Kelli O'Hara, Christopher Fitzgerald, Jason Danieley, and Marilyn Horne (!), paced by Ted Sperling.