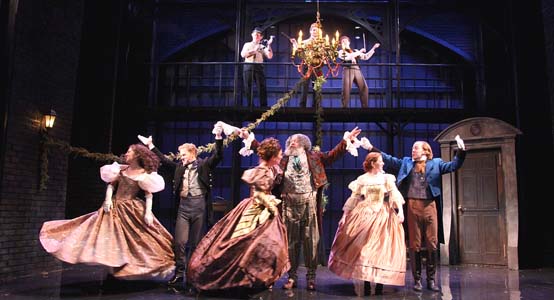 photo by ©Gerry Goodstein

The Fezziwigs celebrate Christmas

.......................................................................................................................................................................................
There are many traditions at the holidays, including the telling and re-telling of favorite stories. Since it burst on the scene December 17, 1843, Charles Dickens "A Christmas Carol" has been adapted into many different forms, from books to movies, opera, and even a Mr. Magoo version, which made its debut in 1962 and was a holiday favorite at the Rase home. That said, Neil Bartlett's adaptation first had a debut at Shakespeare Theatre of New Jersey in 2007, and it is even more salient now, after the times we've been through that are the worst, yet may bring about some of the best times yet to come. Bonnie Monte, STNJ's artistic director, helms this production, which features Philip Goodwin in the role of that most famous holiday villain, Mr. Scrooge.
The ensemble cast features some favorite players who are part of the STNJ family–Ames Adamson; John Ahlin,; Clark Carmichael; Greg Jackson, a brilliant Timon in STNJ's recent production of "Timon in Athens;" Susan Maris; Erin Partin; and Tina Stafford. Newer cast members include Cameron Berner, Erica Knight and Blake Pfeil. Every member of the ensemble enjoys moments of individuality where they shine, but when it comes to Hive Brain time, they are as One! Some of the women take pants roles, and some of the men play women and the whirling maelstrom is like a happy snowstorm in a snow globe–always changing, yet always bringing us back to the message.
Some of my favorite parts include the onomatopoetic-tuned speech sound-effects–Blake Pfeil playing an electric light bulb—yes, Thomas Edison perfected the light bulb more than 30 years after Dickens' novel first appeared, but this is art, after all; Tina Stafford, Erin Partin and Greg Jackson with "scratch scratch scratch" writing with their quill pens; the "chink" of Goodwin's counting of Scrooge's "coin;" nearly everyone, participating in the quartet of chimes at times; and Rich Dionne's atmospheric treatment of the sounds of the ghosts' voices, which makes a post-modern coil of something more difficult to escape than rope or Marley's chains, non-existent in this production. The lingering bits of plot, all Dickens' work, though perhaps not in Dickens' order, cling to your lapel like an attic walk through cobwebs. The silvery dusty bits, clinging to your lapel, remain as reminders that there has been an actual experience, not merely a dream. I was surrounded by generations of theatre goers, some older and some younger, and all appreciated the insights that are as true today as they were at the start of the Industrial Revolution. The pessimism surrounding technology promulgated by the "forward thinkers" of that time, the rampant capitalism that made a new economic royalty of the nouveau riche, is not that different from the gritty post-modern pessimism that pits the "1%" against the "rest of us" today. But at the end of the day, or the beginning in the case of this tale–the outlook is brand new. And isn't that renewal what the Winter Holidays are all about?
Get your tickets now. This show is only running through January 1, so take your family for a Holiday experience! Call early for reservations, this will be your benchmark for years to come. For tickets or more information, call the box office at 973/408-5600 or visit www.ShakespeareNJ.org. The F.M. Kirby Shakespeare Theatre is located at 36 Madison Avenue, at Lancaster Road, on the Drew University campus. This is a dazzling production, and will leave you with the true spirit of the Winter Holidays.