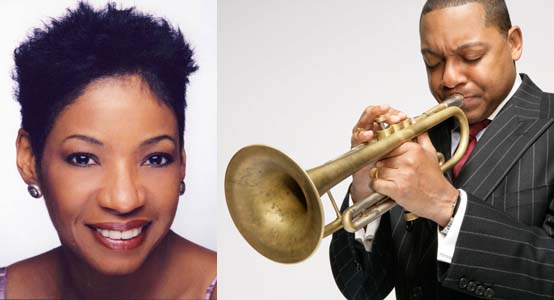 Adriane Lenox (photo courtesy of Helene Davis Public Relations)
Wynton Marsalis (photo by Clay McBride)

.......................................................................................................................................................................................
On November 19, I took a walk back in time just steps off 55th Street, between Sixth and Seventh Avenues, at City Center. One would never imagine that, just a few steps forward through those newly restored Moroccan-themed doors, would lead almost a century back, for there I was entering the Cotton Club during the time of Prohibition.
Though the Volstead Act (19th Amendment, bah humbug) was conceived and repealed long before I was born, "Cotton Club Parade," a collaboration between City Center and Jazz at Lincoln Center, which opened the Encores! series' season, gave me the flavor of that time, in the 1920s, when Duke Ellington was king and magic happened with stars that only came out uptown. This is not cerebral entertainment, this is toe-tapping, wishing-we-were-dancing, singer-singing-in-your-blood entertainment and what a storm of energy it was!
"Cotton Club Parade" brings together luminaries of jazz, including Wynton Marsalis and the Jazz at Lincoln Center Orchestra, conducted by Daryl Waters. The gifted featured singers were Alexandria "Brinae Ali" Bradley, Everett Bradley, Andrew "Dr.Ew" Carter, Carla Cook, Nicolette DePass, Brandon Victor Dixon, DeWitt Fleming Jr., Carmen Ruby Floyd, Jared Grimes, Jeremiah "Showtyme" Haynes, Rosena M. Hill Jackson, Rachael Hollingsworth, Kendrick Jones, Monroe Kent III, Adriane Lenox, T. Oliver Reid and Christian Dante White, under Marsalis' musical direction, and directed and choreographed by Warren Carlyle–this is the way to light up the doldrums of a late autumn day!
Hearkening back to Duke Ellington's heyday, this is a bit of Harlem in Midtown. Close your eyes and you're there, hearing brassy big band hits, blues and post-vaudeville variety acts that literally set the stage for where we are today. And with such a talented group, it's difficult to choose favorites, but here's what remains with me.
The moment the lights came up on Brandon Victor Dixon, you knew that something significant was happening. Reciting portions of Langston Hughes' "Montage of a Dream Deferred," Dixon felt and we felt the incipient magic in the evening and the events about to happen. Dixon is both guide and observer, and wherever and whenever he's on stage, your eye drifts toward him as a needle drifts toward a magnet. The orchestra was sometimes masked and sometimes featured, as scrims, lights and Mylar curtains descended and ascended, changing the scene and the mood, but never the music.
Arch at times, and poignant, funny and so much like life, the vocal music, big band flourishes and the amazing dancers showed us all that our parents and grandparents may have experienced, when venturing to magic evening places.
"Between the Devil and the Deep Blue Sea" featured Rosena M. Hill Jackson, Carmen Ruby Floyd and Rachael Hollingsworth as a close-harmony trio that was so tight that it was sometimes difficult to tell whose voice had which part. Each woman had moments to shine at beginning, middle and end, and in between, they were as one choir of angels. It was followed by Dixon with "I've Got the World On A String" with the dancers Shani "Virgo" Alston, Jason E. Bernard, Tanya Birl, Braxton Brooks, Christopher Broughton, Chanon Judson, Karine Plantadit, Monique Smith, Daniel J. Watts, Joseph Monroe Webb and J. L. Williams, and it was easy to imagine a time when we lived in a world that was not so hyper-sexual as the one where we live now. The sheer joy of these dancers is infectious and it was hard to remain in our seats.
Carmen Ruby Floyd returned later with the orchestra for Ellington's wordless "Creole Love Call," with richness and lusty longing in her voice. Was she remembering, the morning after the night before? Or was the experience happening as we listened? Either way, the heat of her longing renders the object very, very lucky indeed!
Adriane Lenox was a standout for me as well both with her advice on "Women Be Wise" as well as her "Go Back Where You Stayed Last Night." The down to earth, deeply rooted wisdom of the ages was in both her lyric and her delivery, and sometimes gentle well-meaning friends just cannot get to the point that a wise and wise-cracking sage can reach with one thrust of rapier wit. Everyone needs that tell-it-like-it-is friend, and Lenox had us in the palm of her hand the entire time.
Alexandria "Brinae Ali" Bradley, Kendrick Jones and DeWitt Fleming, Jr. tapped their way into our hearts in "Raisin' the Rent" and "Get Yourself A New Broom." The sheer athleticism involved in the dance, was amazing and all over the theatre, people were bopping in place, tapping toes and inspired by this trio. Sign us up for lessons! The most impressive skill in tap displayed, in my book, by was Jared Grimes, who, in "Goin' Nuts," had me on the edge of my seat, and when the entire cast cut a rug in "Freeze and Melt," the audience could only melt.
Vocally, "Diga Diga Doo" featured a quartet made up of Everett Bradley, Monroe Kent III, T. Oliver Reid and Christian Dane White, as well as cameos sung by orchestra members. Again, the beautiful four-part harmonies caused one to wonder how music ever moved on from the style. Accomplished singers, these men convey the joy of close-order harmony while making the event so memorable at the same time.
Meriting mention were Carla Cook's spirited takes, complete with scat singing, on "I Can't Give You Anything but Love," "Stormy Weather," and "The Gal from Joe's."
The costumes were also evocative and magnificent, variations in black and white with splashes of crimson here and there. The lines of the women's gowns, men's white tie and tails, sportswear and more were like looking at full color versions of my parents' and grandparents' black-and-white and sepia pictures, reminding me that the world before my birth was far more complicated than the photos that remain. If you're having trouble reading between the lines – I LOVED this! History comes to life in art.
Encores! performances are few and far between. Be sure to check www.nycitycenter.org and visit early and often. Give an event, or a subscription, for the Holidays this year–the memories will last a lifetime.