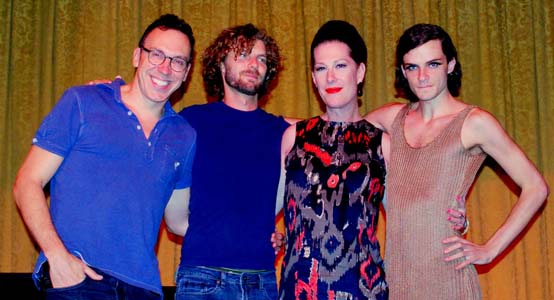 photo by Studio Rase

L to R, Daniel Nardicio, Lance Horne, Justin Vivian Bond and Nath Ann Carrera

.......................................................................................................................................................................................
Mx. Justin Vivian Bond, or V, is like no one you've ever met. Once part of the duo Kiki and Herb, most famously, v creates character. Not plural as in Tim Conway created characters, though v's ring with the same type of genuine truth even while we laugh at their antics. If you are expecting "traditional" cabaret, you have definitely took a turn at Albuquerque.
There is something of the triune goddess about v, the Maiden, the Matron and the Crone and v makes a medley of them as v does of many of the songs v sings. Swirling v's original songs with cleverly framed covers, if you really hear what is said, the pathos of, well, my generation hears our voice as Mx. Bond articulates the complexity of our youth, hopefulness and the bittersweet sense that change will arrive but it may be of the Monkey's Paw variety.
The August 5 show, co-produced by the Arts Project of Cherry Grove and Daniel Nardicio, at the Grove Community House, was something really unusual in that Mx. Bond, musical director and pianist Lance Horne and guitarist Nath Ann Carrera were doing their show "unplugged," unamplified, due to some technical challenges not resolved by curtain time. The lighting was warm and gentle and the completely acoustic performance lent a different dynamic and greater intimacy and immediacy to Mx. Bond's performance. Gifts do not always look like gifts when they arrive.
Gracious and as out loud proud as Quentin Crisp, you can see that Mx. Bond's battles have been hard fought and sometimes bloody, but won they are. The first song, "Falling Crescent Moon." had the feel of an English folk song and began to hint at resolution of the question posed by Mx. Bond's cd title "Dendrophile"—someone who is erotically stimulated by nature. Identifying as a practitioner of earth-based beliefs or a witch in old parlance, nature both human and larger world is examined with unflinching skill and a gimlet eye. A song like "The New Economy," called "The New Depression" when it was first written, reflects sourness of life without becoming soured on life.
"The Blizzard" displayed Mx. Bond's art as a raconteur when v artfully evoked an experience of being overcome by Mother Nature, opening up personally in a potentially dangerous situation and finding the reward is even greater than the perceived risk of the adventure itself. Beautiful onomatopoetic music showed us the swirling snow and the swirling emotions beneath.
Mx. Bond has written a memoir of her early years, due out in September, and we were treated to an excerpt. The story that spun out included such detail of 1970s ephemera that mirrored my own memories and for me that is when v set the hook. Following that excerpt was exactly the kind of arrangement that shows the mettle of an artist. Musicians make connections in ways that often lead to inspired combinations and when Lance Horne's piano began what sounded like one song, Mx. Bond began to sing "Superstar," by the Carpenters, V hit a ringer for this Boomer. Then
came the ségué foretold in the introduction, into "Diamonds and Rust." Speaking strictly for me, well you know the rest of the lyric. It sounded like a conversation between Young Self and Mature Self, tinged with regret but not wallowing—an acknowledgement of youthful hope and concomitant understanding ultimately regarding how Love sometimes spins out.
The final song of the evening was Fleetwood Mac's "Rhiannon." V sings this with a brand of passion that is all v's own. The political is personal is part of what I took away from the evening as well as a well developed view of the full integration of one's persona with one's beliefs that has galvanized me for my own work. Mille grazie, Mx. Bond. Brava!
The songs were many and I only hit the highlights. Look for "Dendrophile" on CD–it's everywhere CDs are sold. But treat yourself after one of v's performances, so you can get the autograph. It will be a gift your give yourself again and again.