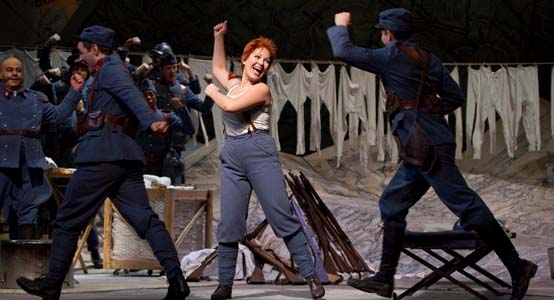 photo by Marty Sohl/Metropolitan Opera

Nino Machaidze & chorus

.......................................................................................................................................................................................
New York has heard exceptional singers in performances of Gaetano Donizetti's "La Fille du Régiment" (1840) during the last four decades, including Joan Sutherland and Luciano Pavarotti, later Alfredo Kraus, at the Metropolitan Opera; Beverly Sills, with the now defunct American Opera Society and hopefully not defunct New York City Opera; and Natalie Dessay, later Diana Damrau, and Juan Diego Flórez, in the current Laurent Pelly production, updated to World War One, at the Met. This season's delightful Met revival, with a season premiere on December 12, boasts distinguished successors to the artists mentioned above, some new to the opera and some returning to their roles. Newly presiding, con brio, in the pit, is Yves Abel.
Nino Machaidze, high soprano from Tblisi, who made her company debut as Gilda, in Giuseppe Verdi's "Rigoletto," earlier in the year, is the charming new Marie, the eponymous daughter of the 21st French regiment, who irons, folds clothes, peels potatoes, and sings an ornate a cappella cadenza, including a number of high notes, before she comes in, precisely on pitch, as the orchestra begins "Chacun le sait," the regimental song. She makes the most of both the pathos and the upbeat in the role, such as their occurrence, when juxtaposed, in the elegiac cavatina, "Par le rang et par l'opulence," and ebullient cabaletta, "Salut à la France."
Lawrence Brownlee, who replaced Flórez in one "Fille" and now gets his own run as an endearing Tonio, not only easily dispatches the nine notorious high Cs, in quick succession, of the jubilant "Pour mon âme," as befits a tenor who tossed off high Ds, with flair, in Giaochino Rossini's "Armida," but also smoothly sings the legato romanza, "Pour me rapprocher de Marie," when pleading with the Marquise de Berkenfield for his love, Marie's hand.
The two trios in the second act particularly sparkle, the lesson scene, when mezzo-soprano Ann Murray, new as the Marquise and accompanying Marie on the piano, bids her sigh with her, inspiring Maurizio Muraro, returning as Sergeant Sulpice to yawn, and Marie to laugh and then rebel, and "Tous les troi réunis," Marie, Tonio, and Sulpice's reunion number. Murray, who skillfully embellishes the second verse of her haughty entrance aria, "Pour une femme de mon nom," also offers her own bel canto account, accompanied by Sulpice, of a bit of "Le jour naissait dans le bocage," the supposed aria antica that she would have Marie learn.
Dame Kiri Te Kanawa returns for a cameo appearance as the Duchesse de Krakenthorp, vocalizing along with the prelude to Act Two and appropriating "O fior del giorno," Fidelia's entrance hymn to the day and the spring, from Giacomo Puccini's early "Edgar," to introduce herself. James Courtney is new as Hortensius, the Marquise's obsequious servant, but seems as if he's always been playing the part. Mark Persing, as a villager, Roger Andrews, as a corporal, and Jack Wetherall, as a notary, who first appears in the fireplace, complete the cast.
The Met's men's chorus makes a rollicking regiment of Marie's loyal adopted fathers. Tonio comes to Berkenfield castle, to rescue Marie from an unwanted marriage to the Krakenthorp heir, driving a tank and scaring the daylights out of the decrepit duchesses and other tottering titleholders, who are there for the festivities, but when wedding plans change, join the rest in a rousing final reprise of "Salut à la France."
Repetitions of "La Fille du Régiment" take place on December 15 and 19 at 7:30 p.m., 24 at noon, and 29 and January 2 and 6, 2012, at 7:30. The cast remains constant throughout the run. For tickets, priced from $25 to $345, visit www.metopera.org, telephone 212/362-6000, or come to the Met box office in Lincoln Center on Monday through Saturday, from 10 a.m. to 8 p.m., or Sunday, from noon to 6 p.m. Discounted rush tickets are available, on the day of performance, as well.