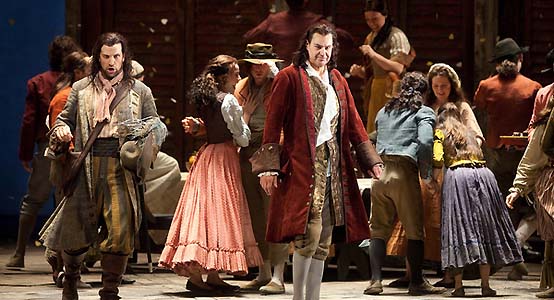 photo by Marty Sohl/Metropolitan Opera

Luca Pisaroni as Leporello & Peter Mattei as Don Giovanni

.......................................................................................................................................................................................
The second opera to receive new trappings, in the new Metropolitan Opera season, was Wolfgang Amadeus Mozart and Lorenzo Da Ponte's "Don Giovanni" (1787), in a production by experienced theater director and Met newcomer Michael Grandage, with sets and costumes by Christopher Oram and choreography by Ben Wright, also making Met debuts. Having lost both its initially scheduled conductor, James Levine, and its protagonist, Mariusz Kwiecien, before opening night, "Don Giovanni" had its season premiere on October 13 and the second of its 17 hearings, on October 17, is discussed here.
This new "Don Giovanni" seems to be set in a weathered complex of apartments/compartments, in which every one of the principals lives, or at least parties. Don Giovanni's 1003 Spanish amours seem to live there, listening from their balconies as Leporello recounts his cataloguing of them. Even the dead, in two of the final scenes, have their compartments. The balconies and shutters tell us we're in Spain, and Donna Anna's balcony has a ladder beside it—for escape from fires?—or for would-be seducers to ascend conveniently and descend carefully. I've experienced "Don Giovanni" productions, with more or less unit sets, that have convinced me that the action is set in the indicated variety of locales. This sameness of setting smacks of what living in the identical little boxes of a Levittown must be like—no one who lives there had better come home a bit tipsy. At least the fires of Hell, consuming Don Giovanni at the end of the opera, look impressive.
There is a great deal of physicality, between allies and enemies, in this "Don Giovanni." Surprisingly, Don Giovanni (Peter Mattei) holds the Commendatore (Štefan Kocán), after the duel in which the Don deals him the fatal blow, and the opera's father figure dies in his assassin's arms. Donna Elvira (Barbara Frittoli) belts Don Giovanni, but also melts in his arms. Leporello (Luca Pisaroni) all but mounts Elvira on the ground when pretending to be Don Giovanni—Giovanni similarly tops her on the table when she invades his final banquet, where he's surrounded by women. Masetto (Joshua Bloom) winds up atop Zerlina (Mojca Erdmann) after "Vedrai carino." Don Ottavio (Ramón Vargas) holds Donna Elvira's hands when urging her to console his fretting love, Donna Anna (Marina Rebeka) and we see Elvira give Anna a sisterly embrace.
An ailing Levine was, sometime ago, replaced by Fabio Luisi, who leads as crisp a performance as one could expect and, happily, encourages singers to ornament their vocal lines. Kwiecien's replacement came more recently, when he injured his back during the first scene of the final dress rehearsal, on October 10, which was completed by his cover, Dwayne Croft. Mattei then came to the Met's rescue for the first performances. He and Pisaroni, both dashing, have a similar look and, though Mattei is a baritone and Pisaroni is billed as a bass-baritone, a similar sound. No wonder they're mistaken for each other by friend and foe alike. Mattei roughs up Pisaroni and, later, a young lady lounging in his doorway during his swaggering, rapid fire "Fin ch'han dal vino;" delivers a particularly sensitive serenade, "Deh, vieni alla finestra;" and pistol whips Bloom, as expected, after "Metà di voi quà vadano."
Company veterans Vargas, new as Don Ottavio, and Frittoli, returning to the role of Donna Elvira, field virtuoso accounts of their arias, he with an ethereal "Dalla sua pace" and fluently florid "Il mio tesoro," and she in full command of the coloratura of "Mi tradì."
Don Giovanni's three more or less unsuccessful 'conquests' here all display silvery timbres, which means there is little to distinguish their voices when they sing together in the sextets of Scenes Two and Five of Act Two. The newcomers Rebeka, as Donna Anna, and Erdmann, as Zerlina, hail from Latvia and Germany respectively. Though dramatic Wagnerians, Strauss singers, and high coloratura sopranos all sing Anna, she usually has a darker timbre than the soprano—when she's a soprano—who sings Zerlina, the ingénue, but not here. To her credit, Rebekah musters intensity and increased volume for "Or sai chi l'onore," and the dramatic recitative that precedes it, and gives us a crystalline "Non mi dir," sung, for some reason, on the street here, instead of in a room. Erdmann neatly embellishes "Batti, batti, o bel Masetto" and "Vedrai, carino" with high ornaments.
Repetitions of "Don Giovanni" are on October 22 at 8 p.m., 25 at 7:30 p.m., 29 at 1 p.m., and 31, November 3, 7 and 11 at 7:30 p.m., and February 21 and 24, 2012 at 8 p.m., 29 at 7:30 p.m., March 3 at 8 p.m., 7 at 7:30 p.m., 10 at noon, 14 at 7:30 p.m., and 17 at 8 p.m. Louis Langrée and Andrew Davis replace Luisi for some performances. Kwiecien is set to return to the Met on October 25 for the remaining autumn "Don Giovanni"s, including the matinee, which will be transmitted live as part of "The Met: Live in HD" series. Bruce Sledge replaces Vargas on November 7. In performances after the New Year, Rebeka retains her role, but Gerald Finley, Ellie Dehn, Matthew Polenzani, John Relyea, Isabel Leonard, Shenyang, and James Morris take over for Mattei and Kwiecien, Frittoli, Vargas, Pisaroni, Erdmann, Bloom and Kocán. For tickets, priced from $25 to $345, visit www.metopera.org, telephone 212/362-6000, or come to the Met box office in Lincoln Center on Monday through Saturday, from 10 a.m. to 8 p.m., or Sunday, from noon to 6 p.m.