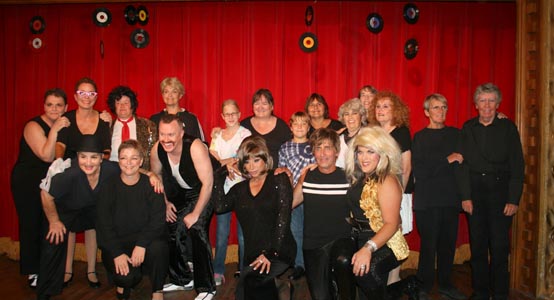 photo by Bruce-Michael Gelbert

the "Glay" company

.......................................................................................................................................................................................
Director Laura Spadafino and Choreographer Edrie Ferdun's delightful Labor Day weekend effort, for the Arts Project of Cherry Grove (APCG) at the Community House, "Glay"—read "Glee" plus gay—gave new meaning to the concept of Jukebox Musical, taking us on a musical tour—parallel to the one on which Martha Pitkin led Alexandra and Zachary Spadafino-Kelly, Laura and partner Lana Kelly's children—of beloved classic pop music of the 1960s and '70s, via outstanding, mostly live singing to recorded tracks.
Also helping to guide us through changes of musical styles, hairstyles, and clothing fashions, after a lively "Run Around Sue," for an opening number, was the "Queer-tette," or quartet, made up of Sherri Rase, Lana, Dale Lally, and APCG show newcomer James Lyons. With the women in beehive hairdos, the Queer-tette paid tribute to the likes of the Four Seasons and the Four Tops, with "Big Girls Don't Cry," highlighted by James' fine falsetto in the Frankie Valli part; "Up on the Roof;" "California Girls;" and "Reach Out, I'll Be There." They celebrated the 'British Invasion' of the '60s, with the guys sporting Carnaby Street fashions, singing "I'm telling you now … I'm in love with you," "She's not there" and, ushering in the psychedelic era, the Beatles' "Hey, Jude" and, introduced by SallyAnn Piacentino, "Sergeant Pepper's Lonely Hearts Club Band," which became the production number that rang down the first act curtain.
A parallel to the Queer-tette, also running through the show and letting us know where we were, chronologically and musically, was the girl group, the "Cherry-Os," first hinted at in soloist Lana, and Sherri, Lee Sharmat, SallyAnn, and Wendy Lewis' "It's in His Kiss," the "Shoop, Shoop" song. The "Cherry-Os" made their first official appearance, beehives towering, with "Mr. Postman," with Lana as soloist and a photo of late Grove Post Mistress Jeanne Skinner projected on a screen upstage; the Shirelles' "Mama Said," with Lee's solo; "Will You Love Me Tomorrow?" with Sherri singing lyrically and emoting in a dramatic recitation midway through the song; and "The Name Game," SallyAnn and Wendy's star turn, as a serenade to Panzi, Bella, Urban Sprawl, and Alexandra and Zachary. They sported bouffant "dos" and white boots on their reappearance for a Martha and the Vandellas song, with strong-voiced Lana asking, "Jimmy … when are you coming back?"; Lee, selling the Chiffons' "One Fine Day;" and Sherri, in shades, getting hot for that special "Pretty Woman," as photos of partner Bonnie were projected.
In Act Two, we knew we had reached the '70s, thanks to Martha's Brad and Alexandra's Janet getting exposed to the "Time Warp," from "Rocky Horror," with Dale's Riff-Raff, Lee's Magenta and Columbia, and Linda Dickerman instructing us just how the dance is done. Zachary's priceless reaction was, "Was I dreaming or was I just on the stage with a lot of scary people?" to which Martha responded, "Maybe a bit of both."
The Cherry-Os, now wearing headscarves, big earrings, and colorful pants, gave us "Listen to the Music," with SallyAnn as soloist; a hand-clapping, toe-tapping "Mamma Mia," the ABBA song, led by Sherri; and "Boogie-Oogie-Oogie," with Lana making us feel like we were back at the Saint. The Queer-tette, coming to us "live from Brooklyn's Spectrum," Matt Baney announced from the booth, let us know that they were "Staying Alive," punctuated by James' falsetto tones, and urged us to "Love the One You're With." Bell bottoms, big hair—on the men this time—and bandannas helped situate us in that decade. For the grand finale, the Queer-tette became Queen, with James as Freddie Mercury, doing "Bohemian Rhapsody," with the full company joining in.
In the course of our enjoyable musical journey, we also visited with, beside the aforementioned groups, Paul Anka—Susan Freedner's plea "(Oh, please stay by me,) Diana;" the Mamas and the Papas—Linda as Mama Cass, with Barbara, Lyn Belensky, and Pat Wagnis, doing "Word of Love;" Elvis—Denise Harbin in flaming red hair, clutching a frying pan, as that "(Hunk of) Burning Love," surrounded by groupies; Connie Francis—Demi-Tasse pouting about that telltale "Lipstick on Your Collar;" Diana Ross—Coco Love, working those boas in "I Hear a Symphony," "Baby, Baby," and "Ain't No Mountain High Enough;" a fierce Blondie—Coco again, declaring, "One way or another, I'm gonna getcha;" dueling Sonnys and Chers—Barbara and Linda vs. Lyn and Pat, in "I Got You, Babe;" and ABBA again—Barbara and Linda's "Dancing Queen."
Lee hung the stage with 45 rpm records for atmosphere, Mitchell Cass created the slideshow, Richard "Urban Sprawl" Cooley ensured that everyone's big hair stayed up and in place, Matt, Alison Brackman, Mike Romanelli, and Craig Williams coordinated light and sound, Linda was responsible for musical production, and Arthur Cohen, Ellen Biggers, and Clara Bogetti saw to it that everything moved smoothly backstage.